My chocolate mousse is one of the easiest and most delicious dessert recipes to make. I make it for friends and family a lot because it tastes sooo good. You can only have so much of it because it is rich.
But that's the way I like my mousse. I'm a bit of a chocaholic fan so with Easter literally on our door step I couldn't resist sharing my recipe with you. But with a plumbing twist. Excuse the photos. I didn't realize how much I need photography lessons because some of them are out of focus.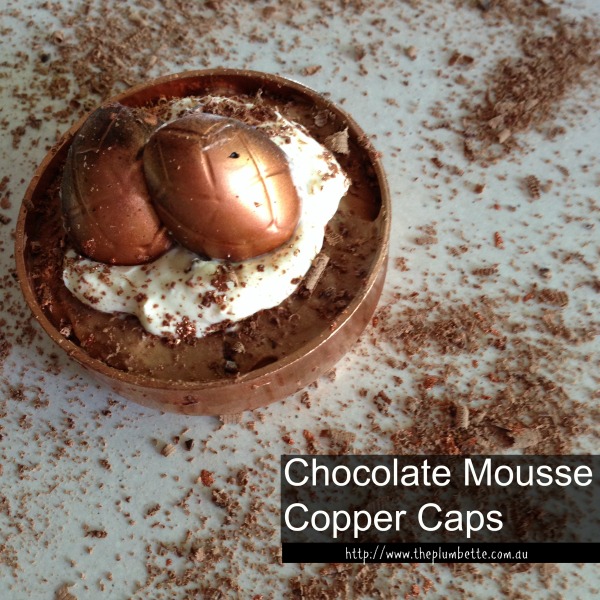 Since copper is so on trend right now, I decided to serve my chocolate mousse in 80mm copper caps. The caps can be purchased from a plumbing retailer for $14-$17 each. I got my caps from Tradelink and Reece. Just beware that if you want 6, you may not be able to get them at the one store as 80mm isn't a commonly used pipe size. I found the 80mm caps are the perfect serving size and when topped with whipped cream and copper dusted chocolate eggs, they look like a fabulous dessert to be served. To prevent the bottom of the mousse getting a metallic taste, melt chocolate and pour that at the bottom of the cap and allow that to set hard in the fridge before scooping the mousse in. I didn't do this the first time around and didn't notice the metallic taste until I was scraping the bottom of the cap.
Chocolate Mousse Copper Caps
Author:
Prep time:
Cook time:
Total time:
This delicious chocolate mousse will be a winner every time you serve it for dessert.
Ingredients
300ml Cream
1 Block of Dark Chocolate
3 Eggs
1/4 Cup Caster Sugar
Instructions
Break the dark chocolate into pieces and place in a microwavable jug for 30 second bursts until the chocolate is completely melted. Set this aside to cool down at room temperature.
Beat 3 eggs and the caster sugar on high for 5 minutes. You want to see the mixture double in consistency.
Whip the cream while the eggs and sugar are being beaten. I use my Tupperware device (no idea what it's called) that whips my cream within 30 seconds. Any longer than this and the cream will be thick like butter which makes for a stiff mousse. I know this because I've done it before.
Slowly fold the cream into the egg and sugar mixture.
Mix in the melted chocolate, making sure to scrape the bottom of the bowl where the chocolate will sink and stick to.
Pour into the copper caps and use a spoon to level the mousse and then place in the fridge to set for 4 hours.
To make the chocolate eggs, I used a chocolate egg mould. I used Crisco which is a vegetable shortening to line the moulds, I then brushed the copper dust into the mould and poured the chocolate into the mould and placed it into the fridge. Once the chocolate is set, the eggs (or half eggs) will easily slide out and they can be used to decorate your mousse cups.
Notes
Refrigerate for 2 hours min – no cooking required[br]Thoroughly wash copper caps after being purchased from a plumbing store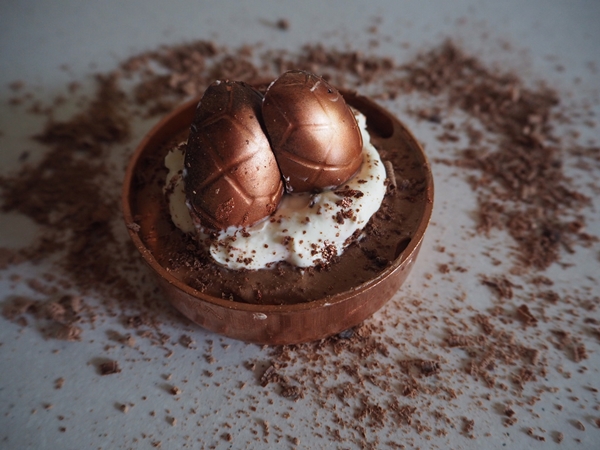 Are you a chocaholic? What is your favourite dessert?