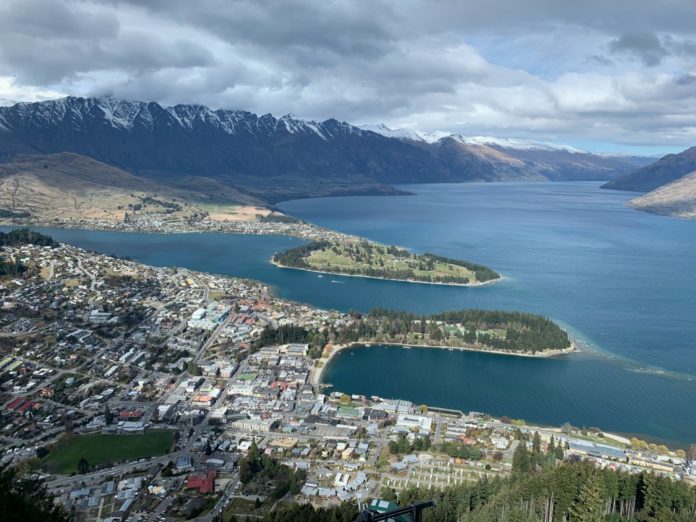 Queenstown is usually on the itinerary of every New Zealand holiday when visiting the South Island. We spent 24 hours in Queenstown before heading to our base at Wanaka.
The scenery in Queenstown is breathtaking. It truly is a must visit location, however it is busy with tourists and can be pricey.
We flew into Queenstown on a direct flight from Brisbane with Qantas. When you're traveling with kids, direct flights means less stress. The flight in over the snowcapped mountains as we made our descent into Queenstown is truly the best way to start your holiday in New Zealand. The girls were so excited to see snow as this was the very reason why we flew over.
However, I think Wanaka is better for families. In fact, if you're a family with young children, you will love Wanaka for its location, scenery, relaxed vibe and array of outdoor activity options which can cater to most ages. It's also the ideal base to drive to the many smaller towns, rich with history, stunning scenery and amazing food options.
We had intended to do a snow experience half day trip where the shuttles would only pick us up from a Queenstown hotel (we were wary of driving on snow laden roads), hence our decision to stay in Queenstown for one night. But after a bit of research, we found a less expensive option in Wanaka, which meant we had a full day in Queenstown to enjoy.
We were told by locals Coronet Peak has sealed roads which are ideal to drive on if taking the family to the snow for the first time.
24 Hours in Queenstown – The First Day of our New Zealand Trip
Family Accommodation for 5 – Sherwood Family Apartment
We had a hire car, so staying outside of the main inner city area of Queenstown was an option for us. We stayed at the Sherwood which had an alternate, yet rustic vibe I really appreciated. Best of all the kids had a bed each. It was the cheapest accommodation I could find for our family of 5 which didn't compromise on style (NZ$230 for the night from memory). There was free parking onsite and the restaurant is well renowned for its food. We opted not to eat here only because I wasn't sure the girls would eat what was on offer.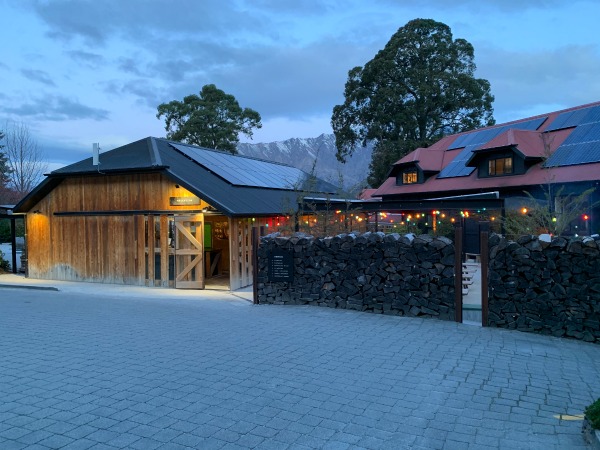 Where to Eat in Queenstown
Dinner – Fergburger
For dinner, we drove into Queenstown (5 min drive) to Fergburger. We got a free park on the street. Like the locals, we did wait half an hour for our burgers.
But the wait was worthwhile. One of the staff saw my girls sitting on the bench seat outside while I waited in line to order our burgers. They passed out three cones of hot chips for them to eat while we waited. I was grateful for this as it was completely unexpected and we had left ordering dinner a little late after taking 2 hours to get through customs at the airport, another hour or so buying much needed snow gear at Mountain Warehouse, and taking our time to check in.  5 stars to Fergburger for customer service and making our wait with the kids more bearable.
The staff were friendly despite the demand, and the burgers are worth the wait. I had the Chief Wiggum, Jacob had Sweet Bambi and the kids had a cheeseburger and chicken burger (there are kids burgers available not listed on the main menu).
Breakfast – Fergbaker
We are so original… but right next to Fergburger is the Fergbaker which is a bakery offering amazing delights. We needed something easy and light for breakfast as we were going on the TSS Earnslaw for a BBQ Lunch.
There was so much choice… and I opted for a ham and cheese croissant (which I shared half with Phoebe) and the popular Boston Bun which is probably a morning tea option, but gee it was good. Definitely check this bakery out. I think I gained weight from walking in here alone but kgs don't count when you're on holidays, right?
Family Activities in Queenstown
Jacob and I have stayed in Queenstown before, pre-kids. It was a different type of holiday back then. Sleep-ins, wineries, day spas… all the things you can't really do with kids.
In terms of family friendly activities in Queenstown, unless you go skiing, there isn't a huge amount to do with younger kids. There are a lot of teen/adult activities like swings, ziplines bungies, wineries, shopping, day spas and the Onsen hot pools. I really wanted to do the Dart River Kayaks at Glenorchy… but we didn't have the budget for it. It's on the bucket list though when the girls are a bit older and we return for another holiday.
We couldn't book the Onsen Hot Pools either unless we wanted to be split up. You can only fit 4 people per pool, so it's not really catered for a family of 5. This is why Wanaka is a better base for families, in my opinion, as it gives you access to more family-friendly hot pools. (I will mention these in my next post)
TSS Earnslaw Walter Peak Gourmet BBQ Lunch
We booked the 10am TSS Earnslaw cruise to Walter Peak Farm. It's a historical steam boat, rich with history and a delightful interior where you can sit and relax and enjoy the outdoor scenery.
It was very windy on the water, but a lot of fun. The scenery is stunning and even though it was freezing, sitting on the burners helped keep us warm.
You can walk through the engine room and explore the history at the bow of the boat where there is a mini museum. Walking out on the top deck allowed you to see amazing views of the mountains and surrounds.
We arrived at Walter Peak Farm for a sheep shearing show and this was then followed by a BBQ Buffet Lunch, which offered an array of New Zealand grown and bred produce.
All the roasts you could think of were on offer. Everything was beautifully set out. The kids were thrilled with the lolly bar near the desserts. (Secretly, so was I!)
After lunch, the girls were each given a brown bag of seed to feed the ducks by the water.
We checked out the gift shop and by then it was time to board our boat back to the wharf. The boat arrived back at Queenstown at 1:30pm.
Skyline – Gondola and Luge
Maggie and Phoebe made friends with another girl on the cruise, who was similar in age. She was travelling with her mum for the day. They were headed to the Gondola and Luge too, but they had an annual pass. I didn't get the mum's name but she offered to show her pass so we could get 20% off our tickets. The kindness in New Zealand was just beautiful to experience.
The Gondola is steep, but it's the perfect way to get an overall view of Queenstown. It's best in sunny weather. When you get off, there is a viewing deck and you may see someone bungie next door. Not really my cup of tea.
There's a Jelly Belly store, where the girls spent half their pocket money. We all got a laugh from the Jelly Belly tasting wheel where you could land on tasting a revolting jelly bean like vomit, dog poo or sour milk. I got sour milk which tasted like… sour milk. Esther got vomit, which apparently had a Bolognese ravioli aftertaste. Gross.
You have to wear helmets for the Luge and catch a chairlift up.
We had a few scary experiences with the chairlift, but the staff were great at pressing the stop button to help get our kids on the lift. Mags decided to go head first on the chairlift, instead of bum first and she was literally hanging off the chair as it started its ascent. She was all good when staff intervened. Just remember to tell kids bum first when jumping on the chairlift as the safety bar comes down pretty quick once you're seated.
Esther was the only one who could ride the Luge on her own. Our younger two (5 and 6) had to ride in tandem with Jacob and I. We had 3 Luge rides in total and this was heaps of fun and just the right amount. I often worry about self-driven rides, but the Luge is easy. Just remember to move the handle left and right, left and right to get movement again if you've halted from going too slow or hitting a flat part of the track.
By the time we headed back down the Gondola, it was 4-ish. We drove through the Crown Range to Wanaka, which was the next part of our trip.
Best to check road conditions before driving through the Crown Range as you may need snow chains. The road will be clearly signed before you drive up the range.  We didn't need the chains late in the afternoon and with it being early spring.
Alternatively, if the snow or windy roads make you car sick, you can drive through Cromwell, which takes a little longer but it's a more gentle drive for the stomach.
What are your must do's in Queenstown? If you had 24 hours in Queenstown, what would you do?