Wanaka is a must visit for families when heading to New Zealand. Here are 30 family friendly activities in Wanaka, of which we did all 27 activities, with the last 3 on our tentative list.
We spent a glorious 9 days in Wanaka and it wasn't too much time to stay in one place. Not. At. All.
In fact, there were things we didn't do, which we plan on doing on our next trip back.
So if you're planning a trip to New Zealand's south island, and not sure where to base the majority of your stay, I'm hoping this post will sway you to stay a bit longer in Wanaka. Queenstown is stunning, but Wanaka is even more picturesque and it's laidback feel certainly stole my heart.
I'm listing these places in the order we visited them. Over time I may write individual posts on some places because there are too many photos and info to include in this post alone.
Also, there are some places which aren't based in Wanaka, but they are a short drive and can be combined with other activities on your itinerary.
30 Family Friendly Activities in Wanaka
1. Puzzling World
Our first day in Wanaka was raining, so we looked at our list of indoor activities and the first on our list was Puzzling World. The kids loved it here. We spent half a day here – most of which was trying to find the corners of the maze and working out how the heck to get out.

2. National Transport and Toy Museum
The National Transport and Toy Museum is a short drive from Puzzling World near Wanaka Airport. The sheds are packed full of toys from every decade starting from the early 1900's. There were toys Jacob and I had as kids. It was a walk through memory lane. The girls were amazed at the Barbie collection and the Sylvanian Families. Jacob loved seeing the LEGO, Star Wars figurines and Thunderbirds toys.
The history of vehicles in the transport part of the museum was more interesting to the parents than the kids, but they were still happy to check it out.
What a foodie delight this patisserie is. It's a short drive to Albert Town and we timed our visit half an hour before it closed. We had tea and some baked goods which were delicious. Definitely a must visit for morning or afternoon tea.
4. Hot Pools Oakridge Resort Wanaka
We stayed 9 nights at Oakridge Resort in a two bedroom apartment. The resort boasts 9 outdoor heated pools, of which 7 are hot tubs. Every afternoon of our stay in Wanaka, we headed to the pools. The kids swam in the two main pools, and Jacob and I watched them via the hot tub, cocktail in hand. I went through the cocktail list while we stayed there. This was a relaxing way to finish each day.

5. Wanaka Lavender Farm
Our visit to the Wanaka Lavender Farm was a highlight of our trip. We thoroughly enjoyed our stroll through the farm and the kids got to feed the animals.
The farm is surrounded by stunning scenery and there are outdoor games you can play to extend your visit. Plenty of places to get that Instagram worthy photo too.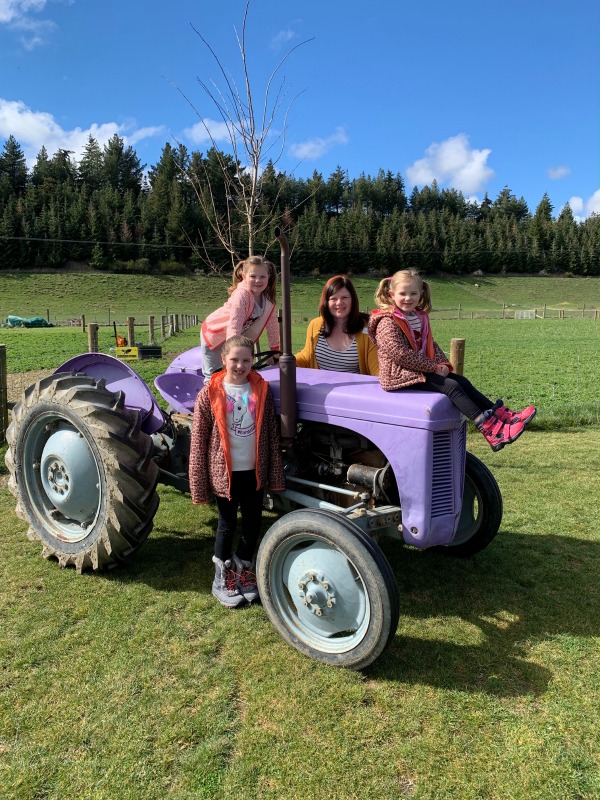 The lavender shop and café are quaint. We had morning tea where the girls had chocolate lavender ice cream, and Jacob and I shared a lavender tea and lavender infused sweets. I am still thinking about the truffles. This is a must visit for families in Wanaka if you want to experience a beautiful walk and interaction with farm animals.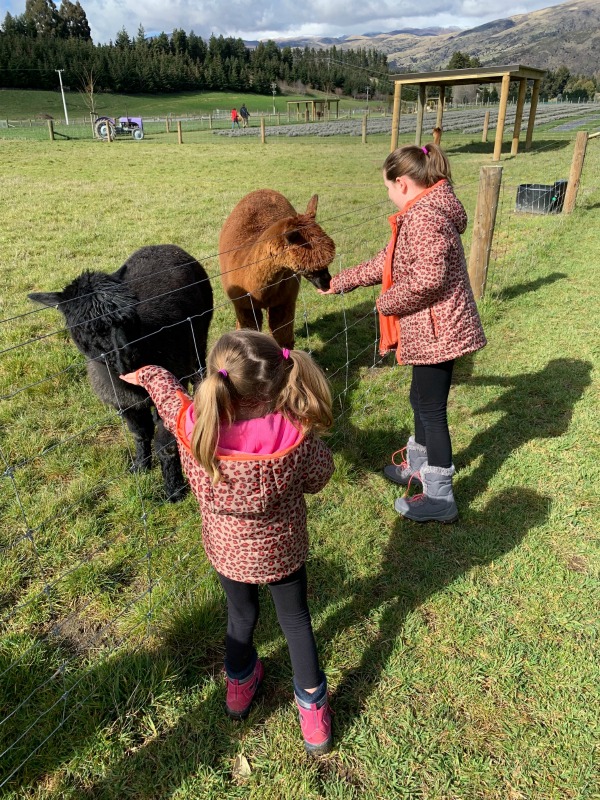 6. Climb Mt Iron
This walk is described as an easy hike for families. We did consider Roy's Peak, but we knew it would be too long for the girls. So we opted for the 'easy' climb up Mt Iron.  But let me just say it is up hill. The whole walk is UP HILL. The gradient is quite steep and you will benefit from sturdy footwear or hiking boots. I wore my Frankie 4 Nat sneakers and I wished I worn my hiking boots – especially when descending down the steep gravel track.
But when you're at the top of Mt Iron, the views are stunning. It's worth the pain. Plus it's necessary to work off the amazing food you consume while on holiday.
The girls were delighted to see rabbits hopping along our walk. Unfortunately they are a pest, even though the girls thought they were an attraction.
7. Hot Tubs Omarama
This is a must visit when heading to New Zealand. It is a 1.5 hour drive from Wanaka, but it's so worth the drive. We drove out after climbing Mt Iron, so the hot tub was definitely needed to ease our sore muscles.
Each tub has a secluded view of a lakeview and mountain landscape. Unfortunately the top of the mountains were blocked by clouds, yet this didn't matter. It was serene and an unforgettable experience.
We had 1.5 hours at the tubs and it went fast. Night time would be amazing as you will be able to see the stars as Omarama is literally in the middle of nowhere. But it's worth the drive for the Hot Tub experience.
The Omarama hot tubs are ideal for families because you can have 8 people in a tub. They also cater for little kids where a step can be placed on the seat of the tub prevent them  standing on the inner ledge. You're given complimentary jugs of water and each tub has its own adjacent room to change in making it convenient for getting dressed after your hot tub experience.
The girls got used to the heat of the hot tub. After a while, they did jump out to cool down and jumped back in again.
8. Drive to Arrowtown
Arrowtown is a delightful, yet quirky village which developed due to the gold rush era. It's around a 1 hour drive from Wanaka through the Crown Range. (Beware – if you're prone to car sickness, drive through Cromwell. Our 5 year old threw up her breakfast and we had to make a dash to Kmart in Queenstown to get her a whole new outfit and wipes to clean out the car!)
Arrowtown is surrounded by stunning mountain peaks and set near the Arrow River. There are shops to walk through, bakeries and patisseries to enjoy a meal at and the Chinese Settlement to explore, which houses the original huts used by the Chinese gold miners.
We ate at Provisions Café which is known for their delicious sticky buns. You must try one with a Bailey's Hot Chocolate (ok that one's not for the kids).
I also indulged in a steak burger with blue cheese sauce. It was AMAZING. Family holidays need to indulge the parents too. Food and drink are the best ways to do that.
9. Check out Bungy Jumping at AJ Hackett Bungy Centre Kawarau
Just because the kids can't bungy jump, doesn't mean you can't watch others have a go. Make a stop at the AJ Hackette Bungy Center at Kawarau. There is also a zip line swing, but kids need to be 8 or older to try it tandem.
10. Play at the Dinosaur Park at Lake Wanaka
The kids LOVED this park in Wanaka. The park play allowed me to do some shopping in Wanaka, while Jacob hung out with the kids in the park. There are waterways to explore near the park, so when the kids get sick of the swings or the dinosaur slide, they will love picking up stones and wading their hands in the water.



11. Have Fish and Chips at Erik's
You can't go to New Zealand and not have fish and 'chups'. We had read Erik's was the place to go in Wanaka, so we headed here after our play at the Dinosaur Park. You could take your meal down to the Lake and have a picnic.
12. Rock Climb at Clip n' Climb Basecamp Wanaka
Our girls have never rock climbed, but we found Clip n' Climb Basecamp Wanaka around the corner from our hotel. It was starting to drizzle with rain, so we paid for an hour for the girls and Jacob to have a go at indoor rock climbing. It was heaps of fun and a great activity for a rainy afternoon. Book online before you arrive though.
13. Visit Snow Farm and going tubing
The whole point of going to New Zealand in September was to get the kids to experience snow. We didn't intend to ski, and after a bit of research, Snow Farm was the ideal place for a first time snow experience.
We snuck in a visit before it closed for the season. It was super quiet which was great for us because we had the tubing hill all to ourselves. Snow Farm Fun Zone is $10 per entry and then $15 per person for 1 hour tube hire.
This was the BEST experience for the kids' first time in the snow. We also booked a Yello Shuttle to take us to Snow Farm. It's a 40 minute drive from Wanaka and you must have snow chains when making your ascent up the mountain. We didn't need them when we visited though.
14. Cardrona Hotel for lunch and historical buildings visit
You can combine your Snow Farm morning with lunch at Cardrona Hotel. This hotel was another highlight of our visit to New Zealand. It's 155 years old and has a gold mine shaft you can view inside, plus it's warm and cosy and offers delicious food. There was also a lolly buffet which excited the kids.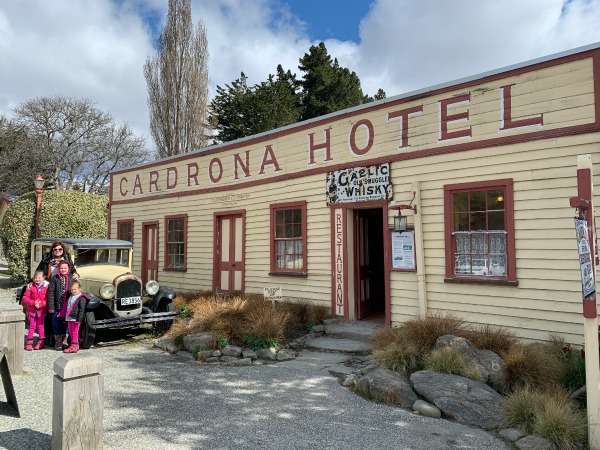 There are various historical buildings and a school you can check out while you visit. I love reading the history of this hotel and surrounds.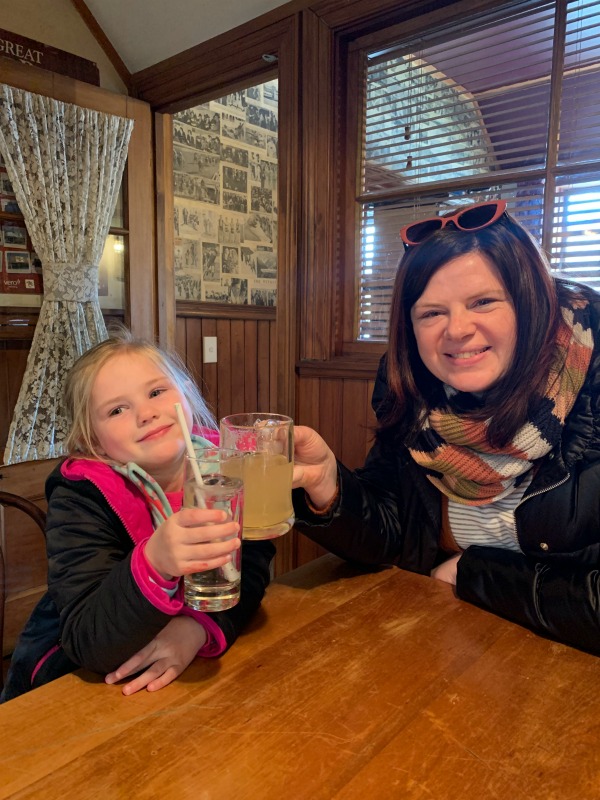 15. Goldfields Mining Tour and pan for gold
Maggie asked me before we headed to the Goldfields Mine that if she found a big nugget of gold, could she sell it for $300 and buy toys at Kmart with her profits? Sadly, it wasn't to be because mining for gold is HARD work. I don't envy those miners one bit living in the freezing cold conditions to pan for gold.
Even though the Chinese Village is a replica, it was still an interesting walk to see how the men lived and the terrain they had to navigate to mine for gold. We also paid for a tour which gave incredible insight into the history of the park, sluicing the ground with water guns and watching the stamper battery come to life which was used to crush the rocks to remove the gold.
There was a high fatality rate in the goldfields as safety wasn't always considered. I found the tour really interesting, although the girls did get a little bored with the historical details. It's a 45 minute drive from Wanaka to the Goldfields.
16. Goldfields Jet Boating
As a surprise for the kids, we booked Jet Boating at the Goldfields Mine. The jet boat flies "through the Kawarau River where the spectacular Gorge opens out into the placid waters of Lake Dunstan".
We were the only ones on the jet boat so we got a few extra thrills and 360 spins. I've done the Shotover Jet before, and this one is just as good – and cheaper for a family. Minimum age is 5 so Phoebe was right to go on this jet boat.
17. Drive to Cromwell and walk through 'Old Cromwell Town'
On the way back from the Goldfields Mining, we made a stop at Cromwell. It's known for it's stone fruit, but back in the day, this town was settled by gold miners.
You can walk though 'Old Cromwell Town' which shows how the town was back in the 1800's. The history of the development of Cromwell is quite interesting to read. When the Clyde Dam power station was completed in 1992, part of Cromwell's historic business district now lies at the bottom of Lake Dunstan. It's a bit sad that part of this history is lost due to development… but it's not an unusual phenomenon around the world.
18. Drive to Alexandra and walk across the Shaky Bridge
Do drive out to Alexandra because you get a brilliant view of the Clyde Dam and it is extraordinary to see.
There is not a lot to do in Alexandra in terms of family activities. It's well known for it's wineries and the Shaky Bridge. You can also get a view of the Alexandra clock on the hill which has become a tourist attraction.
Does the bridge shake when you walk on it? Yes it does. It creaks too which actually made  me feel nervous and I had both arms holding either side of the bridge for support.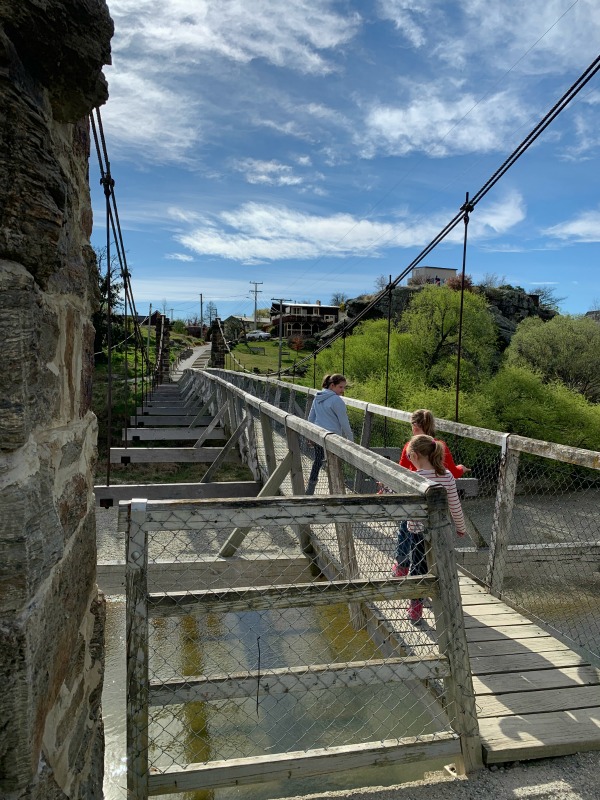 19. Enjoy a sundae at Patagonia Chocolates in Wanaka
So the artisan markets in Wanaka are listed as a must do in Wanaka. There were literally a few stalls to check out. I wouldn't say they are a 'must do.' Thankfully, we made up for our disappointment with a chocolate sundae at Patagonia Chocolates. We also bought a few chocolates to eat at home. They actually never made it home because they were just too good.

20. Get a photo of That Wanaka Tree
This is a free activity which will take you a few minutes to see, but you may have to line up with other tourists to take your photo. It even has it's own hashtag #thatwanakatree.
Budding photographers are known to take photos of the tree, which has turned this spot into one of the top attractions in Wanaka, which is crazy because it's a tree in the middle of the lake. However, it's become a sensation because the tree was captured as part of encouraging Wanaka's tourism and has become somewhat of an icon, in it's own right. Hence the line up of everyone wanting to get an Instagram worthy photo of the tree.
The water wasn't lapping the Wanaka Tree when we were there, but it's still a great place to check out because the scenery behind the tree is stunning.
21. Walk the Waterfall Creek Trail along Lake Wanaka
This is a stunning walk and easy for the whole family to enjoy. We walked to the Waterfall Creek and back again.
That Wanaka Tree is on this walking trail so you can combine both in the one trip.
22. Walk the Wanaka Jetty for another photo opportunity
The Wanaka Wharf is a delightful spot to sit and enjoy the scenery of the lake. It's a must do to walk to the end of the jetty and get a photo, with the stunning snow-capped mountains behind. There are plenty of water activities you can do on the lake too.
23. Watch a movie at Paradiso Cinemas
The Paradiso Cinemas have an old school approach to watching movies. You have to ring to book your tickets and leave a message on the answering machine if you call out of business hours.
Each cinema has comfy couches to sit on so you can relax while you watch your movie. There is also a Morris Minor in the cinema if you want to have a 'drive in' feel while watching your movie.
We were the only ones in our cinema and the first to watch Abominable in Wanaka (a great movie by the way!) There is an interval during the movie, where you can have a toilet break or enjoy a freshly baked cookie. The kids loved it and it's definitely another wet weather activity to consider when staying in Wanaka.
24. Drive out to The Neck
We made this drive on our last day in Wanaka, heading to Fox Glacier. The neck is  a stunning stop to take in the view of Lake Hawea and Lake Wanaka, separated by a neck of land.
25. Enjoy the serenity at Blue Pools
The Blue Pools are amazing sight to see. It's a 15 minute walk to the pools from the entrance and you do have to cross over some bridges. It's a great walk for kids and the sight of blue water is surreal. Definitely a must visit and a great place to practice your photography.
If you need a toilet stop, there are toilets 1km down the road from the Blue Pools.
26. Walk to Thunder Creek Falls
Along the drive from Blue Pools is Thunder Creek Falls. Kids loved navigating through the rocks to the waterfall.
27. Have brunch at Florence's Cafe
Florence's Café was across the road from our accommodation. It's a quaint café + gourmet grocery store and we opted to have brunch here. Do sit outside as you get stunning views of the mountains and cherry blossom trees. You can also purchase gourmet picnic baskets to take with you on your travels when road tripping.
28. HOOK
We didn't go to Hook while in Wanaka, but we drove past it a number of times.
When we climbed Mt Iron, another family told us how awesome it was as they had done it the night before. Basically you pay to fish for salmon in the lake and the salmon is prepared for you to eat. It costs $5 to fish, $39.95 per kg of salmon you catch and then the prices vary depending on how you want your salmon prepared/cooked to eat.
We would have done this if Jacob and the girls would eat salmon.
29. Wild Wire Waterfall Cable Climbing
Wild Wire Cable Climbing is another activity on our bucket list which we saw advertised while at Cinema Paradiso. It's an outdoor cable climbing experience in Wanaka. There are 3 different climbs available to suit your adventure tastes.
30. Warbirds Museum
Right near the Wanaka airport is the Warbirds Museum. You can combine a visit to the Warbirds Museum with the National Transport and Toy Museum. My parents visit the Warbirds museum every time they go to Wanaka. We kept this tentatively on our list as another wet weather activity, which we didn't end up doing because the weather was glorious.
I'm sure there are PLENTY more things you can do in Wanaka, which I haven't included. I'd love to know what they are. We will certainly be back again. Roy's Peak, Wild Wire Cable Climbing and Kayaking are going to be on our list of must do's next time we head over.
Have you ever been to Wanaka? What activities did you do, that I didn't mention?