Last week I headed to Cape Schanck for a work trip and you can bet I'm counting my lucky stars that the trip was done and dusted before COVID-19 became a state crisis in Victoria and now much of the country.
While no one is travelling at the moment and holidays are being cancelled left right and centre due to the virus, we need to be planning to travel again in the future.
Self-isolation is a great time to research where your next holiday will be. Even if it may take time to save with loss of income or loss incurred from a cancelled holiday. It costs nothing to plan and dream. In fact, it may actually take your mind off the grim news of what's being shared on your newsfeed.
I thought I'd share where I stayed last week and what I got up to in my limited spare time.
I have only ever been to Melbourne, so heading to the Mornington Peninsular was new for me. After my stay, I told Jacob we would be going back as a family and we'd combine it with a drive along the Great Ocean Road.
Planning for local trips (when it's safe to do so) in the future is going to be important for our economy. Hence why I'm sharing this now while it's fresh in my mind.
RACV Cape Schanck
The RACV Cape Schanck Resort is the perfect spot to stay if you're going to explore the Mornington Peninsular. It's ideal for work conferences, a weekend getaway or family stay.
The building is unusually shaped… and reminds me a bit like a fidget spinner.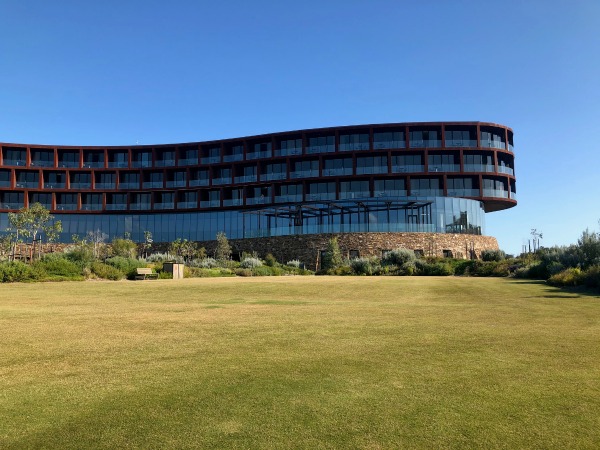 I had a superior room in the main building with a view of the carpark and the ocean. The room was beautifully presented and the stunning view from the window made it feel lux.
The facilities were great with a well equipped playground and jumping pillow for the kids. Only kids aged 14 and below could jump on the pillow. I took a flight on the flying fox instead.
The resort has a golf course, a day spa, indoor pool and gym.
For a weekend away, you could just stay at the resort. But I did get to do a few activities. They are well worth the exploration if you have time.
Running the Bushrangers Way Walking Track
One of my colleagues was keen to do a run early Thursday morning. She told me it was the best way to explore a new place. When she said this, I got instant FOMO even though I  haven't run for at least 12 months.
At 5:45am the three of us were able to borrow a car and drive to the Bushrangers Bay Walking Track near the Lighthouse. We'd been told this would be a great track to run and is described as 'best coastal scenery near Melbourne'.
I'm not going to lie. Running on a track in the pitch black is not my idea of fun. Being a Queenslander, I had forgotten daylight savings meant it was darker earlier in the morning.  I did question whether it was a wise idea to run through an overgrown forest, using iPhone torches to see where we were going.
I openly prayed protection over all three of us. The track is hilly and has stairs going up and down in some parts.
I panted like crazy due to being unfit.
And then I screamed at one section when something fluttered in the bushes – probably a bird waking up to 3 crazy women jogging by.
I tripped and fell flat on my tummy and felt my cheek rolls bounce. I grazed my elbow, but I got up and kept going.
We were ¾ of the way down the track and my colleague said we'd have to turn back if we were going to make breakfast and the first meeting of the day.
Personally, I felt bad we hadn't reached the end of the track, and encouraged to keep going.
And we did. We arrived not long after at the beach with a sign that said 'Warning' and something about waves and cliffs.
After a few selfies at the beach, we jogged and walked our way back to the carpark.
The track is up and down, with stairs and tree caves to run through. As we made our way back, the view via the track was stunning.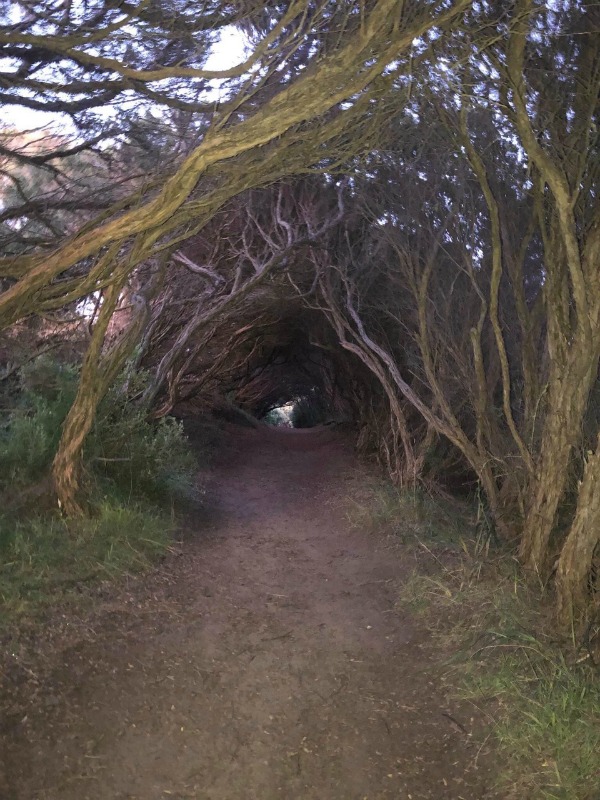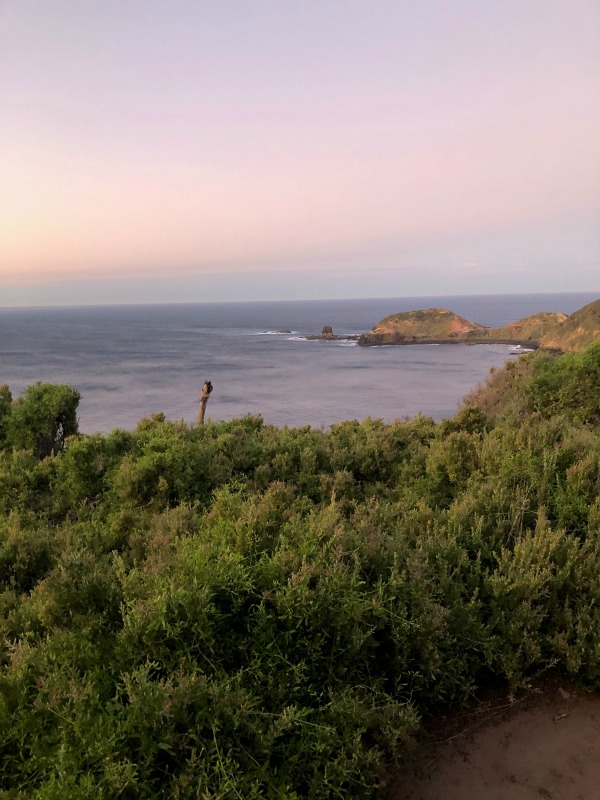 Overall, we ran/jogged/walked 6km. And I felt it in my legs for a number of days after. But the pain was worth it.
I'd suggest if you do this walk, do it in daylight and not early in the morning in the dark where only the Lord knows what critters could have come out to get us.
It was sweet relief to make it back to the carpark. I didn't realise the lighthouse was so close.
Peninsula Hot Springs
I got to visit the Peninsular Hot Springs and I have to say it was the perfect treat for my sore legs after that run. There are a variety of hot pools and experiences to enjoy here.
I loved the Reflexology Walk (did this multiple times! Check out my Instagram stories under Travel to see what it's all about) and didn't mind the Fire and Ice Experience (hot pool, cold sauna then dry sauna and cold pool plunge or something along those lines).
There was a cave and hydro-massage pool. The gardens are beautifully kept. The serenity, despite it being busy, was relaxing.
Enchanted Adventure Garden
I didn't get to go here, but I do want to come and visit when I bring the kids. While the name sounds airy fairy, it is a "Family-friendly park with wide-ranging activities like mazes, tube slides & treetop zip-lining". One of my colleagues went here and loved it. Definitely a place to bookmark when you stay down here with your kids, which I plan do in the future.

One Spa Escape
I had a late transfer on Friday morning, so I booked a Remedy Facial at the One Spa Escape at the resort.  The spa has Hammam bathing (hot pools) which you can combine with your treatment. I only had time for a facial. There was a relaxation lounge where you could have herbal tea and snacks. This day spa is definitely a must do again when I come back.

When I got back to Brisbane late Friday afternoon, announcements of events being cancelled were happening all around the country. I'm lucky to have been able to make the trip.
We've personally postponed all travel over the next few months to help flatten the curve and do our part to stay healthy. I am blessed to be able to work from home and Jacob is able to do this as well. If the kids get told they have to stay home too, I'm prepared for this also.
But when the worst is over (and who really knows when that is!) a weekend away or a day trip out locally is something I think we should all look at doing.
Who knows, by then we will be itching to get out of the house and explore!
Have you ever been to Cape Schanck?
Other local trips to consider when the timing is right