Driving from Sydney to Brisbane? Here are some things to do in Port Macquarie with kids if making a short stop off.
Over the June July School Holidays, we went for a road trip to the Hunter Valley with stops at east coast towns along the way.
While we had to cut our trip short due to the floods and fear of being cut off driving home, it ended up being a fun time away.
One of our stops was at Port Macquarie. I didn't realise how much there was to do in this seaside city with the kids.
Here are some of the family friendly activities we got up to in Port Macquarie.
Play at Flynn's Beach
We arrived at our hotel in Port Macquarie mid-afternoon driving from Coffs Harbour.
The kids were keen to explore the local beach, so we drove to Flynn's Beach and the kids enjoyed building sandcastles while Jacob and I watched on, enjoying the coastal landscape.
The kids would have spent the day at the beach if we let them. It was too cold to swim, but warm enough to dip toes and wade ankle deep in the water.
Visit the Koala Hospital
Our visit to the Port Macquarie Koala Hospital was a highlight from our trip. I had been keen to take the kids here for a visit after the terrible bushfires of 2019/2020.
The Koala Hospital is not government funded and relies on community volunteers and donations to care for rescued koalas.
We arrived to the hospital at 9:30am and there were only a handful of visitors during this time. The volunteer who greeted us advised morning was the best time to visit as the koalas were the most active. Koalas are nocturnal and generally sleep 18 hours  a day so there is only a small period of time to see them active.
Most times when visiting zoos or nature centers, koala's would be curled up asleep in the trees, but we got to see some of the rescue koalas awake, eating Eucalyptus leaves and climbing between branches.
The Koala Hospital is free to visit, but you can't not donate money or adopt a koala to assist in the amazing work the hospital does for one of Australia's most loved animals.
Sea Acres Rainforest Walk
The Sea Acres Rainforest Walk was a short drive from the hospital. It took us under an hour to walk the elevated 1.3km boardwalk through the rainforest near Shelley Beach. It was so peaceful and serene. We could hear the beach in the background to our walk.
There is a small fee to do the walk and you can purchase a pamphlet for $1, identifying the types of plants along the way and their uses in Aboriginal culture. I believe we can learn so much about bush tucker and plants used for medicinal uses from our First Nation Australians.
Whale Watching at Tacking Point Lighthouse
We visited Tacking Point Lighthouse at dusk the previous night when we arrived in Port Macquarie. The panoramic views of the NSW mid-north coastline were stunning. There were whales in the distance but their visibility was not as good due to it being so late in the day.
We decided to revisit the next day in the early afternoon to see more whales.
It was such a windy day, we didn't stay too long, but we definitely got to see more whales.
Tacking Point Lighthouse is a popular attraction in Port Macquarie due to its architectural design.
The lighthouse was built in 1879 and designed by architect James Barnet. As it was built on a rocky headland, it's only 8 meters high. It's definitely worth a visit and only a short drive from the Sea Acres Rainforest Walk.
Hello Koala Sculpture Trail
While on our travels visiting various attractions in Port Macquarie, we noticed many koala sculptures, which had been painted by various artists. The painted  koalas are part of the Hello Koala Sculpture Trail.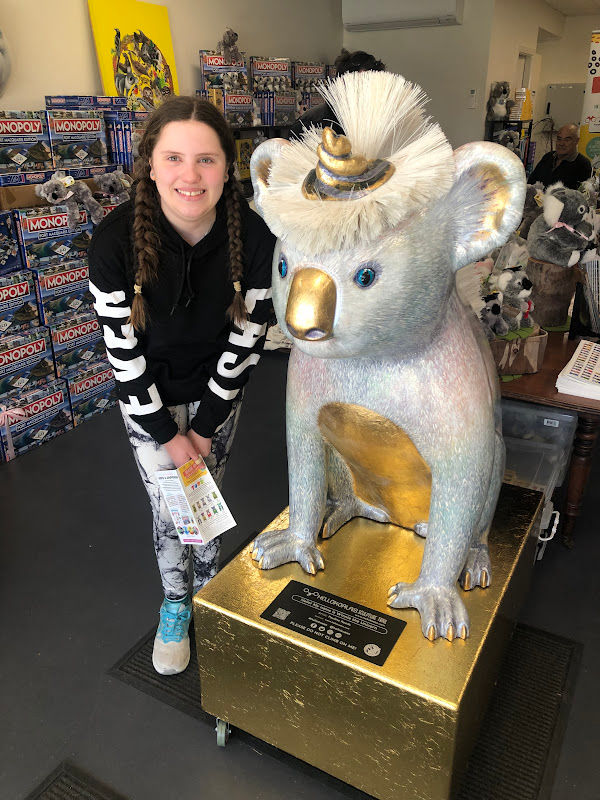 You can take a self-guided walking tour around Port Macquarie to view the Koalas. We visited the gift shop and bought a colouring-in book which proved handy as an activity for the kids on our road trip.
Strawberry Picking at Ricardoes
Another family favourite activity we did in Port Macquarie was pick strawberries at Ricardoes Tomatoes and Strawberry Farm.
I found this attraction fascinating as the farm uses PVC storm water pipes to grow their strawberries. It was slim pickings when we arrived, but we still managed to pick a small amount of strawberries to fill a container.
We finished with afternoon tea at the café where we had homemade scones with Ricardoes strawberry jam and cream. Yum!
Dinner that night was fish and chips at Off The Hook. A sign of a good takeaway is a busy crowd and this did not disappoint.
There were various other attractions we could have visited, but this is what we got to see in our short 2 night stay before we drove to the Hunter Valley.
Other Family Holiday Ideas
Top 13 Things to do in Coffs Harbour with kids
Our Mermaid Beach Holiday with kids