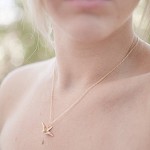 When I was feeling not quite myself at Christmas and the New Year just passed, I bought myself a necklace to cheer me up. It was a necklace that I had my eye on for a while because I loved the intricate design and the meaning behind the charm itself.
The necklace that I bought was this beautiful gold Crane necklace. Its design was exactly the kind of necklace I had been wanting to purchase for some time and I loved the meaning behind the Crane.
The Crane is most famously known as a traditional paper craft design in Origami. Origami (折り紙), as explained by Jet the designer of this necklace, is the ancient Japanese art of paper folding. The goal of this art is to create a representation of an object using geometric folds and crease patterns preferably without the use of gluing or cutting the paper, and using only one piece of paper.
Origami only uses a small number of different folds, but they can be combined in a variety of ways to make intricate designs. The most well known form is the Japanese paper crane.
The Origami Crane is believed to be associated with good luck. If you fold an Origami Crane and give it as a gift to someone, the Crane is meant to represent luck and happiness to the receiver. It is simply a Japanese belief and not a formula to attract good fortune or be used as a new age prop.
I don't believe in luck, but I bought the necklace as a gift to myself because I wanted to wish myself success in 2013 with the birth of my daughter and with my career and blog.
Fleur Envy is the business behind the design of this necklace. The necklace is commonly worn by brides because of its sleek and elegant design. I adore the rest of the Fleur Envy range because the designs are so feminine, dainty and classy.
With Mother's Day arriving in less than 3 weeks, Fleur Envy is the perfect place to buy a precious necklace for your mum. They have a Mother's Day promotion which can be found in the 'Vintage and Reserved' collection where you can purchase a Mystery Jewel Box which is a Treasure-filled jewel box that could include anything from the website (or not) and be worth more than the value paid for the box! It's available for a limited time only. You can check it out here.
As a bonus for The Plumbette readers, I have one Gold Crane Necklace to be won by one lucky reader for Mother's Day. To see the necklace in better detail have a look at it here.
This necklace is the perfect gift for yourself as a mother, can be given to a mother OR can be given as a symbol of hope to a woman who is trying to become a mother. If you're a male reading this post, I have made your job easy in providing you with a gift that will get a thumbs up from the mother of your children!
To enter all you need to do is
• Follow The Plumbette in some capacity via Twitter, Facebook or sign up to my Newsletter via the subscribe button on the front page of The Plumbette website
• Sign up to the Fleur Envy Newsletter by entering your email on their front website page which will send out promotions and specials throughout the year
• Use the Contact Form or Email bec@theplumbette.com.au and answer 'Why you would like to win a Gold Crane Necklace? AND include in your answer another favourite design from the Fleur Envy website in 100 words or less.
In your email please state your name and address for postage should you win the prize.
Disclaimer: I have bought two Crane Necklaces from Fleur Envy and they have agreed to provide this give away. I have received no compensation for this blog post and all opinions are honest and my own.
Terms and Conditions
These terms shall apply to all giveaways and competitions run on this site, www.theplumbette.com.au
1. This is a game of skill. Each valid entry to be judged on creativity and originality, not by chance.
2. There is one prize of a Gold Crane necklace worth $95.00AUD.
3. Entries open from Monday 22nd April 2013 11pm Brisbane Time to Wednesday 1st May 2013 11pm Brisbane Time.
4. Prize is not transferable or changeable
5. Prize sent out by Fleur Envy will not be replaced in the event it is stolen, lost or damaged in transit.
6. Additional entries if you share on Facebook or Twitter, but you must email a second or third valid entry answering the question in 100 words or less. Also please leave how you shared in the email.
7. A valid email address must be included in your entry
8. Entry into any giveaway or competition is deemed acceptance of these Terms and Conditions
9. Entrants must be Australian residents and aged 18 or over
10. The winner will be notified by email and has 5 days to reply and claim the prize. The winner will also be announced on Facebook. This giveaway is not endorsed by Facebook.
11. The decision on the winner is final and no dialogue will be entered into otherwise.
12. These terms and conditions are subject to change at anytime without notice