Last Friday, we braved the first day of the Ekka. It took a bit of planning to attend the Ekka on a budget and I thought I'd share some tips and tricks from our day out. You could buy the cheapest Bertie Beetle Bag, not do the rides and games and pack your own lunch. But the purpose of this post is to share how to enjoy all the EKKA has to offer, so you don't miss out on some of the favourites – even though they may not be the most thriftiest of experiences.
I love the EKKA, but it's certainly changed from my younger years. The first day used to be a Thursday. And our family would attend the first Friday, often attending in the early afternoon.
I will never forget one Friday when I was in grade nine math class and the teacher got a call. She told me to head to the school office because my mum was waiting to pick me and my brother up to go to the EKKA. You can imagine the jealousy from my classmates when my teacher announced it to the class.
I still think the first Friday is the best day to attend, but I hear Tuesday has double deals for rides and games.
If you're planning a full day at the Ekka, wear comfy shoes, a hat, sunscreen and layers because it gets hot in the middle of the day, and cool when sitting in the main arena for the fireworks.
Everyone had a backpack which carried a water bottle with water in it, their jacket and purse for change. I also put temporary tattoos on the kids from Kids Tags, so if any of the kids got lost and couldn't remember our number, they had it on their arm. The Police do offer arm bands but from experience going on excursions with kids, the armbands can come off.
Buying Ekka Tickets
I always pre-purchased our tickets from RACQ. I saw this year Woolies also had discounted tickets to the EKKA. Always pre-purchase your Ekka tickets before you go so you have more money to spend at the EKKA. You will need it.
Alternatively, sign up to the EKKA newsletter as the EKKA will email you special deals MONTHS before the actual event. Back in April, I got an email saying the first 5000 tickets were half price. I jumped onto that deal straight away. For our family of 5, it would have cost us a $100 entry fee. Buying our tickets half price meant we got in for $50. I also bought a rides card with $50 credit for $45. This allowed for the kids to have two rides each and parents one ride each to accompany one kid who couldn't ride on their own.
Parking
We ummed and aahed about public transport. I would have had to have bought 4 go cards though. We decided to park instead and could park at the Metro for $30 all day, providing we pre-booked. We didn't pre-book. But upon entry, we were given a flyer and told to pay online and enter the five digit pin on exit. I would pre-book your Ekka parking before you leave home to ensure you score the cheap deal. It costs $64 all day if you don't pre-book.
FREE Activities
The RACQ Nursery was a lot of fun. It's free to enter, but if you want to feed the animals it's $2 per cup of feed and $5 for 3 cups. We only got 2 cups because not everyone in the family wanted to feed or touch the animals.
Get your own RACQ number plate. The girls thought this would be cool, until the power went out and we were waiting in line in the sun. The RACQ staff were handing out little bottles of suncream and hat visers. The number plate is a free item you could get as a memento of your time at the EKKA.
Fashion Show
Loved seeing the local labels like Jericho Road, White Label Noba and Maiochhi on the runway.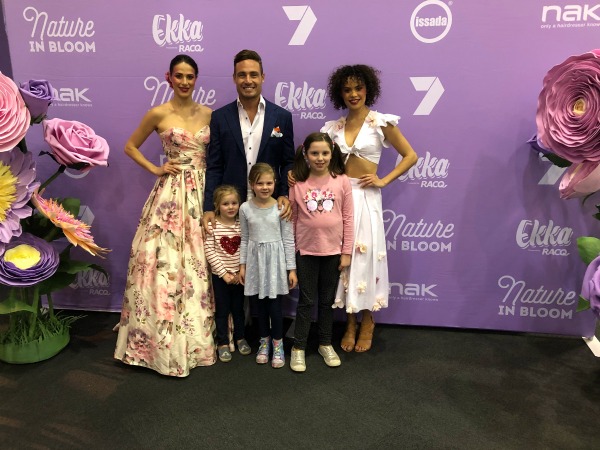 The girls got to have their photo taken after the event with some of the models. Poor Phoebe was a bit shy because the male model in the photo had his shirt open and off during the show.
'Seriously?! Who does that?' our five year old remarked, much to the amusement of myself and other parents sitting in front of us.
Read the News at Channel 7
The Channel 7 news area has some great photo opportunities. The girls loved sharing what they loved about the EKKA (You can check out their cute video here). You can win a great day out if your photo is chosen from the thousands who take the same image using the props. There is also a chance to win tickets to the final of Australia's Got Talent.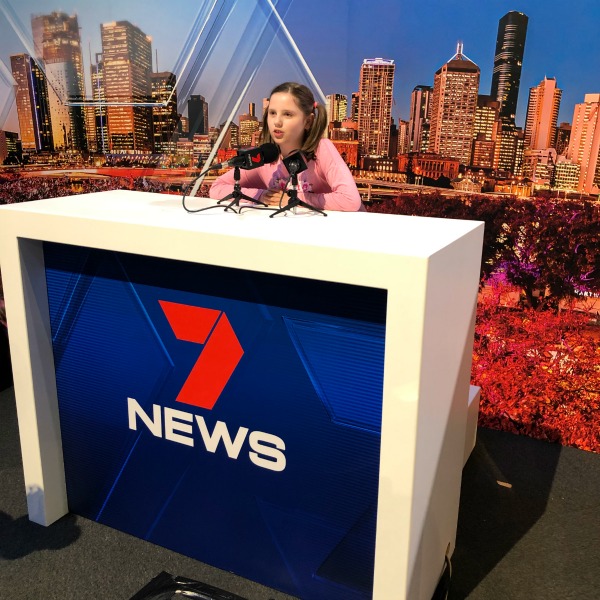 Walk around the displays
I love looking at the artwork, photography, cakes and crafts. So many talented people out there. Not many food displays which I remember used to fill a hall with their designs. Only 4 entries this year. I'm not sure if the drought is the cause of this?
Free Water
Fill your water bottle for free at the QLD Urban Utilities display. Didn't bring a water bottle? There are free water bottles given to you so you can fill one when you're there.
Food
I'm not the type of mum who packs a lunchbox to the EKKA. Experiencing the food at the EKKA is part of the fun of going to the show. But it will cost you. I was surprised at the amount of different types of foods available. The Woolworths Pavillion has an array of budget friendly foods to choose from. Not much in the way of taste testing though. But there are ways to taste some of the fare for $5.
Mini hot dogs could be purchased for $2.50
Lemon Myrtle and Macadamia ice cream for $5.00 a cup (so delicious!)
Cheese toasties for $3
Cheese and Salami cone for $5
In the main alley behind the main ring arena, there were plenty of food vans for choice.
The girls wanted churros. These were $5 each for a long stick
Strawberry ice-creams are an EKKA favourite. Can't remember what I paid each for these as by this stage I was paywaving it.
Dagwood Dogs were $7 each
Drinks were $5 per bottle (Glad we had our water bottles!)
The EKKA food makes it easy to graze all day, but you could easily spend $100 on food for a family of 5. At night, the kids ate hot chips and chocolates from their Showbags. As long as they weren't hungry, I was alright with this. It was by this time I had my migraine coming on.
Showbags
The girls used their pocket money to buy showbags. Back in my younger years, the expensive bags were $10. Now, they average around $28! We had pre-decided what bags to get before we went to the EKKA, but it was interesting to see the girls change their minds when they actually saw up close what was in them. They chose really well considering what was on offer. Grandparents also gave money towards the bags so this allowed for two to three bags each, working within their budget.
Our favourites were the
$15 Bertie Beetle Bag (has 50 Bertie Beetles in it)
$5 Trolli Bag
3 for $12 Cadbury Bags – Curly Wurly, Caramello Koala and Furry Friends
The Hatchimals Bag
Shopkins Bag
Jojo Siwa Bag
Girls Only
Nella the Knight
We so aren't a family of girls are we?!
Rides
Rides are around $10 per ride per person. Sometimes you could get a special deal of 2 for $15. We chose the dodgem cars and some Rock N Roll car ride which looked innocent until I was on it and realised it also went backwards. #spewville
Our $45 ride card came in handy here.
To Game or Not to Game
We did let the girls play two games each. It cost us $41 and they all walked away with a soft plush prize. One also walked away with a slinky. It's the thrill and skill which excites the girls. Only choose games where every child gets a prize. If money is lost on one game, the Showbag arena offers a selection of stuffed toys for under $10 – so this may be an alternative. We played our games in the Kids Carnival section (not at Sideshow Alley)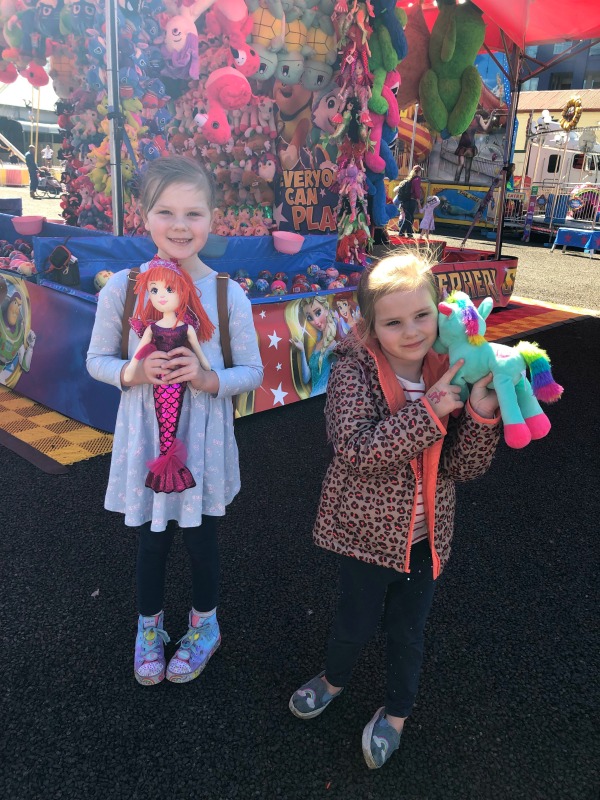 Exhibitors
There are so many exhibitors you could purchase items from! But just because you're at the EKKA doesn't mean you need to buy then and there. Take a brochure and buy the items at a different time – like for Birthdays and Christmas. I know the girls want socks from MadMia. I will get them another time for Christmas. Same with Tea Tonic for myself.
You can hire lockers at Side Show alley near the show bag pavilion, but it was the opposite section of where we parked and I didn't see the point in walking back and forth.
My top tips for taking the family to the EKKA on a budget is to
Pre-purchase what you can
Plan your trip (what you want to see, do and buy in the way of showbags)
Take a water bottle and fill it there
Let the Showbags provide your snacks throughout the day
Do as much of the free stuff (shows and displays) as possible to fill your day
The EKKA is a great day/afternoon/night out. I think of spending money at the EKKA as a way to give back to the small family run businesses that set up shop to show off what they've grown/made/prepared. From the Churros, to the Strawberry Ice Cream to the locally grown or prepared gourmet food you chow down throughout the day, the money is helping another family business flourish or is donated to charity which helps others.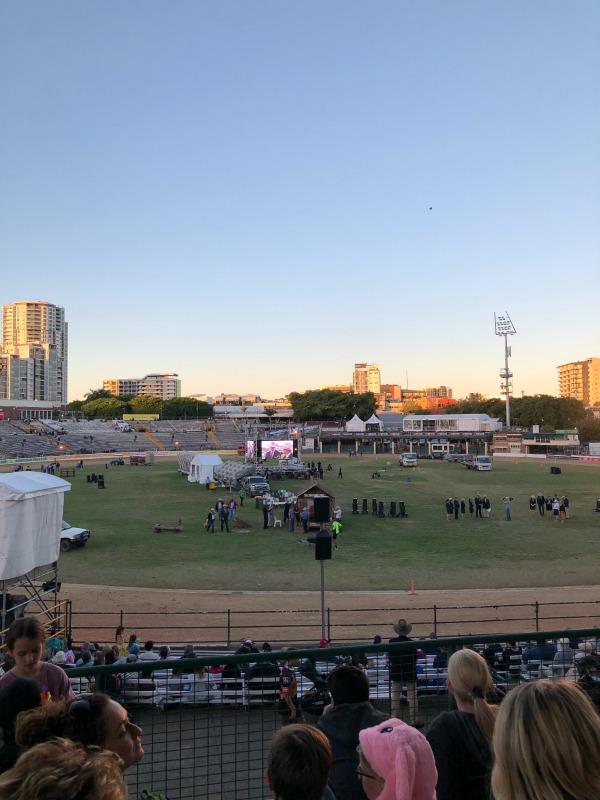 What tips can you give for going to the Ekka on a budget?