A Mermaid Beach Holiday with Kids is the ideal experience for families who wish to explore the Gold Coast. 
For this year's holiday, we decided to go local as we knew finances would need to be put towards projects around our home.
In hindsight, this decision worked in our favour due to the unforeseen effects of the pandemic on overseas and interstate travel.
I still held my breath a few weeks ago when COVID cases started to pop up near where we live. Would QLD go into extreme lockdown too, preventing us from traveling to the Gold Coast? Thankfully it didn't and we headed away last week to our favourite family holiday – Turtle Beach Resort at Mermaid Beach.
Mermaid Beach with Kids
It was a different holiday experience this year because the kids are older and they don't need us to be in the water to keep them afloat!
Some activities we could do for the first time because our youngest was old enough to enjoy it.
I thought I'd share what we got up to if you're looking for a family friendly destination if you live locally in Brisbane.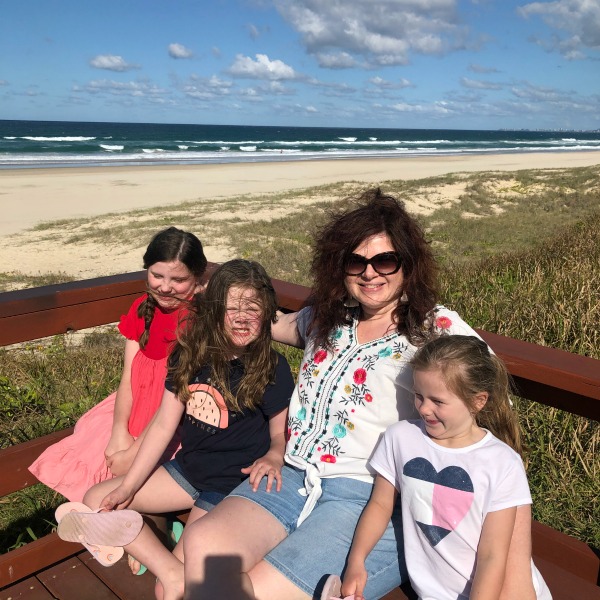 If you're in other states, feel free to live vicariously through our photos. Bookmark it as a place to visit when borders reopen. x
It was our third time staying at this resort and our eldest kids were excited because they remembered the pools and slides.
Our kids are in the primary school years where the inclusion of pools, slides, playgrounds and outdoor activities are important to keep the family entertained.
If you didn't want to go to the beach, but wanted a tropical feel holiday that would entertain the kids, Turtle Beach Resort has you covered.
Splash Zone Water Park is a winner with the kids. With 4 slides to choose from and a dumping bucket, the kids can entertain themselves in this area, with you watching on.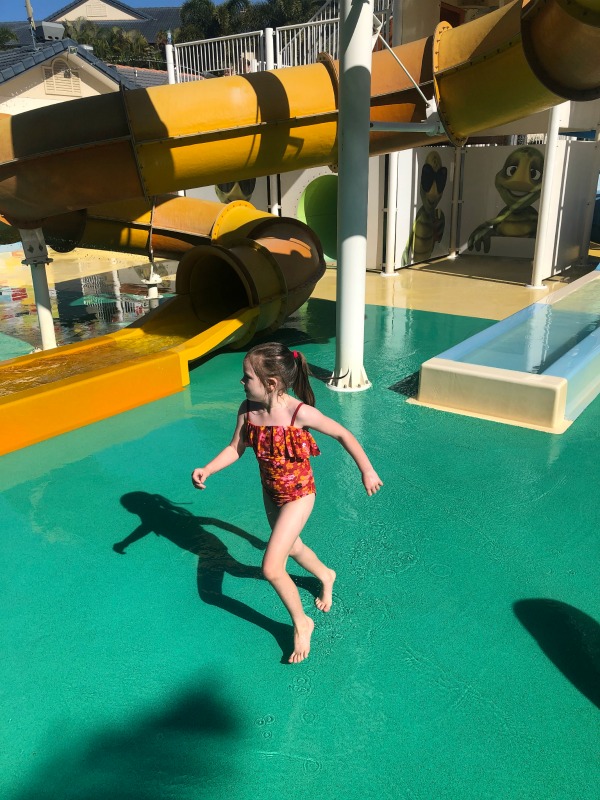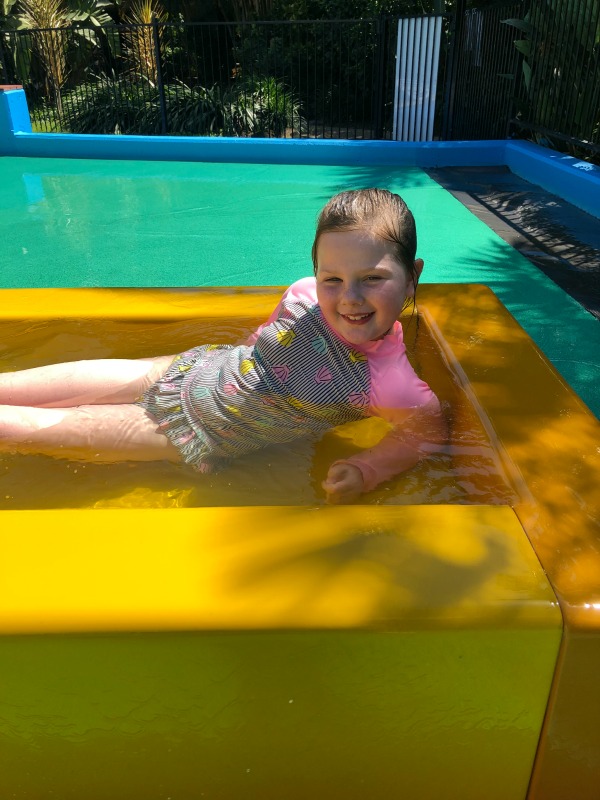 The pool area near Splash Zone was our favourite place to swim. It was ideal for Jacob and I to laze back and watch on if we didn't want to jump into the pool. (We did though. The water was too beautiful not to!)
We played Putt Putt golf, which is well set out on the resort. We even played a game of tennis, which was more entertaining for the parents who could hit the ball over the net.



Mermaid Beach
Mermaid Beach is only a couple of minutes walk away.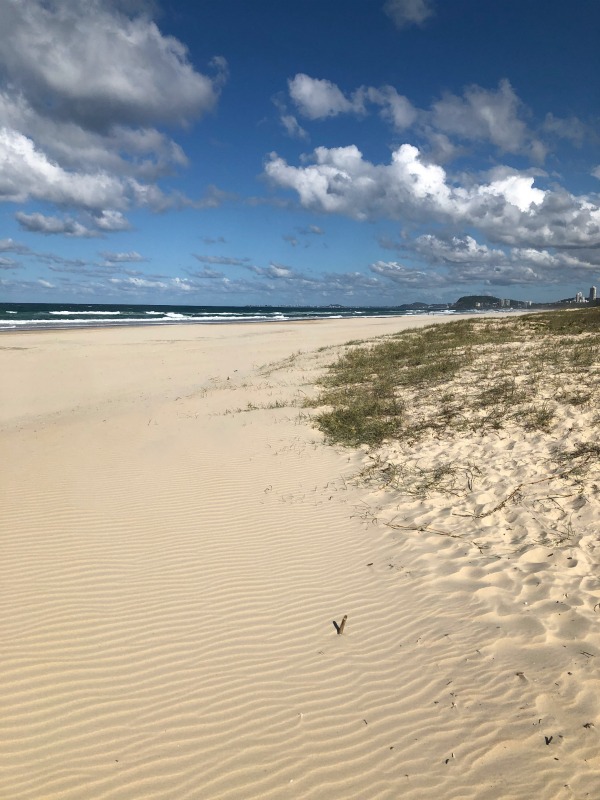 It wasn't patrolled when we headed there, but it's a lovely beach to walk along during the day or at dusk.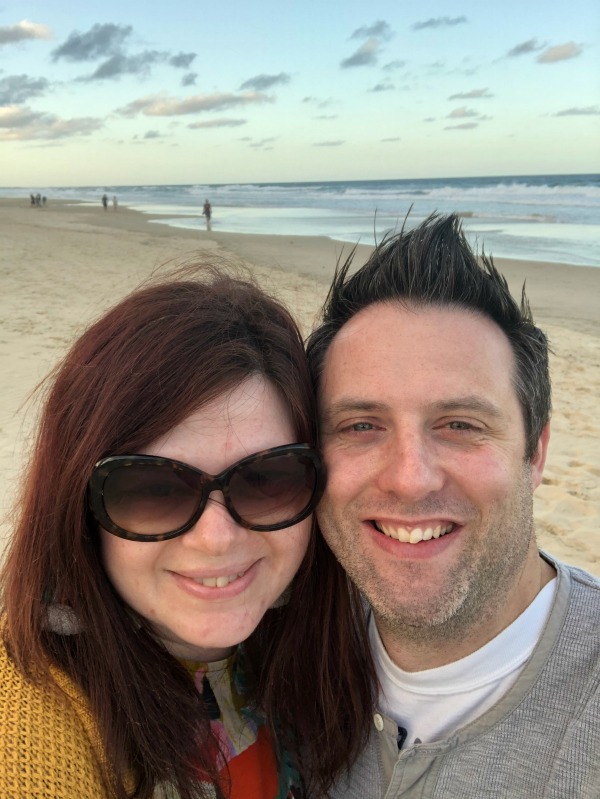 If you are wanting a kid friendly beach, Greenmount is our favourite. We were willing to make the 30 minute drive to and from which made for 2 days out while we were away.
Where to eat
We had breakfast in our apartment and would swap between eating out at lunch or dinner.
I had plenty of fruit, veggie sticks, dip, ham, cheese and crackers to make grazing platters for us to munch on depending when we ate back at the apartment.
Across the road is Mermaid Village which has an assortment of different takeaway cuisines to choose from including sushi, Subway, bakery, fish and chips, Thai, Italian, Baskin Robbins and various takes on Japanese food.
There is also KFC and Sizzlers down the road.  Pacific Fair is a bit further down if you wanted to have lunch in their food court.
There are trendy cafes and restaurants in various pockets along the highway. There are plenty of places to eat.
Most of our dining decisions were based around the kids and our budget. Here were the standouts for the week when we erred from the takeaway staples the kids would willingly eat.
The Deck restaurant at Turtle Beach Resort has limited trading hours due to COVID. It's mainly open for short windows on the weekend. We made use of that short window on our first night by ordering a woodfired pizza and various other kid favourite meals. It was a great option for convenience.
We ordered the $49 Family Pack and had a picnic on the sand dunes at Mermaid Beach. It's one of my favourite memories from our holiday. The fish was delicious and the view was amazing.
The kids wanted Subway for lunch, but on our walk there, we passed Pane Organico Italian Bakery. Jacob's caramel filled donut and my cannoli were delicious. We ate these via the beach too.
When the kids had takeaway sushi, we ordered Thai from Lucky Buddha Thai. The Panang Chicken and Crispy Duck were awesome. This restaurant was a local recommendation and has great reviews online. Well worth supporting.
This quaint little shop was always on our walk back from Mermaid Village to our resort. We made a habit to purchase a cone or tub when the shop was open.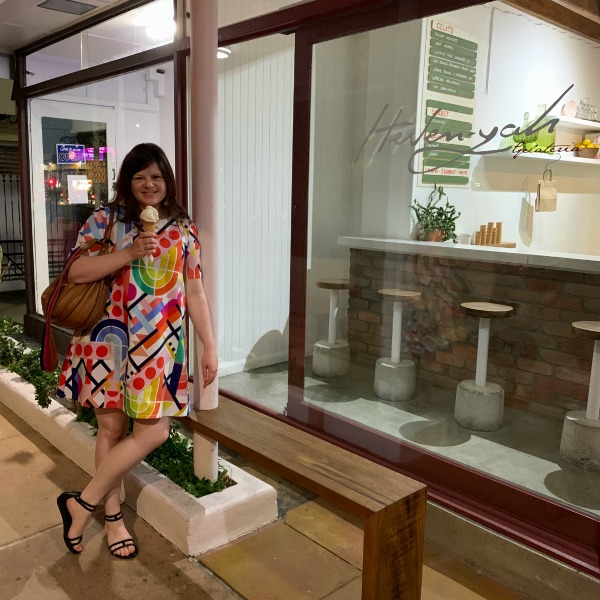 My favourite was the Salted Macadamia Praline. I think I had 3 cones and 1 tub of this flavour because it was soo good. It's dubbed as the best gelato on the Gold Coast and it's right on your doorstep if you stay at Turtle Beach Resort.
This peculiar looking igloo type dwelling called Bistro Lamp caught our attention. A quick scan of the menu had us book a reservation to eat here while the kids were in the kids club at the resort.
I started with an espresso martini.
We ordered a number of plates to share and the presentation and taste were superb. It's one of the best dinners we've had out this year. Do try the Bao Pork Buns, Chicken Karaage and Wagyu Beef if you get to visit.
Greenmount Beach
Greenmount Beach is a favourite for families due to the gentle waves and sand dunes creating a calm lagoon. It is a half hour drive away from Mermaid Beach.
When we arrived, the lagoon was quite wide and at hip depth, which was perfect for the kids to swim in.
The beach for us is always a fun day as we bring a basket full of buckets and spades for sandcastles.
The Wahu Surfer Dudes are also entertaining for kids as they throw them into ocean and the waves carry the surfers back.
I had been looking everywhere for these toys in store at Kmart and Big W. They are available online now and are on sale at Catch (would make a perfect Christmas present for 4-7 year olds). We came across ours in a surf shop at Coollangatta.
Point Danger Walk
I had wondered with the closure of the borders if we could do the Point Danger Walk and finish at the lighthouse.
As you can see, we could. Oh the thrill of being in two places at once with one foot in QLD and the other is NSW.
But that border and it's closure has caused much heartache for families. While this photo was taken in jest, I know it's caused difficulties for families seeking healthcare over the borders or dealing with frustration with the lack of leniency when saying goodbye to a loved one.
Hard-hearted decisions have been made and they will come at a cost.
But I digress. Let's look at this view!
At the memorial walk, we got the kids to stop to look for whales. We didn't see any. Plenty of surfers were about though, despite the fatal shark attack a few weeks ago.
With everything that has happened this year, I'm grateful to live in QLD and have access to gorgeous beaches.
Shopping
No trip to the Gold Coast is complete without some shopping.
We made a few purchases from Alfred Street Emporium – mainly for the girls. This store is located across the road from the resort. The girls were also taken by the pup Frankie who met them at the door.
Pacific Fair is always a delight to visit. It actually felt like how shopping used to feel before restrictions were introduced due to the pandemic.
Yes there were signs about social distancing and hand sanitiser stations everywhere, but doors weren't closed to minimize numbers. Maybe because there are less people shopping these days.
Over the school holidays, Pacific Fair has a free carnival for kids. The kids got to experience the attractions on the Friday before they officially opened. It was just by chance as we headed here to break up the time between beach and pools.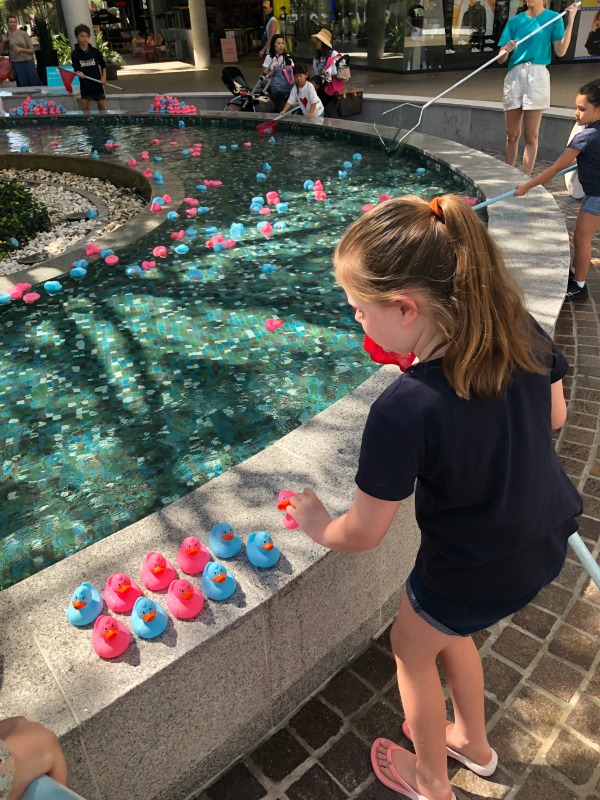 If you can holiday in your own state and shop and eat locally, it all helps businesses during this time.
Now that we're home, it's time to plan the next getaway.
Have you booked any local holidays to end this year?
Other posts to check out
Disclosure: There area affiliate links on this post. Should you choose to purchase an item, I will receive a small commission at no extra cost to you.