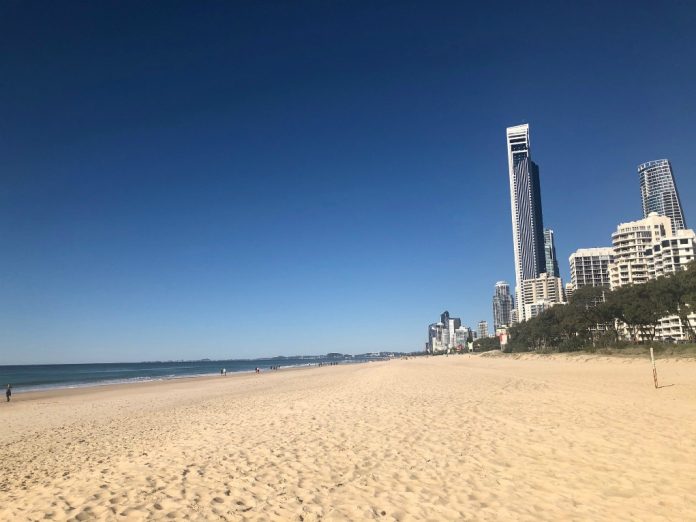 A date night should be a regular part of married life. But if I'm honest, it falls by the wayside when kids, work and life responsibilities collide together.
I don't know about you, but date night opportunities can be rare. When I do organize one, I'm indecisive on where to go and what to do – often resorting to staying home and getting takeout.
My favourite experience is dining at a restaurant. But it's different now with social restrictions.
If you've dined at a restaurant recently, you may have noticed the new normal. These are just some of what I've experienced in the last two weeks as restrictions have eased in QLD.
You have to book a table in advance aka you need to know where you're going or it may be a Macca's drive thru
Hand sanitizer is available at every entry point
There is a marked entry and exit point
Tables and chairs are taped off to meet the 1.5m social distancing rule and to meet maximum patrons
If you're unable to book a table, you have to line up and wait at least half an hour until a table is free
When you finally get a table, you are advised there is a 1 hour dining window
Not all of this is bad. And in no way am I complaining especially when parts of Melbourne are in lockdown, most of the world is still recovering and third world countries are experiencing extreme poverty.
But I think it's ok to acknowledge life isn't the same as it used to be.
We've been actively supporting our local takeaway restaurants since restrictions hit in March. But I have missed the thrill of dressing up and going out for dinner. Even if it was a rarity before the virus hit.
So when restrictions eased and the winter school holidays finally arrived, my parents offered to have our girls over. We had two nights free of kid responsibilities.
But if I'm honest with you, all Jacob and I needed was rest.
We both work in essential services and even though we don't work in health, we've been at the forefront of supporting customers immediately impacted by the financial and lifestyle impacts of COVID-19.
We needed a change of scenery and a chance to breathe and recoup.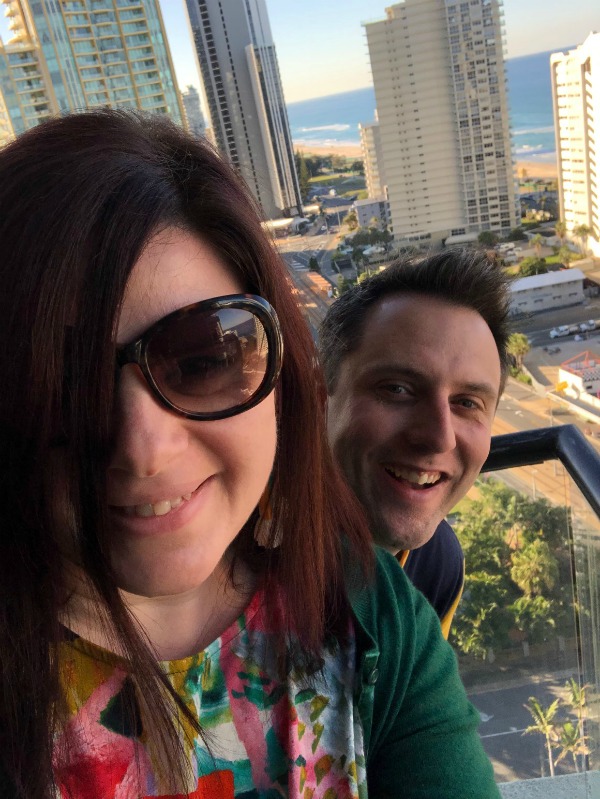 Our Thursday night dining experience at Garden City was every point I mentioned above. It was strange to see shops closed on a night where they would be open late.
It was another reminder of the new normal.
For our second kid-free night we booked a last minute hotel stay at the QT on the Gold Coast for Friday night.
The buffet restaurant was closed due to the virus and safety, but room service was still available and that proved to be ideal for our hotel date night away.
No need to wait for a table or be told you had an hour to eat.
I booked our hotel getaway on Friday morning. A bit of research online landed me onto a page called Hot Wire.
This site offers last minute rates and even surprise hotel rates if you'd like to book a mystery hotel escape. I'm not sure who owns the site, but I went direct with the hotel instead.
They couldn't match the price but they got close and added some inclusions. I always prefer to book direct with a hotel.
We packed the 24 hours in with shopping at Harbour Town (again a strange experience), a walk along the beach, browsing and buying food delights at the night markets and enjoying an espresso martini at the Stingray bar.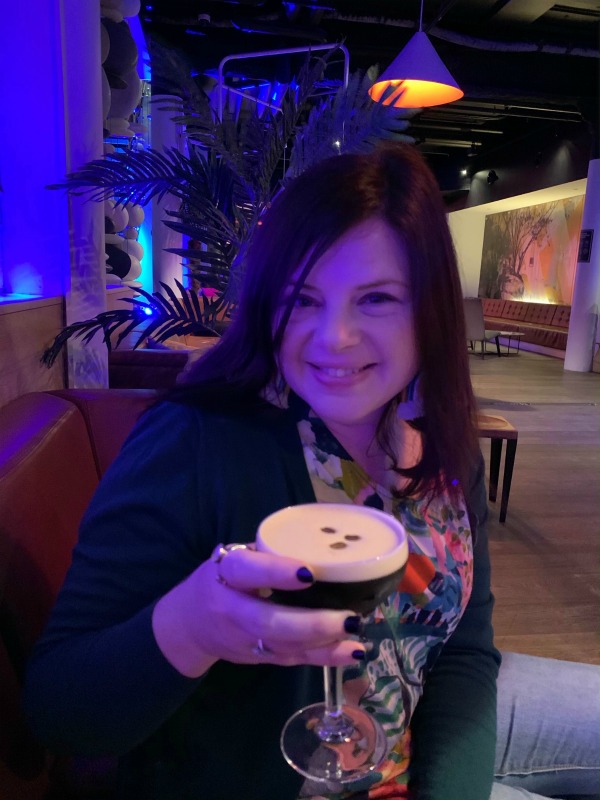 Jacob and I reminisced the last time we had been at the hotel was when Phoebe was 6 weeks old. We had come down for Problogger Conference. This again reminded me of another impact to local tourism with the loss of conferences and hotel rooms booked out.
Although I do know some have been booked out for quarantine.
After a drink and inhaling a large bowl of sweet potato fries (which were supposed to be a snack before dinner) we settled back into our room for dinner, but instead opted for a movie. Pop-tops and fresh popcorn was delivered as part of the movie package experience.
Breakfast was also delivered the next morning to our room. The highlight was not preparing breakfast and eating with a view.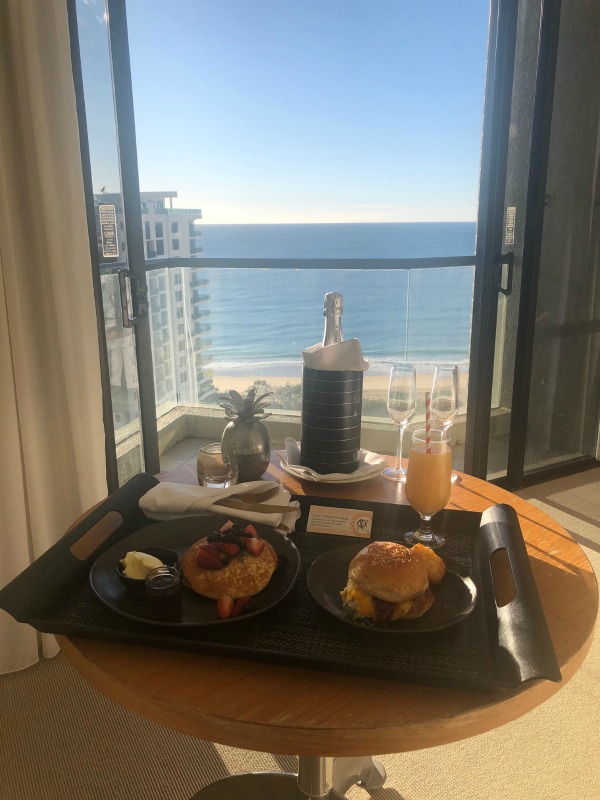 We managed time for another walk along the beach before we headed home.
Travelling local is going to be the new normal for many of us, which I think is necessary to support tourism in our own country.
While some things will feel and look different, the best thing we can do is spend with local businesses.
Our 24 hour hotel date night getaway was just what we needed.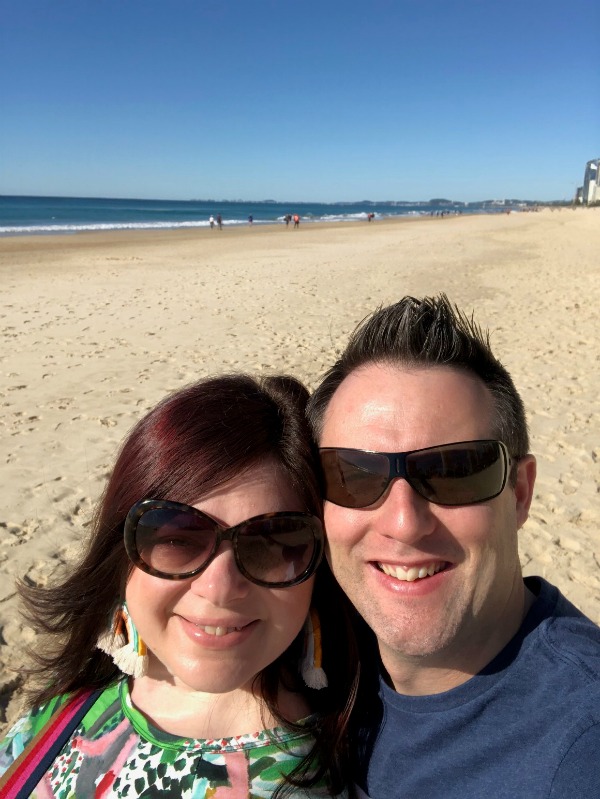 I hope you can do something similar soon.
If you feel strange with the new normal when dining out, book a hotel. I know the hotel and the workers will appreciate your support.
Thanks to the QT Gold Coast for a lovely night away. The service was friendly, view was amazing and I loved the complimentary sparkling wine on arrival to our room.
For some this would have been indulgent, but for us, it was money well spent.
Weekend Getaways in QLD