I try to offer an array of foods to my girls when it comes to their meal times. Though sometimes their fussiness has me reaching for the basics of the food chain because I know they will eat it and it won't go to waste. I know that those foods pass their taste test.
I don't know how many times I have bought something new from the supermarket thinking my girls will love it and they don't so it sits in the pantry cupboard for a long while before being tossed into the bin.
I hate wasting food. And I'm especially more aware of it after visiting a third world country like Africa.
Fresh food is always best but sometimes it's easier to grab a pre-packaged food because I know it won't go off in the heat of the day and there's no preparation which is a win on those mornings when rushing out the door.
When we are at home (which is most days now that Phoebe has arrived) Esther asks for a 'selection' which is a divided Tupperware plate with a selection of different foods which include fruit, biscuits (either Jatz or Tiny Teddies) and cheese. On rare occasions for a treat I also add Cadbury's chocolate chips. When we have playdates, I usually make the 'selection' into a platter arrangement like below.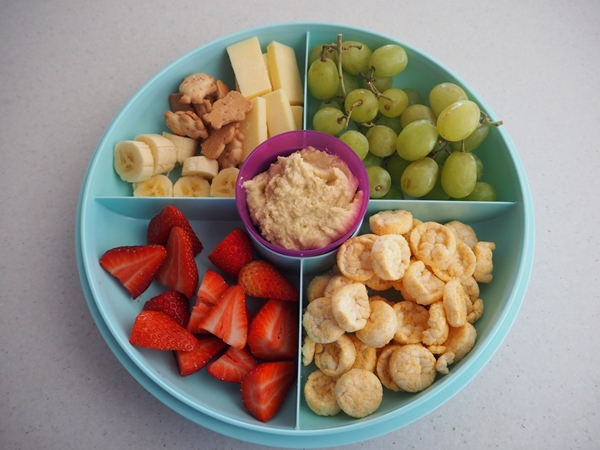 I was fortunate enough to add Healtheries Rice Wheels to the selection with some hummus dip.
My girls loved the Rice Wheels. They're a mini rice cake with a delicious flavouring that had my girls asking for more. The Rice Wheels were the first of the packets to be completely consumed. They are 65% less fat than regular potato chips, are wheat and gluten free, low sugar, no added MSG or Palm Oil and no artificial colours and flavours.
I find most healthy food packaged options bland because by the time they take away all the nasty stuff, what's left behind doesn't taste that good.
But the Healtheries range – especially the Rice Wheels won the taste test for myself and my kids and they will definitely be making a regular rotation on the morning and afternoon tea snack roster.
What foods do you give your kids for morning tea? Are they fussy about what they eat?
Disclosure: This is my second entry into the Kidspot Voices of 2014 #snackosphere challenge.  You can read my first post here. As part of the challenge, I was sent a box of Healtheries chips to try and review.  I have one more product post to share. All opinions are my own.