On the weekend we had Jacob's 40th Birthday and we loosely themed the party around Star Wars.
The uncertainty of if a party could even happen meant much of the planning was last minute.
We decided to hold the party at our house, keeping within the restrictions of maximum numbers. I didn't realise this could be so difficult with so many circles of friends and their kids.
But with family interstate or too frail, and segregating friends with those we see on a near daily basis, we made it a family friendly celebration… with a few cocktails thrown in.
My lovely friend Kat (who also lives a few houses down in our street) made the cake (Thanks Kat). It was a showstopper!
There was a layer of white chocolate mud and another layer of caramel mud with caramilk/gold KitKats lined around each layer.
I had bought a 40th cake topper from Etsy to place on top. "May the 40th be with you" tied into the theme so well.
To cater for food intolerances, Kat also made Baby Yoda gluten free cupcakes. These were a hit with the kids.
For food, we turned our dining table into a grazing table. We did this ourselves to save on catering expenses. The cheeses, dips, crackers, meats, fruit and nuts were all purchased from Aldi or Woolies.
My mum made chocolate crackles and Star Wars chocolates to intermix on the grazing table.
To turn the dining table into a grazing table, we removed all the chairs, covered the table with a black table cloth and the lined the middle with brown paper.
Under the brown paper, we place chopping boards to make it easier to cut the cheese on.
Cheeses and dips were placed first, then the crackers and meats and all the pourable items like nuts, chocolates, dried fruits and etc.
The fruits and veggies like figs, grapes, baby capsicum, cucumbers, carrots and strawberries were placed in the spare spots where the brown paper could be seen.
It was certainly a hit and we have cheese and cake for DAYS. The fridge has never looked so full.
My mum also made cobb loaf (thanks mum) and friends brought quiche (thanks Na), Chicken wings (thanks Sam and Sarah) and cheesecakes (thanks Hailey).
Baby Yoda Mocktails and Cocktails
For drinks, we had plenty of soft drinks and alcoholic beverages.
I made non-alcoholic Baby Yoda Mocktails using Pine Lime Cordial, Ginger Beer and Lemonade (will link recipe when it's published on another page).
Baby Yoda Cocktails were made for the adults. I had the ingredients but no real recipe which didn't sound complicated. I got my friends to make up a recipe using Midori, Vodka, Lemonade, Lemon juice and icing sugar.
These went down quite nicely with the grazing table.
I set up crafts for outside where the kids could make their own lightsaber out of pool noodles or build a droid with collage. The pool table and air hockey tables were also another way to keep the kids entertained.
Overall, it was a great night. Jacob and I were both exhausted after the party and his actual Birthday was the next day, which we had plans for.
We're so grateful we could have a party when many have been denied due to immediate lockdowns. If you have been one of those affected, I hope you can celebrate soon. The uncertainty is a factor none of us anticipated with celebrating a milestone.
A special thank you to all who came, and to all of you who wished Jacob a Happy Birthday.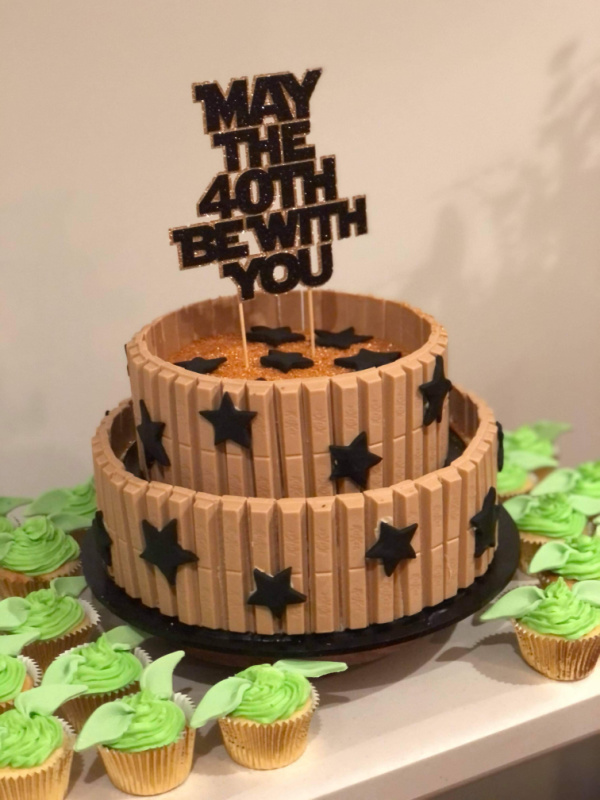 Other Party Ideas