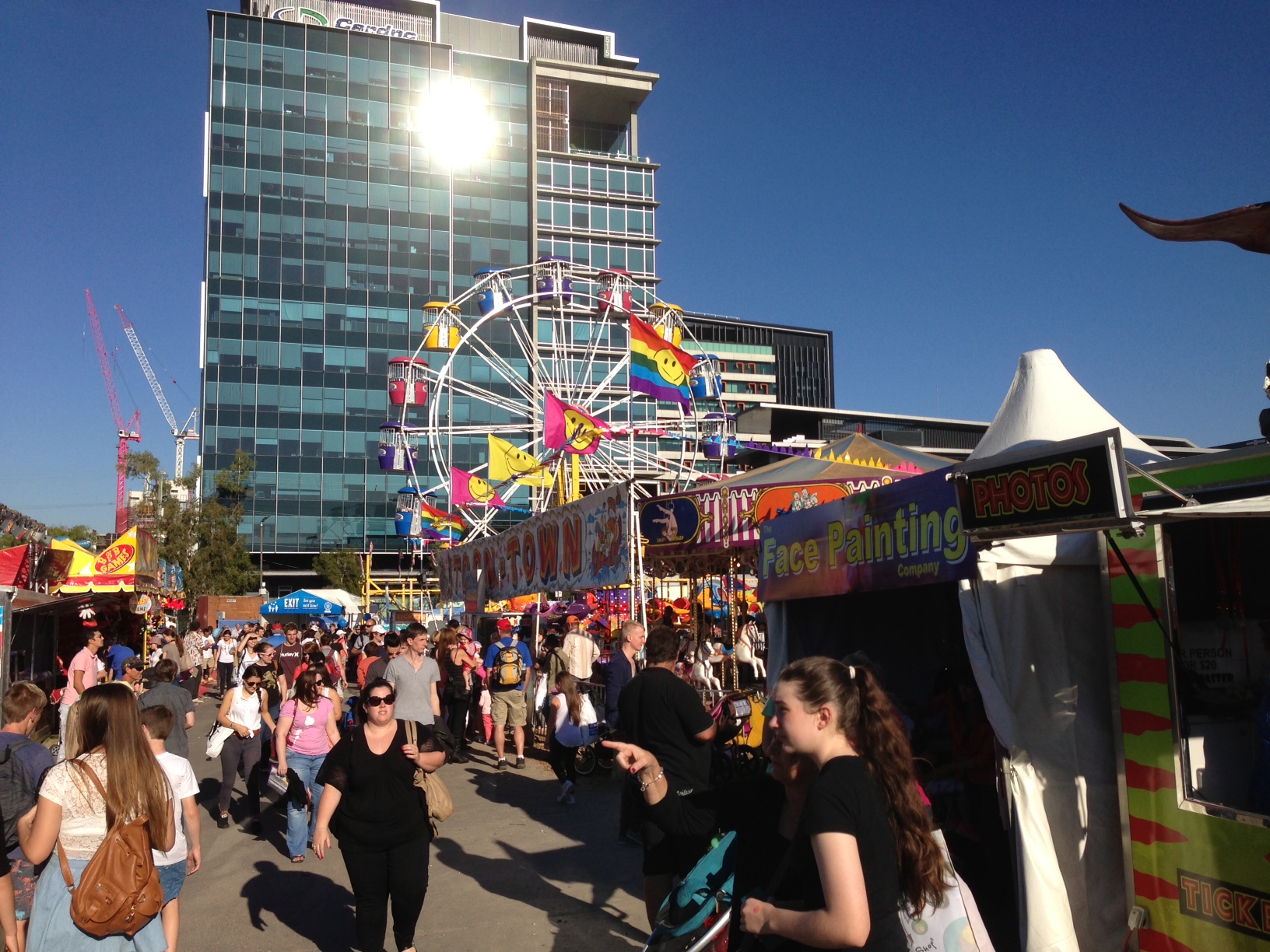 We blew a little under $200 to go to The Ekka and I don't regret a cent. Some would say what a waste of money but The Ekka holds nostalgic memories for me not only as a child but as a plumbing apprentice.
I have always loved the Ekka. My parents would take my brother and I every second year or so and the tradition of going is one of my favourite childhood memories. I actually wasn't really interested in the animals. I was more interested in the arts and craft, the dog shows, the agricultural and lifestyle displays, the food, the show bags and the night time entertainment in the ring including the fireworks.
Mum and dad didn't allow my brother and I go to side show alley until we were a certain age like early high school. I'm not sure on the reasons why, but I can tell you when we did go to that part of The Ekka, we loved it.
For me, I preferred to admire the lights of the rides rather than be on them. Playing the games meant that we would spend a fortune trying to win a stuffed animal or we'd play enough games to upsize each smaller prize for an even bigger prize.
My dad would play in the Youth for Christ and South Brisbane Federal Bands when he was a member which meant we would have to wait for dad to finish playing before we could have some fun.
I will never forget one year when I was in Grade 9 and I was in Math class and before the bell rang for lunch the teacher received a phone call. When the teacher hung up, she announced to me in front of the class that I had to go to the office. My mum was waiting there to take my brother and I to the Ekka. You should have heard the class react after hearing that announcement. They asked if they could come too!!
When I was doing my plumbing apprenticeship, two blocks of Tafe would end on the first Friday of the Ekka over the two years that I completed the Tafe requirements. I can remember counting down the weeks till Tafe was over so I could celebrate with Jacob at the Ekka.  The Ekka has happy memories for me.
I still went to The Ekka right until before I had Esther. Esther was born in early August 2010 so we didn't go that year and subsequently haven't gone since then.
But there were no excuses this year not to go, so on Sunday we caught the train in (it was Esther and Magdalene's first train ride) and decided to battle against the crowds for an afternoon out.
The place was packed and HOT and because of our late arrival and Esther having had no midday nap, tantrums were starting to flare.
I actually grimaced inwardly about why we decided to go on Sunday but the inner child in me was too eager to enjoy it and make the most of it after we had made the effort to get there! We had Strawberry Sundaes and Dagwood Dogs and Esther scored well getting a Peppa Pig and Cars showbag.
The showbags are pricey. I remember as a child a $10 showbag was really expensive back then. In saying that though, everything is useful in the Peppa Pig and Cars show bags – there was no filler crap that used to be the substance of the showbags from my younger years.
Esther wanted to go on the 'roundabout' ride aka The Ferris Wheel which Jacob happily took her on after her first request was to go on this…
The Thiess show bag was a winner too (they are handed out at the Thiess Tent near the little kids side show alley at the St Pauls Terrace end) For $2 you got a bag with a  mini hard hat, pencils, colouring in book, jellybeans, sticker and rubber bracelet. The $2 was being donated to a charity.
If you have young children and don't want to spend money on the games, The QLD Government Fun Pavilion has plenty of free activities to entertain the kids with a mini rock climbing wall, sandpit fun and interactive displays.
The Woolworths Pavilion didn't disappoint and I got my Good Taste & Super Food Ideas Show bags which were 2 for $15. The value in these bags was excellent as you can hopefully see in this picture.
We couldn't leave The Ekka without getting a Kewpie doll. At first Esther didn't want one, and then when she saw that we bought one for Magdalene she had to have one too.
We finished the afternoon off with a game on the clowns where Esther actually won a prize!! And she had a go at Pluck a Duck and when she was offered a choice of a constellation prize, grabbed both prizes before the girl handing them out could say any different.
We missed the Peppa Pig Show, the Fashion Parade and feeding the animals and left before the night entertainment started in the ring, but we didn't care. We had a great time and we will go again when Magdalene is old enough to remember. The things we missed can be enjoyed another year and we will remind ourselves to go on a non-public holiday weekday to avoid the crowds!
If you are a Brisbane resident and want to save money on tickets, buy a McDonalds Happy Meal and you will receive a voucher where you can get 20% off by purchasing your tickets online or 10% at the gate.
Have you got any fond memories of the Ekka?