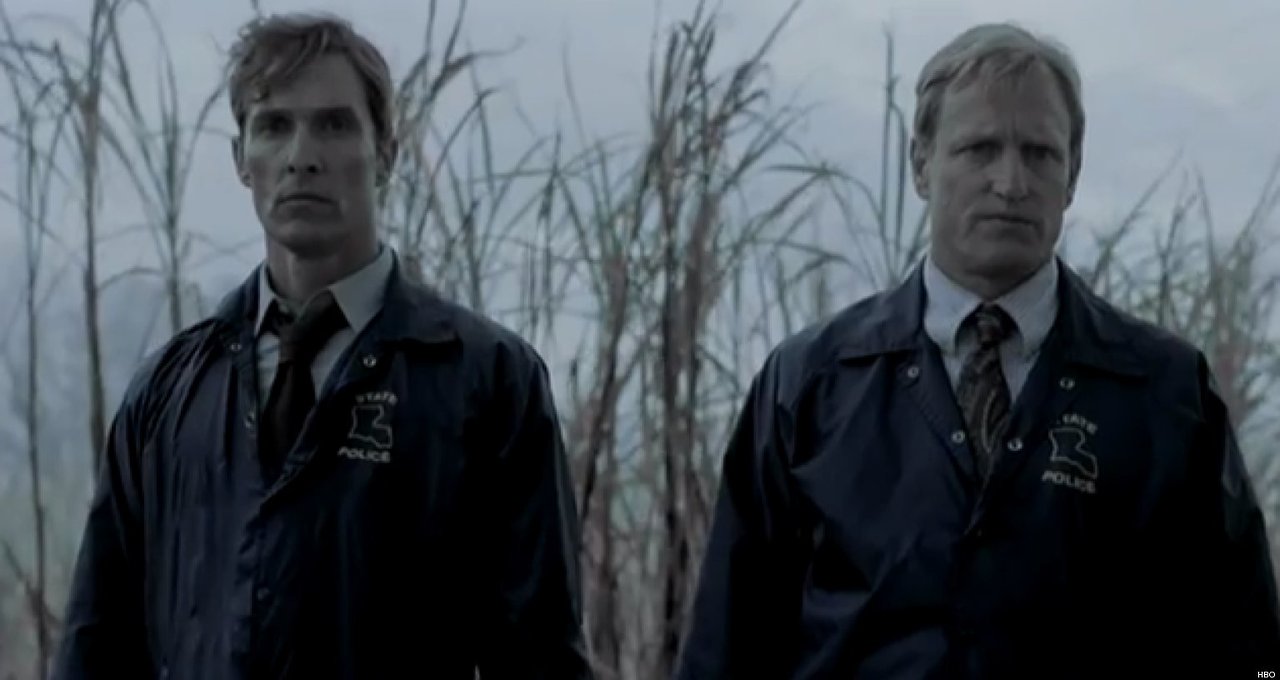 Whenever I hire out a movie, Jacob comments on how girly, deep, dark or terrible the storyline is. I have been known to choose some doozies over the years. Sometimes this can be frustrating because when you have time to view a movie while the kids are in bed, you want it to be good and enjoyable.
Our usual DVD hire shop was shut down a while ago and we haven't actively sought out another way to hire DVDs. When I was approached by Warner Bros to review and giveaway True Detective, I was keen to watch something a bit different. When I looked at the cover of the DVD, it reminded me of Heartbeat. It is nothing like Heartbeat. They are not in the same league at all.
I enjoy watching shows like CSI, Bones and any type of crime detective shows so long as they aren't too deep or emotionally involved. Jacob and I used to watch Criminal Minds together but we stopped recently because the cases started to get a bit disturbing.
True Detective is very similar to Criminal Minds. The TV series is set in two time zones 1995 and 2012. The storyline revolves around two detectives Marty Hart (Woody Harrelson) and Rust Cohle (Matthew McConaughey) who are partners in Louisana's Criminal Investigation Division. In 1995 they are assigned to solve a terrible murder which leaves symbolic and cult like evidence at the crime scene.
The series starts in the present day 2012 where Hart and Cohle are interviewed separately about working together in 1995 to solve the murder case. The reason they are being investigated themselves is because a new murder has occurred in the present day that is similar to the murder case that had been solved by Hart and Cohle all those years earlier.
Interweaved through the investigation of these disturbing murder cases, which are done to missing children, we are given information about the personal lives of the detectives. Their lives outside of work entwine unexpectedly and they battle issues which add more emotional involvement from the viewer into the story.
There is strong violence, sex scenes, drug use and a lot of coarse language in this TV series. Viewing this series opened my eyes a little more to a dark world. When you're a parent of little kids, the crimes described in this TV series were horrifying.
And yet there were parts that I enjoyed watching like the interesting and underlying comradery between Hart and Cohle. Despite their personal issues, they both were men with good hearts that wanted to find justice for the victims, sometimes not doing it the lawful way.
Matthew McConaughey plays his character superbly. When I think of McConaughey I think of romantic movies like How to lose a guy in 10 days, The Wedding Planner and Ghosts of Girlfriends past. In True Detective, he plays the role of a smart but troubled, slightly haunted detective. He suffers from hallucinations and has no belief in religion or God because of his personal tragedies with the death of his two year old daughter and the disintegration of his marriage. He had also previously been undercover and been exposed to drugs which explained why he was so deeply troubled. But he was also intuitive.
After viewing the whole series, Jacob and I discussed how important it is to put family first when it comes to juggling work and not put ourselves in a position to be intimate with someone outside our marriage.
We watched it once our girls were in bed and it took us a week to get through the series. I'm kind of intrigued and tempted to know what happens in season two.
As part of this review, Warner Bros has kindly given me a Blu-ray copy to give away to one lucky reader.
To enter the giveaway, tell me what you favourite movie with Matthew McConaughey is and why.
The most interesting and creative answer will win the DVD. Please note it is a Blu-ray copy, so you will need a Blu-ray DVD player to watch it.
Terms and Conditions
This is a game of skill. Each valid entry to be judged on creativity and originality, not by chance.
There is one prize: One $49.95 True Detective Blu-ray DVD.
Entries open from Tuesday 7th October 2014 6am Brisbane Time to Tuesday 14th October 2014 6pm Brisbane Time.
Prize is not transferable or changeable
Prize sent out by The Plumbette will not be replaced in the event it is stolen, lost or damaged in transit or virtually.
Entry is via leaving a comment or sending an email to answer the question.
   A valid email address must be included in your entry.
Entry into any giveaway or competition is deemed acceptance of these Terms and Conditions
Entrants must be Australian residents and aged 18 or over
The winner will be notified by email and has 3 days to reply and claim the prize. The winner will also be announced on Facebook. This giveaway is not endorsed by Facebook.
The decision on the winner is final and no dialogue will be entered into otherwise.
These terms and conditions are subject to change at anytime without notice
The Plumbette received a copy of True Detective for the purpose of this giveaway and financial compensation. As always, all opinions are my own. This post has been written in accordance to my disclosure policy.