A week or so ago, I shared a photo on Facebook of myself standing on my Shakti Mat and it received a bit of interest and questions about the mat. I thought I'd share what a Shakti Mat is and why I use it. But first, I need to share the background to why I got the mat.
Background
Before Jacob and I had children, we went on a week-long trip to Melbourne. While seeing the sights and shopping a storm, my feet became incredibly sore from all the walking. When we headed to the Queen Victoria Markets, there was a pop-up market that sold domes that sat on the floor with spikes on it. If you stood on the dome, it was said to relieve pressure and boost circulation. I wanted to give my poor, tired, aching feet a go on the dome. I do remember standing on it and immediately felt pain, but it was a good pain. Once I came off it, my feet felt more relaxed. The tension underneath had gone. I decided not to purchase it because it was bulky, but I knew it was something I'd want to get when I got home.
It only took me ten years later to find a similar product, the Shakti Mat, that would give me the health benefits of relieving tension and boosting circulation.
I saw the Shakti Mats advertised online last year. It wasn't until I tried my friend's mat that I knew the Shakti Mat had to be put on my bucket list of gifts.
Jacob bought me a mat for our wedding anniversary this year back in April. An unusual gift choice, given it's also known as 'the bed of nails', but I was thrilled to finally be able to relive my 'reflexology dome' experience from all those years ago.
What is a Shakti Mat?
Aptly known as the 'bed of nails', it's a mat with sewn spiky, sharp discs that act like acupuncture when laid or stood on. I've never had acupuncture, but I do imagine it's a similar feeling when laying on the Shakti Mat. I love reflexology massages, but often don't have the time (and sometimes the cash) to have a regular massage. The Shakti Mat allows me to receive the benefits of a treatment, but at home.
How I Use My Shakti Mat
I get a lot of tension in my neck, shoulders and upper back. The cause of this tension is from sitting at a computer typing. So I use my Shakti Mat to release the pain, and as I do a lot of typing at night, I usually use the mat after I've done my work and before I go to bed. I lie on the mat (no clothes on my top half) on my bed, and I will read a book as I feel the initial pain from the spikes and then a warm, numb sensation washes over me and I feel incredibly relaxed.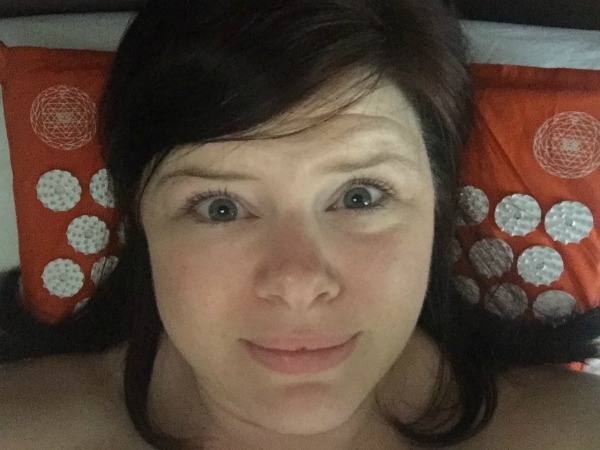 Another way I use my Shakti mat is by standing on it. I can't last more than 2 minutes. It hurts, but I do feel energized after standing on it. And my feet feel good afterwards too.
If you use essential oils for reflexology, you can rub the oils on your feet that relate to the part of your body you're wanting to receive the benefits. You can then stand on the Shakti Mat and allow the pressure on your reflexology points do their thing. (I don't understand how it all works, but it's helped me)
The third way I use my Shakti Mat is by rolling it up and putting it behind my neck to really relieve tension that can cause my headaches. The Shakti Mat is said to help reduce migraines. I can't claim that for myself but I do feel less tension in my neck which has led to me having less headaches.
The Spiritual Aspect of Shakti Mats
I didn't think about the spiritual side on the use of these mats because I've never seen them as a spiritual aid or product. I've always used it as a tension reliever.
But like all alternative medicine practices and aids, care should be taken when making decisions on their use. I don't entertain the spiritual aspect when using my mat. Although I've read my Bible based devotions while laying on it. I try not to look at my phone while I'm on it so I can benefit from the relaxing sensation. Most times I read while laying on it to prepare myself for sleep.
The number one reason why I use the Shakti Mat is because it gives me the benefits of a massage, without heading out to get a massage.
The mat is used by everyday people, including sports people, who are looking for something that will help relieve tension and help with muscle recovery.
There are many reviews online from people who love using their mat. The only hurdle with using the mat is getting into the habit of using it. I keep my mat by the side of the bed so it's easy to lay on the bed.
I use my mat most nights before bed. I also stand on the mat in the morning when I'm feeling sluggish from not getting enough sleep. I don't drink much coffee, so the mat is a great way to wake me up.
If you suffer from back pain or tension in your shoulders, then this mat could assist in relieving those symptoms. I wish I had it when I worked on the tools. It would have really helped my shoulders when I dug trenches for drainage! It's definitely a mat that can help tradies after a hard slog at work.
If you're wanting to get your own mat, Shakti Mats are offering The Plumbette readers an exclusive 10% off. Just enter PLUMBETTE at the checkout to receive your discount. You can shop here.
I'd love to hear your thoughts. Have you got a Shakti Mat? What do you use yours for? How has the Shakti Mat helped you?
Disclosure: This is my personal opinion of using the mats. It's worked for me and for others, but like many alternative practices, this doesn't replace medicine or trips to the doctor to get health checked out. If you have any health related questions regarding the mat, you can send a question to the Shakti Mat website, here.