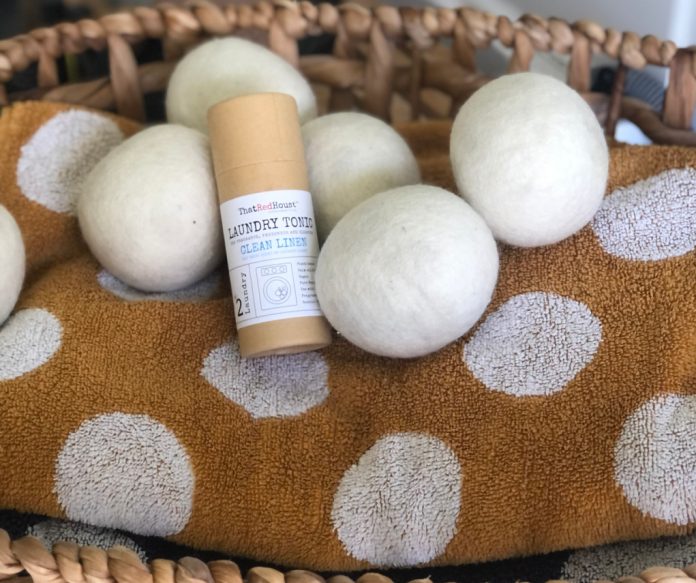 Here are 3 Eco Friendly Household Swaps I've introduced to our household to reduce waste and support local businesses initiating change. 
I know as a family we can make better choices to reduce household waste.
Old habits can be hard to change though and sometimes, going greener can come at a cost to the budget.
I was the mum that would buy a 24 pack of toilet rolls for $8 at Aldi cause I'd argue – why spend more on toilet paper when it's going down the toilet anyway?
When it came to laundry products, I'd buy laundry powder in bulk… until I found laundry liquid cleaned better and didn't leave chalk marks on our clothes. I'd often add a new bottle of whichever liquid cleaner was on sale into the trolley and toss it out when it was empty. But where did all those empty bottles go?
We don't really think about where our waste goes once it's placed in our bin. I've also found it too hard to contemplate how these products are manufactured and how my buying choices can make a greater impact to the world we live in.
I have tried a number of different "eco-friendly" initiatives over the years. I've even made my own cleaning products – but even then I've emptied bottles to make the cleaners and those bottles aren't always recyclable. I've also at times been disappointed with the results of homemade cleaners over time.
But recently, I have invested in 3 eco-friendly swaps to not only reduce our household waste, but also support businesses who are making it easier to "go green". I've also found they have kept within our budget.
3 Eco Friendly Household Swaps
I have been a bit behind the bandwagon supporting this brand, but I started a subscription earlier this year and I haven't looked back. Occasionally I have had to buy a 1 off pack of toilet rolls to keep us going to the next delivery, but I have been impressed with the quality of Who gives a crap toilet rolls.
Here are some reasons why I love Who Gives a Crap
There is no plastic waste as the toilet rolls are delivered in a cardboard box
Each toilet roll is individually paper wrapped – they are super stylish displayed in the loo
Who Gives a Crap make their toilet paper from bamboo saving trees
They donate 50% of their profits to assist communities with accessing clean water and a toilet
Their toilet rolls are longer, giving you more bang for your

bum
It feels good knowing each purchase helps someone in need. You can read more here.
Not only is this laundry liquid Australian made, it is making a difference to the environment by preventing less bottles ending up in landfill.
The way it works is you buy a starter pack. Empty the satchel of liquid into the glass bottle. Keep buying and refilling using the satchels as needed. Save the satchels to be posted back for free so they can be reused.
I love, love, LOVE the scent of this laundry liquid. It cleans superbly and I love the initiative in preventing less bottles going to landfill with each satchel being re-used when sent back. The satchels are also made from post industrial waste.
Due to the concentrated formula, you only need a few squirts of the laundry liquid in your washing machine, saving less money on laundry products.
We've finally relented with the constant wet weather to invest in a dryer. I've never had a dryer and have always used clothes airers to get our clothes dry during wet spells.
But the rain this year has been full on and I couldn't get anything dry. A few weeks ago I bought a dryer and I haven't looked back.
I immediately bought these Wool Dryer Balls from The Organised Housewife to reduce the drying time but also avoid buying dryer sheets. I infuse the balls with essential oils to release an aroma into our clothes.
The wool dryer balls are a must if you use a dryer. They keep your clothes separated in the dryer which allows the hot air to get between clothing items. This allows them to dry quicker. I find I only ever have to do a 30 minute – 1 hour session.  I also still use my clothes racks as needed and if the items still feel a bit damp, I chuck them in the dryer.
My dryer is only for wet weather spells and emergencies. I won't be using it all year round.
But it's good to know that when I do relent to use the dryer, the balls will reduce drying time, and therefore the extra energy required to use the dryer. No need to buy dryer sheets which are used once and then tossed. I keep the dryer balls in my dryer.
The key to maintaining sustainable habits is to love the product – because it means I will keep buying it. I also sign up to subscriptions because it will become second nature as I will always have the product on hand.
It also feels good knowing I'm supporting local businesses who have dared to make a difference.
Disclosure: There are affiliate links on this post. Should you choose to purchase an item, I may receive a small commission at no extra cost to you. 
Other posts reducing waste