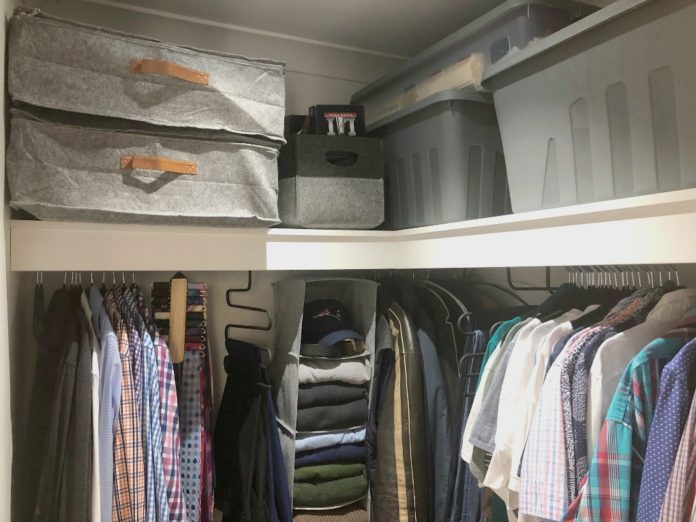 Organising a walk-in wardrobe can be daunting at first, but when you have the right storage and hanging apparatus, it can be quite easy to achieve. We're not looking for Instagram worthy organization here either. My photos are simply to show what we did and maybe you can get some inspiration for your own space if it needs a tidy up too.
My husband and I are lucky to each have our own walk-in wardrobe. The problem has been over the years Jacob's wardrobe had become a storage room for the family's swimming bags, outdoor toys and random bits and pieces.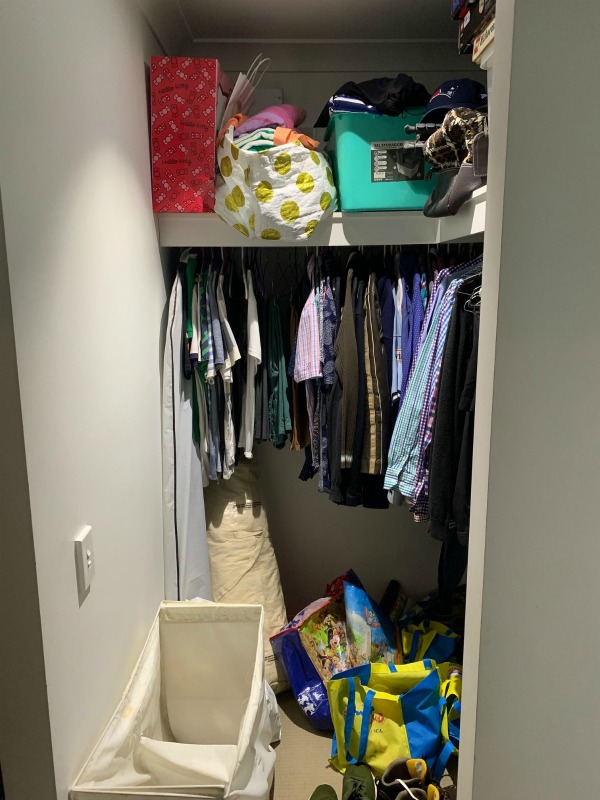 If the space was there, it was another place to store something that had no home, as there was no room in my wardrobe, obviously. Haha.
It was a mess that needed a tidy up and some organisation. Here are the 4 steps we took to organising his walk-in wardrobe.
4 Steps to Organising a Walk-in Wardrobe
1. Remove everything except the clothes
Our bedroom became a warehouse of sorts as we removed everything from the space except the clothes. We sorted out what could go back into the wardrobe and what needed a new storage place. Or maybe it was something we could donate.
Once these items were sorted, we were able to check out the Kmart website to see what storage containers and bags could be used to store these items.
2. Purge through the clothes
The next step was going through the clothes to see what could be purged. There were ties which had seen better days, faded shirts and t-shirts which had supposedly shrunk in the wash no longer fit.
Anything which could be worn again was donated.
The clothes left in the wardrobe were sorted into tees, short sleeve shirts, long sleeve shirts, business shirts, suits, pants and jeans. Jumpers and accessories like caps, scarves and belts were put in a separate pile.
3. Buy new storage containers and hangers or utilise existing
I have bought the velvet flocked hangers for my wardrobe, but hadn't invested in these for Jacob. I find they hang clothes well and keep the wardrobe looking tidy and organised. I bought 3 boxes of the velvet flocked hangers from Kmart, as well as their pant hangers which seem to be popular because 3 of my local Kmart stores had sold out.
We opted to go with 60Lt grey containers as they could hold (and hide) LEGO and other randomness.
We also bought a new twin dirty clothes hamper. Everyone is different on where they store the clothes hamper, but I've always had one in each of the girls rooms and in Jacob's walk in robe as it's next to the ensuite. Our existing white one, which we had for 12 years, needed to be replaced. Kmart came in with the goods for this too.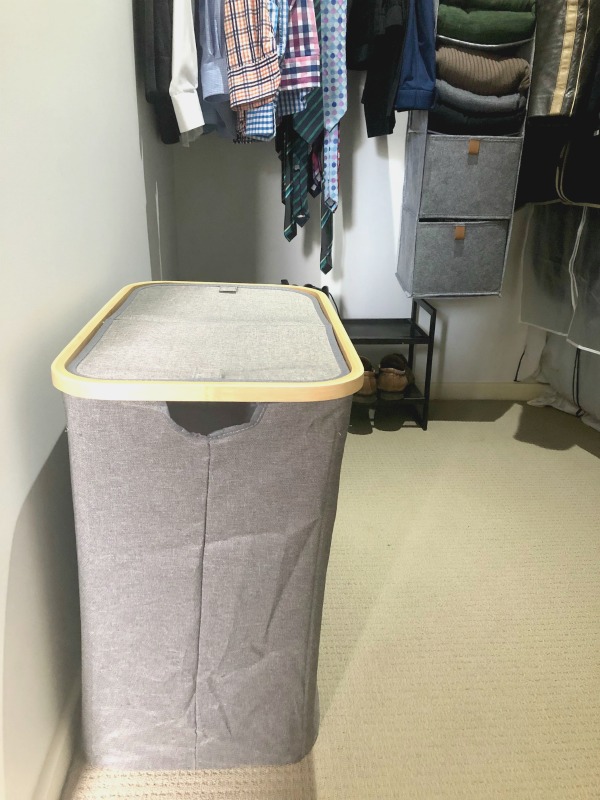 4. Everything has it's place
The different piles of items we intended to keep were placed into grey felt bags or the grey containers. Coat hangers were swapped and a new hanging storage compartment was used for accessories and jumpers. We also got two shoe racks to store Jacob's shoes… two pairs of my shoes may have snuck in here too.
Here are the items we bought from Kmart to organize the walk-in wardrobe
Every time we walk past the wardrobe, it's a joy to see it tidy and organised.
Now to keep it that way!