We have been using dōTERRA essential oils for over a year now and we can't get enough of them. Of course, since our new found love with the oils, we've been researching ways to display and store essential oils at home.
The reality is, we have oils in our bedroom, in the kitchen and in my office. The bulk of our oils are kept in the office, in the top drawer of the filing cabinet.
We keep them away from the kids as Phoebe has been known to unscrew the cap of an oil and anoint herself with it's contents. The evidence is from the waft that drifts when she walks by or from the cries of rubbing it in her eyes. We learned quick smart not to leave oils on our bedside tables or my office desk where little hands could reach them.
I was blown away by my mum's set up of oils. She has one dedicated drawer in her kitchen and all her oils are in alphabetical order, segregated using an organiser she bought on eBay.
I love Beth's storage display of her craft supplies, which would work superbly for essential oils.
You can display and store essential oils at home in a variety of different ways. I thought I'd share some ways and offer some suggestions if you're looking for some inspiration.
Before you go down the track of buying storage holders, think about where you use the oils most often and whether you want them displayed or kept out of reach of children. This will determine the right storage and display solution for you.
8 Ways to Display and Store Essential Oils at Home
1. Use a Spice Rack.
I love what Flo and Grace have done with an old spice rack. They've upcycled it and given it a new lease of life.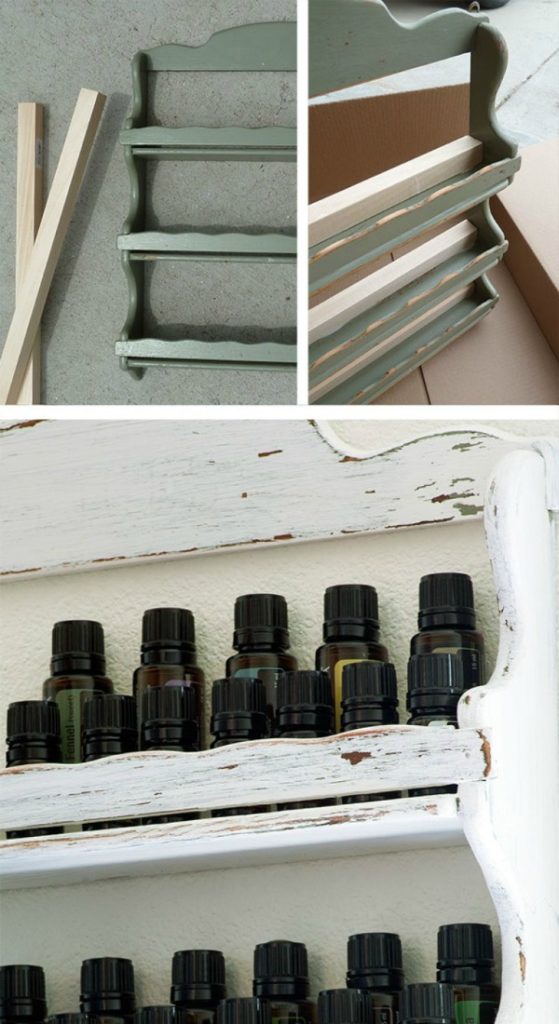 Spice racks like these are hard to find. I suggest looking on eBay or Gumtree to find one that can be upcycled. Alternatively you could install a white shelf to get the same result.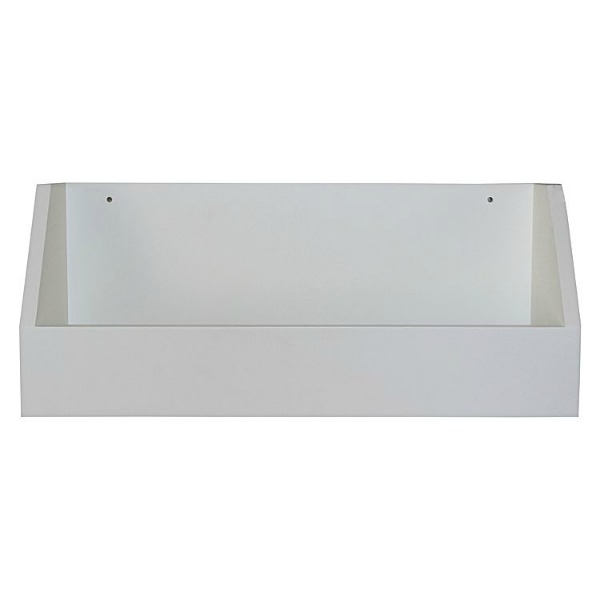 2. Use a wooden carry case.
This carry case can hold all your essential oils, which can be carted from room to room. The case itself is gorgeous and would look lovely displayed on a shelf or counter.
3. On counter storage display tray
Love the look of this timber display. This would work well on a bathroom vanity counter or in the kitchen where certain oils are used for personal use and/or cooking.
4. Use a tray with handle
This luxe tray is a great way to display your essential oils, while the handle allows for easy transportation.
5. Makeup case
Makeup cases offer the perfect size compartments for essential oil storage.
6. Ice cube trays
Ice cube trays can offer the right sized hole for an essential oil bottle to sit in, so your essential oils can be organized in a drawer. Just check the diameter of the holes to ensure the bottles will sit flush. I bought some from Kmart and it could only sit the 5ml bottles.
If you prefer not to use plastic, this storage tray can work well in a drawer.
7. Jewellery storage bags
Have a hook on the back of a door and use this jewellery bag to display your essential oils. This helps you to see at a glance the oils you have.
8. Tea storage box
A tea tray box offers segregate storage for your oils. This can then be displayed on a bench or put away in a drawer.
We are currently using one of the boxes we received a large shipment of oils in and we have our bottles sitting in alphabetical order.
Places like Etsy and eBay have great display and storage solutions for essential oils. It's just a matter of working out what will fit or work with the space you have.
How do you display and store your essential oils?
Disclosure: There are affiliate links on this post. Should you choose to purchase an item, I will receive a small commission at no extra cost to you.