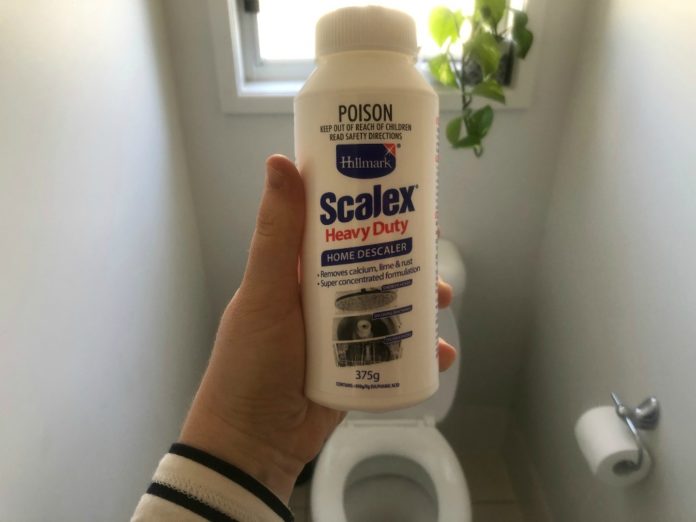 Whenever I've been asked how to remove brown stains from the toilet bowl, I've always suggested natural cleaners like baking soda and vinegar.
A few years ago I even reviewed a cleaning product which did clean my toilet bowls.
Back then the toilet bowls weren't being used as often by kids.
With age and more frequent use, my cleaning routine has had to increase.
However, over the last month, I've noticed my regular cleaning efforts haven't been able to remove the brown stains lining the inner bottom edge of our toilet bowl.
The brown stains were in both our toilet bowls, and they were stubborn. No amount of cleaning or scrubbing would remove them.
So I went on the hunt for a cleaning hack. I came across this article by Better Homes and Gardens sharing a hack to use Bunnings cleaner Scalex, to remove the brown stains.
I got Jacob to buy a bottle from our local Bunnings to give it a go.
Now it is labelled poison, so use gloves when handling the product.
After dropping the kids to school, I tested Scalex on their toilet and sprinkled a tablespoon into the bowl to soak. It is suggested to let it soak during the night but our kids use the toilet at night.
Before school pickup, I used the toilet brush to scrub and I was amazed that whatever those brown stains were had dissolved in the water. I have two new white toilet bowls again.
So if you do have stubborn brown stains at the bottom of the toilet, do try Scalex. It's worth a try before you replace the toilet.
Tip: Please use with care and read safety instructions on the bottle. Store away from children. 
Have you got another tip on removing brown stains from the toilet bowl that have worked for you? I'd love to hear it!