October is the best time of year to consider corporate Christmas gift ideas for clients.
One of my jobs on the Christmas school holidays as a teenager, was making Christmas Hampers for Dad's work clients in our plumbing company. It was a big task and often involved having a few friends over to help with placing all the food items into each basket and wrapping it with cellophane.
Eventually, my mum organised a bulk delivery of hampers, which would be delivered well before the industry closed up shop for Christmas. The boxers of hampers would be piled high in our front entryway, lounge room and dining room. When I started working with my dad, it was always a lot of fun writing a list of clients to gift our baskets to, and then delivering them to each individual builder, estimator and project manager.
Corporate Christmas gifts are a great way to say thank you to clients for their loyalty through-out the year. Usually now is the time to organise personalized hampers to ensure they are delivered in December.
But not all companies can afford the expense of corporate gifts for their clients. And it's true, that it's not usually expected. Yet, it's still a good practice to acknowledge your clients, and thank them for another year of trading. Without them, you wouldn't have a business. The gifts don't have to be extravagant, I've thought of some ideas for corporate gifts that can be paid for from petty cash, that allow all staff to enjoy.
Corporate Christmas Gift Ideas for Clients and Colleagues
Christmas Hampers
Hampers always make a great gift idea for clients. Consideration needs to be made on the cost per box and delivery fees. It's also important to think about whether the basket should include alcohol or not. I suggest the baskets don't include alcohol. For the simple reason that not everyone drinks and you don't know if someone has an issue with being gifted alcohol. I once gifted a hamper to a recovered alcoholic. I felt terrible when I found out, but from that situation, I made the decision not to buy gifts with alcohol in it. Here are some places I've had fantastic service from when delivering hampers.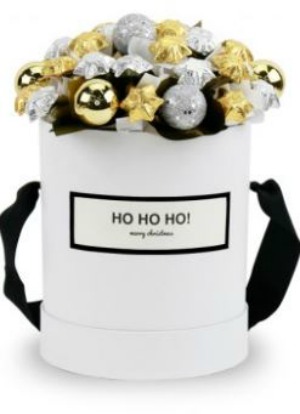 Movie Vouchers
Everyone loves going to the movies. For many, it's a tradition to head to the cinemas on boxing day. A budget friendly way of saying thank you to clients is gifting sets of double tickets to the movies. Movie vouchers can be bought at a discount in bulk from RACQ.
Diffuser and Oils
Why not promote a workplace with a sense of calm in a high stress environment? Deliver a diffuser and some oils for productivity. It's a gift all staff can reap the benefits from.
Deliver a Cheesecake
If the dollars are really sparse for Christmas gifts, one way to say thank you to a client is by delivering a boxed Cheesecake to the staffroom so all staff can enjoy a piece of cake. You can't go wrong with this one.
A Fruit Basket
Like the cheesecake, but much healthier, a fruit basket is a lovely way for all staff to enjoy the gift.
As with the teacher gift ideas, these corporate gift ideas are a way to say thank you for another great year working together. The smallest of gifts, can mean a lot and make a business feel appreciated.
What is the best corporate Christmas gift you've ever received? What have you bought in the past for Corporate gifts?
Disclosure: There are affiliate links on this post. Should you choose to purchase an item, I will receive a small commission at no extra cost to you.