Koh worked on my oven. Originally branded as EkoWorx, the same cleaning system, but now with a different name is awesome for cleaning ovens. Here is my review on this product. 
My oven has been in dire need of a clean for a long time. After having an overflow on Christmas Day, I knew I had to do something about cleaning my oven.
I contemplated hiring an oven cleaner, who advertised they'd get it back to factory standard. I have my serious doubts whether this would be the case, because of my negligence in cleaning this appliance. Plus, what was it going to cost me?
Anyway, after Christmas and late one night, I was scrolling through Facebook and I saw an advert for ekoWorx which is now rebranded as Koh. The videos got me hooked and a 50% off sale well and truly had me entering my credit card details to make an order.
Once I got my order, the next day I got to work cleaning my oven.
I should mention BEFORE Christmas, I had purchased an oven cleaner from Bunnings (when I bought CLR and Kitchen Plugs), but it didn't do a great job. This was what my oven screen looked like AFTER I cleaned it… (NOT with ekoWorx)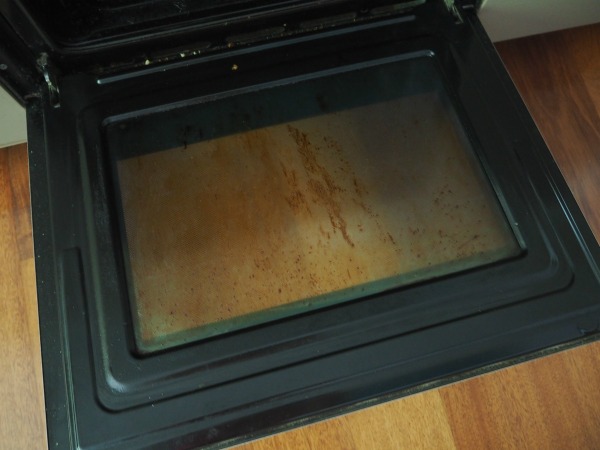 It took a bit of the grime off, but not much. Once I got my Koh pack, I sprayed Koh on my oven screen and left it for 30 minutes to soak in. (I didn't realise I could leave it on for 30 seconds!)
I then used the diamond sponge to clean, and after 10 minutes of vigorous scrubbing, my oven screen was looking amazing! I think it's the cleanest it's been in YEARS!
The next item was to clean the inside of my oven. I didn't have high hopes about this, but I took the trays out and gave them a spray with Koh. The scrubbing with the diamond sponge wasn't getting the baked on grime off as quick as I liked, so I chucked both trays in the bath, and added Napisan and dishwashing detergent to the mix. I left these soak for a few hours.
I then scrubbed them using the diamond sponge from ekoWorx, and I was super impressed with the results. I didn't take a before or after photo of the trays. But this photo of the bath shows you how dirty my trays were!
Koh Worked on my Oven
So if you're thinking about getting Koh, it certainly does what it says it does. Koh worked on my oven and the photos are proof! It also doesn't smell – so if you are allergic to fumes, this product would be great for you.
I bought the home bundle pack with the floor mop, which worked amazingly on my floors. The windows, mirrors and taps came up a treat using Koh too.
As for removing watermarks from the shower screens, I'm yet to test this and will be interested to see if it works better than CLR. (But if it worked on my oven screen…) I will share that in another post.
Tell me, when was the last time you cleaned your oven? Or have you used Koh to clean your home?