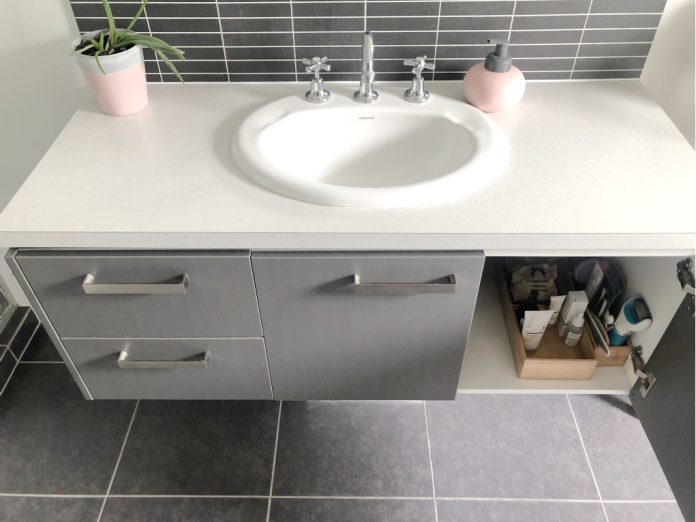 If your bathroom is untidy, here are 6 tips for organising a bathroom vanity cupboard and keeping it in order all year round.
I make it a habit to clean out the bathroom vanity at least once a year to remove empty or unused bottles and to resume some sort of order.
Keeping the bathroom vanity cupboard organised has a lot of positives including
You know what you own at a glance
Prevents unnecessary build up of purchases which can save money
Keeps the vanity bench clear
Easy to remove should there be a water leak
Initiates a feeling of calm when you open the vanity and see it organised
We are lucky to have two bathrooms in our house. It has been habit for me to put products I no longer use in the main bathroom. As a result, this vanity needed a clean out too.
A trip to Kmart to buy a $3 desk planner, resulted in a $100 shop as I walked through the kitchen storage aisle and purchased these bamboo storage tidy trays and accessories.
I'm pleased with how these products organised our bathroom vanity. Here are the before and after photos.
Here are my tips for organising a bathroom vanity cupboard
Remove everything from the cupboard.
2. Give the inside of the cupboard a wipe down to remove any bottle residue from toiletries.
3. Purge and cull empty bottles and toiletries you no longer use. Even the ones you've kept from hotel stays or will never use. Put away items that don't belong in the vanity.
4. Use a small foldable shelf to double capacity in the vanity cupboard.
5. A turntable (aka Lazy Susan) makes it easy to keep everyday toiletries in easy reach.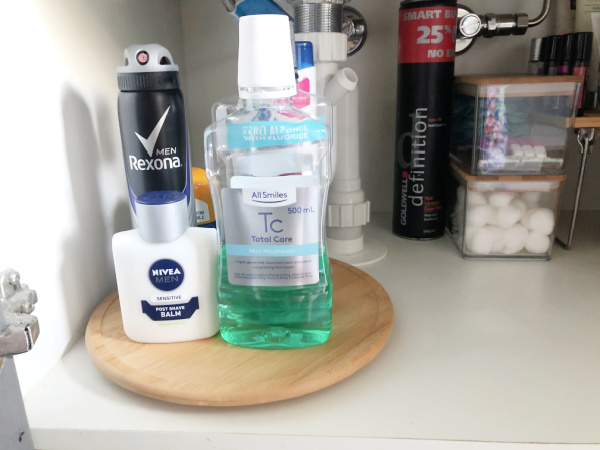 6. Kitchen storage tidy trays (for drawers) and matching containers help group like toiletries and items together.
I've minimized the beauty products I use to prevent an overflow of waste. Over the years, I've found what has worked for me and won't swerve away from these products.
This helps keep the vanity tidy and becomes less of a job to organise.
If you liked this post check out