If you have been motivated to make your own essential oil cleaners, you will know the importance of using glass bottles for handling. Glass bottles and aluminum bottles are the best vessels to use for your DIY Essential Oil Cleaners.
They used to be hard to source, but I've become aware of a local business which is a few suburbs away from me and ships their bottles and products Australia wide.
Oils for Life Australia recently changed ownership and my friend who introduced me to doTERRA oils a few years ago, now runs it. I recently headed to the shop at Darra to check out the range… and I was inspired to make my own products.
I have been meaning to make my own air freshener and linen spray for the last year. I had bought the distilled water, but needed alcohol for the solution. I found out I could swap the alcohol for witch hazel and this was readily available at Oils for Life Australia.
Waaay back when we first moved into our house and were looking at ways to cut the grocery bill down, I made my own cleaners. It saved us a lot of money, but I did question if they cleaned our house better than commercial cleaners. I got the recipe from Simple Savings. Unfortunately the recipe left our benchtops with an oily trail, which wasn't ideal. As a result I went back to buying supermarket cleaners, or trying new cleaners available online.
Making my own cleaners is something I will look at again in the future now that I have a very healthy essential oil supply and a place to buy bottles and ingredients.
The shop also sells toys, which support women and children in Nepal.
I took Maggie on a mummy and daughter date and we made a quick visit to the store on the way home. She chose an Aromatherapy Curly Hair Doll to use in her room, to sleep with at night.
There is a bead on the toy to drop an essential oil so the aromatherapy can help calm a child.
It's been ideal for snuggling during winter with Easy Air to help nose congestion with recent colds. Maggie is particularly fond of citrus oils though and will often request these on her doll.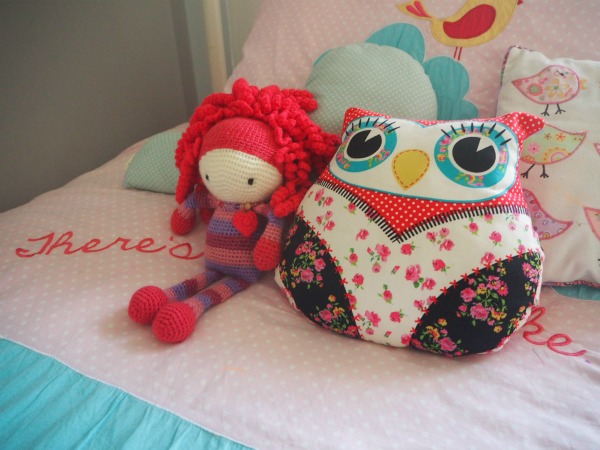 There will be a bottle, ingredient or gift for someone who loves essential oils at Oils for Life Australia. I've already made my first product and will be back to the store to get more supplies. I've been inspired to make my own soap. Can't wait to do that one.
You can buy all your essential oil product supplies for Oils for Life Australia.
If you enjoyed this post, you may be interested in
DIY Air Freshener and Linen Spray