I own a bathrobe for the specific purpose of colouring my hair in between salon visits if I have regrowth that needs a touch up or a few strand greys that need a bit of colour. I also use my bathrobe if I put on a face mask and don't want to get the face mask on my clothes when removing to have a shower. It's also ideal for when I walk from the kids' bathroom after having a bath, and retreating to my bedroom to get dressed for bed.
The bathrobe is handy for an assortment of lifestyle activities and can be a convenient piece to reach for after heading to the beach or swimming at the pool.
I've recently enrolled the girls into swimming lessons, and it's a bit of a nightmare to fight for a cubicle in the change room.  My friend beats the cubicle chaos by dressing her kids in a bathrobe after their swimming lessons. She then bundles them in the car to go home. A clever idea I'm going to adopt!
The difference between a bathrobe and dressing gown
There is a difference between a bathrobe and dressing gown. If you search online, both gowns will be intermixed but there is a difference in price and purpose. You will find dressing gowns will be cheaper than a bathrobe because of the material.
Dressing gowns are designed to be an extra layer to keep you warm when you lounge around at home. It's ideal for early mornings to put on over your pyjamas. It will often be more plush and softer than a bathrobe. It's perfect to snuggle in at night while watching a movie or when you're sick with a cold.
A bathrobe is what you reach for if you've been involved in wet activities like having a bath or shower, having a dayspa experience, or layering after going to the pool or beach. It's a convenient way to dry off until you get changed. The material will be absorbent. It's important to know the difference so you can choose the right robe that will suit your needs.
5 Reasons to Own a Bathrobe
1. Easy to grab when caught unawares
I can't count how many times I've been in the shower and I've had an earlier than expected delivery from Aus Post that requires a signature. A bathrobe is handy to have on hand to jump out of the shower and sign that paperwork.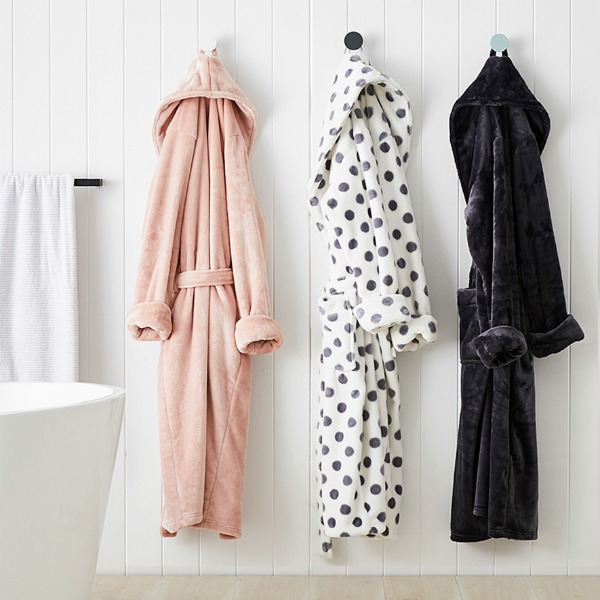 2. Easy to slip on when transferring from the beach/pool to home
Public bathrooms can often be a disgrace. I avoid them at all costs. If you've had a morning at the beach or pool, a bathrobe can be an ideal layer to keep you warm and dry until you get showered at home.
3. Protects clothing when being prepped for an event
I often use a bathrobe to do my makeup before slipping into my dress for a special event. I don't put my lipstick on until I have said dress on. (learned that from experience). If you have your hair in rollers at home, a bathrobe will be easier to remove.
4. Perfect for dressing in when pampering at home
If you colour your hair, or put on a facemask, this can leave residue when removing clothing. No problems when using a bathrobe as it can be dropped from your shoulders and washed easily.
5. Adds a bit of style to your bathroom
There are some gorgeous bathrobe designs that can add colour to your bathroom. Have a robe hook in the bathroom and hang your gorgeous bathrobe as a decorative piece.
Stylish Bathrobe Options
Your bathrobe should be made from an absorbent material like cotton in a terry towel or waffle weave design. The purpose is to keep you dry and to absorb moisture.
Here are some gorgeous bathrobe options to consider. My faves are the Gorman designs and Leopard Print. I've found bathrobes at all price points. Once you buy one, it's something you will keep for a long time. It's not a piece you will buy constantly, so invest in quality.
I'm sure there are countless more reasons to own a bathrobe. Heading to hospital and having a piece of home with you may bring you comfort and ease when dressing at hospital after surgery.
Do you own a bathrobe? Or do you prefer a dressing gown?
Disclosure: There are affiliate links on this post. Should you choose to purchase an item, I will receive a small commission at no extra cost to you.