It's less than a week till Christmas and I'm yearning for the peace that is promised at this time of year when everything stops right on Christmas Eve.
It's been an exhausting and emotional year and yet it's also had some fabulous moments which have made this year turn out to be quite ok.
My Esther graduated from Prep a week and a half ago and I couldn't be more proud of the girl she has grown into this year. I feel like I've only just got the hang of school drop off and pick up and now here we are, finished for the year.
And I've been getting Kindy emails for Maggie as she starts her new schooling adventure next year. I remember the tantrums I'd have to put up with to get her away from Kindy when I would drop Esther off, and now she's old enough to go. I don't think I will escape the tantrums with Phoebe in tow though.
I find Christmas time is always a great time to reflect on some of the highlights and lowlights of the year. In a way it can help raise up goals and new intentions for 2017. So I've put together a template of reflections – based on emotions which you're most welcome to copy and paste as a personal reflection, or a reflection on your own blog.
End of Year Feels – A Reflection on 2016
Proudest Moment – Being named Female Plumbing Ambassador for QLD. It was a huge honour and I'm looking forward to seeing who will be recognized in 2017.

Celebrating being the first female plumbing ambassador for Qld by the @mpa_qld. From left to right @steve_richo Penny Cornah of @mpa_qld myself and @mickdebrenni. #worldplumbingday #worldplumbingdayhighfiveaplumber #womenintrades #womeninplumbing #theplumbette #femaleplumber by @theplumbette
Happiest Moment – Realising I've made some amazing friends unexpectedly. In the moments where I take time to list all the things I'm grateful for – like my husband, my girls, my family and my old and new friends – I realise my life is full and I can't wait for it to be fuller with more people to love and share life with.
Saddest Moment – There were a few. Jacob and I lost 3 members from our family this year. Our nephew who was born at 19 weeks and 6 days and passed away shortly after. Jacob's Grandpa passed away at the end of August and my Grandma Jones was reunited with my pa in October. It's never easy losing someone you love. I'm just thankful for the memories and have faith knowing that each of them are in a better place.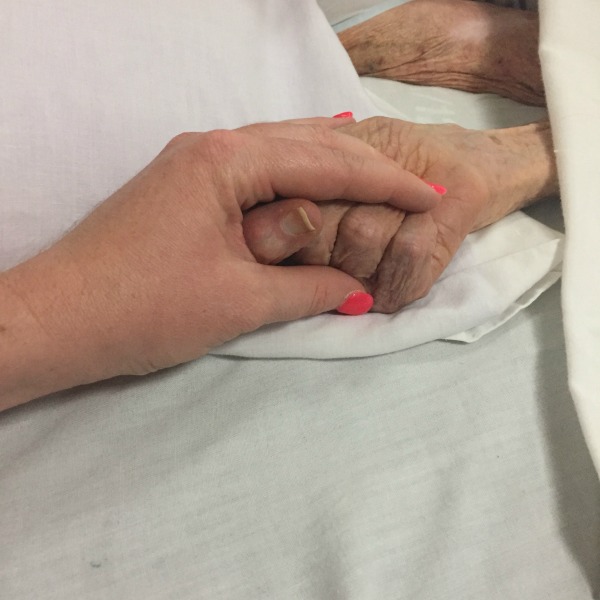 Embarrassing Moment – I had a few embarrassing moments. Most of them happened at Problogger Conference. I never mentioned this moment in my Problogger recap post because it is just way too embarrassing. Anyway, I'm going to share it here because I've had a couple of months to get over it.
When Lauren and I checked into our room, I was curious about the signs in the hallways pointing to the 'selfie lift'. While Lauren fed Oliver, I decided to investigate what the selfie lift was. For some reason I had no shoes on as I didn't expect to go anywhere. So I followed the signs and found the selfie lifts were the Goods Lifts. As the Goods Life opened on my floor, I could see there was a beach backdrop and props to take your own selfie in the lift. I didn't quite understand that memo until later though.
Mick, a Problogger cameraman, was in the lift holding his camera. I squeeled like a school girl and walked into the lift, chucking on the glasses, feather boa and a hat. Mick was holding a camera so I assumed he was going to take my photo in the lift. When he didn't take my photo, and the lift went up, I assumed he was taking me to a room set up as a studio to get my photo. The doors opened to level 15 and Mick walked out, with me behind him. I thought I had to follow him as obviously he was taking me to the 'studio'. It wasn't until I was right behind him and he opened the door to his room that he turned around towards me and asked me "can I help you? Is this your room?'
I was confused and said "well no of course not. Aren't you going to take my picture?"
And then I went red in the face and realized I had COMPLETELY misread the situation. I had to take my own photo in the lift because it was called a 'SELFIE LIFT'. On another hilarious note, Mick wasn't walking back to his room. He was heading to someone else's room on the Problogger team.
I walked back to the Goods Lifts in my crazy get up, only to find the door was locked so I had to use the normal guest lifts to go back down to the foyer and back up to my own room and tell Lauren all about my embarrassing misdemeanor.

Omigosh! I just have the most embarrassing tale about the #selfielift but here @createbakemake and I are giving it a whirl. #pbevent by @theplumbette
We ended up getting a selfie taken in the lift. But Mick couldn't look at me the same way again all throughout the conference. He follows me on Instagram so I don't think I freaked him out too much.
Testing Moment – Navigating and balancing young children, working from home and my faith. It's never easy and despite the romance some mums think working from home can be, it can be draining and hard to balance. But I'm also grateful that I have flexibility to be there for my girls while they are so young.
Funniest Moment – this one borders with my embarrassing moment. I could share many funny moments with my kids. My Maggie comes out with some of the most funny phrases. At the perfect time. Like the time I was walking the girls to school and someone had put their fertilizer on the lawn and Maggie exclaims 'Poo, someone's breakfast STINKS!' I couldn't stop laughing and had to tell her it wasn't someone's breakfast, it was just horse poo.
But back to my funniest moment. It happened at Problogger during afternoon tea. These amazing donuts came out and Jess Peachy from Peachy Keen Mumma asked me to pose behind some donuts for an Instagram pic. So I lean in as if I'm going to eat a donut, but before Jess takes my picture, she says "Bec you have something under your nose". I'm like no I don't and rub my nose only to feel something dangly drop to the floor. Jess walks around and points to the massive booger on the floor. I was mortified and then I couldn't stop laughing. Thank goodness it didn't drop on the donuts…

Never stop a plumber from getting her afternoon doughnut, right @theplumbette? #pbevent by @peachykeenmumma
A Lesson I Learned – I think it's a lesson I'm reminded constantly… that God brings the right people in your life at the right time. Sometimes though, some people no longer want you in their life because of whatever reasons they are and it's important to respect their wishes and move on.
Favourite Blog Post I've read – This post by Bron from Maxabella Loves on having it all. It struck a chord with me and many other mums. Definitely a must read. Close second would be this post by Kelly from A Life Less Frantic about an unsexy word for 2017 that will make it your best year yet.  And close third is by my blogging bestie Renee from Mummy Wife Me about taking a leap into the unknown.
Favourite Blog Post I wrote – So hard to choose… I might have to write another blog post with links to my favourite posts I've written. But I think this post is my favourite because it pushed my boundaries in the sharing department, but also is a different type of writing for me, let alone a different type of um plumbing.
Close second would be this post about bullying. It needs to be stamped out everywhere – especially in schools because too many kids are taking their lives because of it.
What I didn't get to do this year that I will do next year is – Edit my book. I didn't get to it for a number of reasons – mainly time which is always the same answer, but this year I had to devote time to projects that would bring in immediate financial benefit so the book had to be put back on the priorities list. But next year I'm hoping to get that book finished and look at ways to get it published. My book is about how I became a plumber and all the setbacks I had to get to where I am now.
Something new I did or had happen – I started pitching for freelance writing work. I've never done it before and I found the process a fun challenge. I also got my first blog post published on the Huffington Post AND my plumbing advice was published in a national magazine, Inside Out. I did a number of speaking engagements and I got my first bobble head as part of the Face of Caroma 2016 competition.

I have my own bobblehead! Thank you @caromaaustralia. You even got my fringe right. 😉 #faceofcaroma #femaleplumber #straighttothepoolroom #plumbers by @theplumbette
So you can see this year has been another mixed bag of experiences. If you want to do your own reflection, just copy and paste the following template on your own blog. Tag me in your post so I can read about your year.
Proudest Moment
Happiest Moment
Saddest Moment
Embarrassing Moment
Testing Moment
Funniest Moment
A Lesson I Learned
Favourite Blog Post I've read
Favourite Blog Post I wrote
What I didn't get to do this year that I will do next year is
Something New I did or had happen
How has 2016 been for you? What are you looking forward to in 2017?