When I went to Problogger a month or so ago I met the woman behind the brutally honest and hilarious blog, Hugzilla.
I told Hugzilla when I met her that I hated her blog at first. I found it too negative. But that was my reaction to her first post. After making myself read a few more posts, I started to love it. I enjoy whatever Hugzilla produces because I know that she will deliver the truth honestly, brutally and humorously – in a way that is totally relatable. There is also a lot of swearing, but there is always a disclosure at the top of the post to warn me what I'm in for.
When she shared about her experience getting her bathroom renovated, I laughed. It was crude. Lot's of bad language and sexual references. I would call it an R rated blog post (heck most of her posts are!). But her experience is one that I think many budding home renovators need to read because we only ever see the finished product and never read about the headaches that go along the way to get the end result.
I also think it's important for tradespeople to read the account and reflect on how they can make a renovation less stressful, and more focused on delivering what the customer has asked, in a respectful way. Communication is a winning formula in all renovations. Never assume anything. Always ask what the customer wants and deliver, ensuring the work meets the current standards.
I asked Hugzilla to share with me a bit about her bathroom renovation and I think you can agree the end result is stunning.
1. Where did you go for inspiration for your bathroom reno?
Ok, this is actually a good question because looking back I have absolutely no idea. I didn't really hit up the internet for inspiration – nor did I even look at Pinterest once, come to think of it… I knew that I wanted a monochrome scheme with charcoal floor tiles and I have a thing for marble, so it kind of just fell together after we visited every single tile shop within a 50 kilometre radius. Twice. And we got all the fittings at Harvey Norman so we could put everything on their 100-year interest-free plan or whatever. So yeah, we were pretty professional about it….
2. How did you choose your trades/how many quotes did you get?
We did not choose trades. Trades chose us. And by that, I mean the builder we eventually went with was one of the three out of ten people who actually returned our calls and seemed mildly interested in doing the job. Another one of those three wanted to drill through all the asbestos instead of removing it (aaaah…. no thanks) and the other one was even more expensive than the super-expensive quote we eventually went with. There is a serious under-supply of trades in our area so we were basically at their mercy.
3. How long did it take for your bathroom to be renovated?
It took around three weeks for the bulk of it to be complete. After waiting two additional weeks for delivery the shower screen was sent straight back because of flaws in the glass and the vanity also had a problem that required a full replacement and reinstallation. In the end it took around 10 weeks for those things to be sorted and for the bathroom to be fully complete. It was a pain. We were totally over it by the end.
4. What were the eye-opening expenses you didn't expect? Did you have any surprises during demolition/installation etc
TRADES. ARE. VERY. EXPENSIVE. We initially budgeted $20 000 for the entire renovation (lolololol – so cute) and were gobsmacked to realise that $20 000 was not even going to cover the labour component. We had to revise our expectations quicksmart. It was an old asbestos-ridden three-way bathroom from the 1970s, so the whole thing had to be gutted.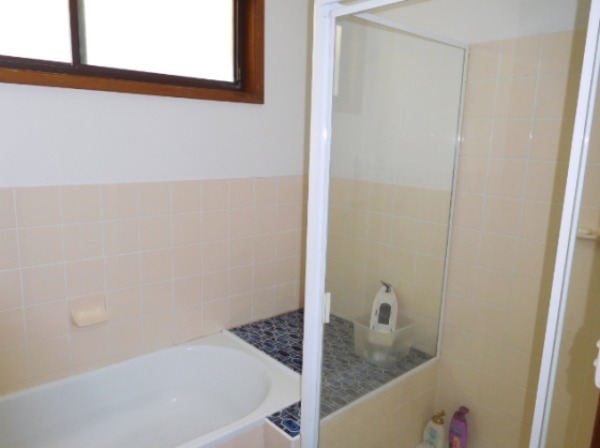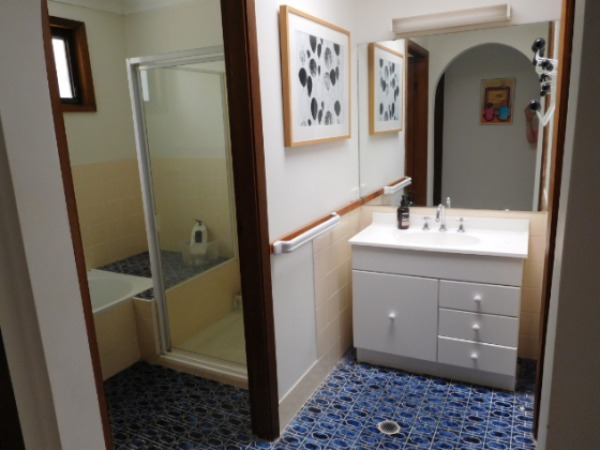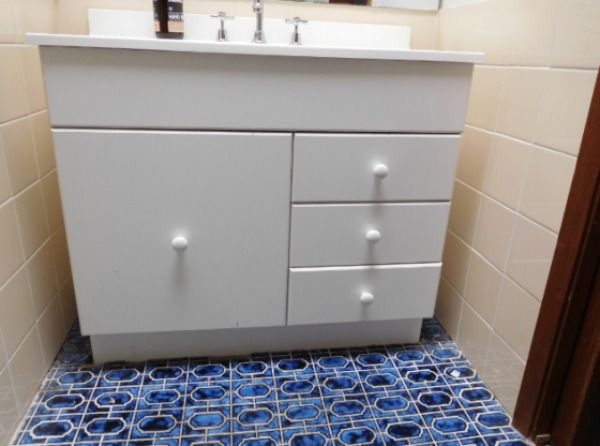 5. What's the crappiest part of renovating a bathroom?
Rude tradespeople. Condescending tradespeople. Incompetent tradespeople.
6. Now that the bathroom is complete, is there anything you'd change – or advice to wary renovators
I absolutely love it but it wasn't without issue. My advice would be to watch the tradespeople closely and not be so trusting – don't just expect they will always do exactly what they have been briefed to do.
It sounds like I'm being a big old meanie, but we had several instances of things being installed incorrectly because the tradespeople did not listen properly or thought they had better ideas. The plumber decided that the bath should be centred under the window – except that it left very little room to access the vanity. The electrician installed our heated towel rack and power points in completely the wrong place. And the builder's apprentice installed an additional – and very ugly – extractor fan in the ceiling without consulting us because the one we had chosen was not good enough on its own, apparently.
So, my advice? MICROMANAGE EVERYTHING. Even if they think you are being a jerk. You might be a jerk, but at least you will be the jerk who gets the bathroom they are actually paying for.
7. Any last advice for those wanting to renovate their bathroom?
Go to TAFE and get your builder's licence first.
Hahaha. Just kidding. (But seriously, if you can….)
My advice would be to splurge instead of scrimp (within reason). Once we realised it was going to cost $20 000 for the trades alone, the temptation was to recoup costs by using budget fittings. We decided not to do this, and stuck with the mid-range products we always intended to use. We figured that it was pointless to spend a massive chunk of money on labour for a new bathroom, only to end up with an inferior-looking finish with cheap fittings. It cost us more in the end, but we are in this house to stay so for us it was a good long-term investment.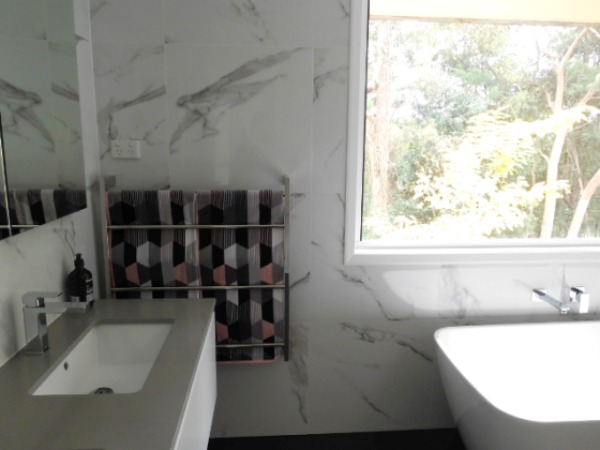 Thank you Hugzilla for sharing your bathroom renovation experience with us. Have you ever renovated a bathroom? Have similar experiences to Hugzilla? Any tips for budding renovators?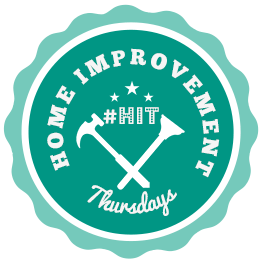 Last week on Home Improvement Thursday, TOMFO shared this awesome
DIY Sunscreen Storage project
. I reckon this could make a great gift to a family at Christmas.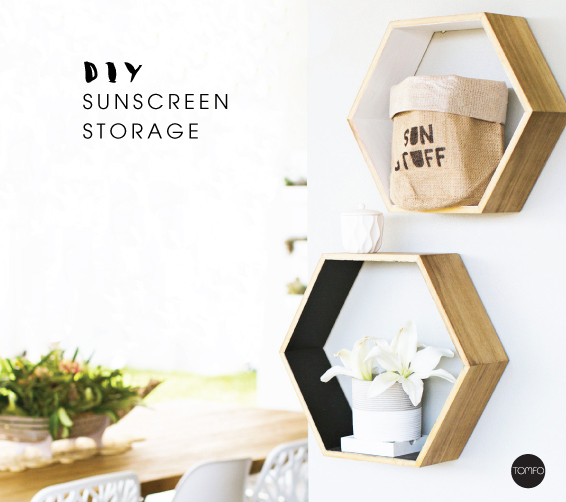 Home Improvement Thursday Rules For Linking Up
If you're a DIY, home organization, building, renovation, home makeover, home decorating, home maintenance or trade related blogger we'd LOVE you to link up with us below. Here are the HIT rules for how to link up and what you need to do once you have linked up.
Linkable posts, must centre around the topics of DIY, Renovations, Home Organisation, Home Improvement, Home Makeovers, Home Styling, or Home Maintenance.
You can share 1 post each week. Please make sure they are new to the "Home Improvement Thursday" party.
Linking is simple, find the little blue button at the end of the post that says, Add Your Link, and then pop in your URL, and follow the prompts.
Your link only needs to be added once and it will automatically show up on both of our blogs… it's that easy! Grab our #HIT button and pop it on your sidebar.
Don't forget to share it with others. Follow the blogs of your fellow #HIT family, and leave a comment.
Please visit and comment on at least three blogs that are near you on the list.
Leave a comment on the post below so we can return the favour and comment on your post.
Don't forget to follow The Builder's Wife and The Plumbette.