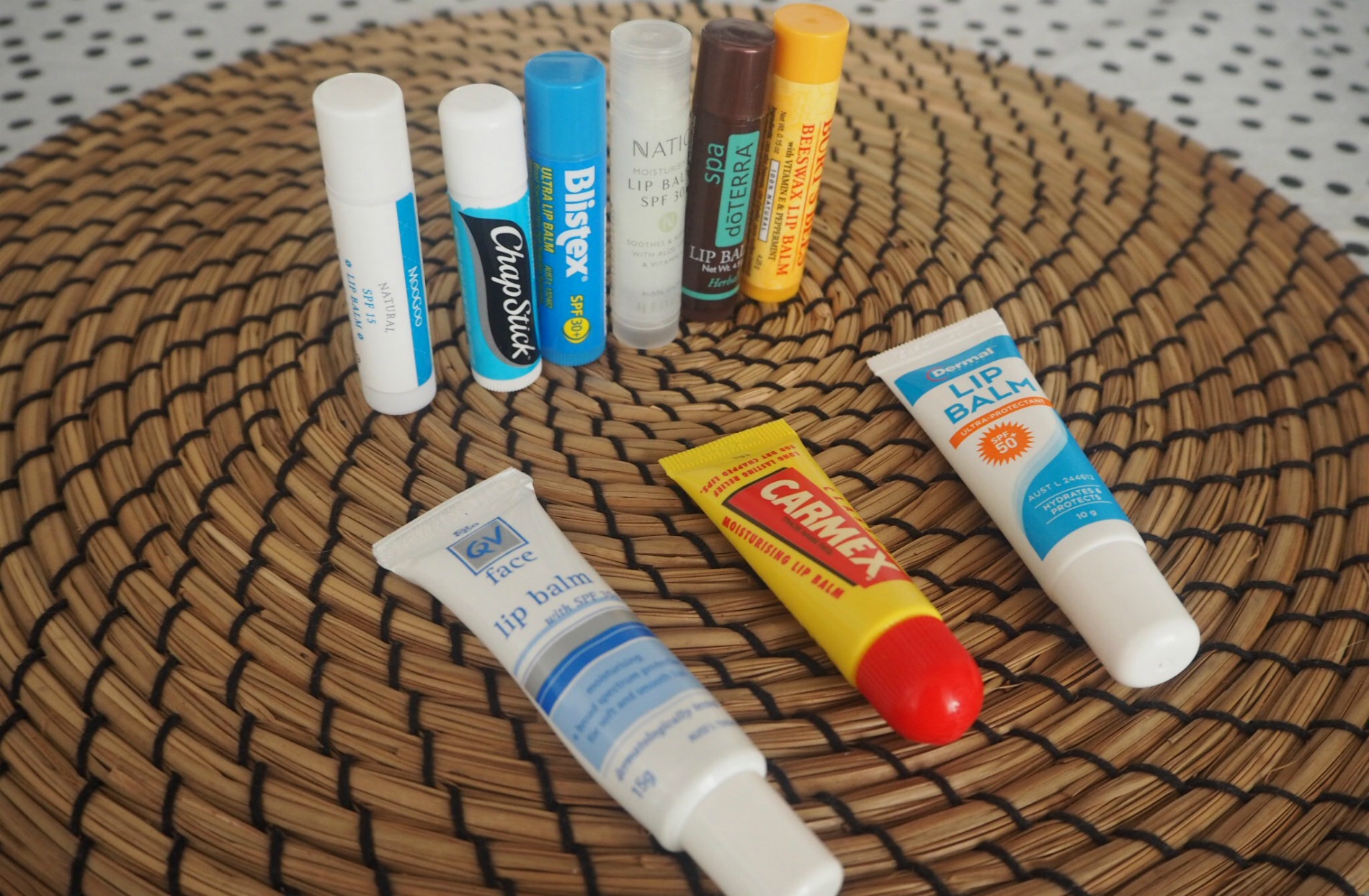 When I worked on the tools, I used to have 5 items in my pockets. I would have my Oroton coin purse with my essential blue card, licenses and credit cards, my mobile phone, a pen, notepad and lip balm.
Lip balm was essential on the construction site as I can not stand dry lips, no matter the season.
For the last couple of months I have been road testing lip balms to put together a post of the best lip balms for tradies.
This post was meant to be for winter, but winter is pretty much nearly over in QLD.
Despite the change in season, I hope this post will give all the tradies or those that work with their hands a resource to come back to when looking for a lip balm that will protect and condition their lips.
For the purpose of this review, I only used lip balm sticks as opposed to pots of lip balm where you need to use your finger to apply. When you work as a plumber, having your fingers near your mouth is the last thing you want. So a wind up lip balm is the best type, plus it's easy to store in your pocket.
I also went with a neutral or no colour shade. I didn't like to wear colour on the construction site, but if you do like to wear a bit of colour, some of the lip balms may offer different shades.
Lip Balms for Tradies
Blistex Ultra Lip Balm with SPF 30+
Blistex was always my go-to lip balm when I was on the tools. It always protected and moisturized my lips. This lip balm tingles when I put it on, yet it realy protected my lips and kept them from drying out in the wind when we had a few windy days. I've used this on my girls' lips when they've constantly licked them and within a day and a bit, the redness is gone. This is a great all round lip balm for tradies as it can protect lips from all the elements of sun, wind and cold – just as the packet says. It's also a great price for $3.95.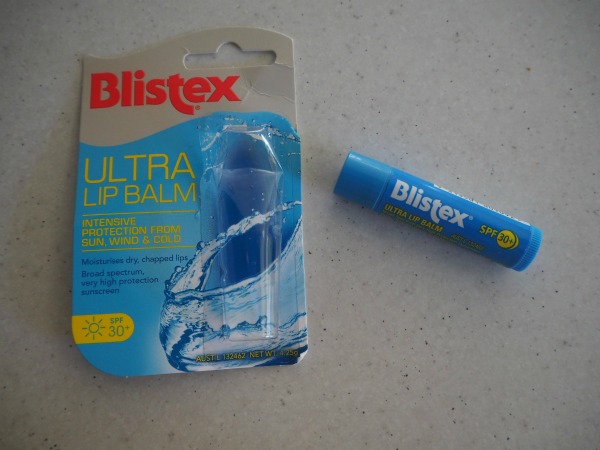 Burt's Bees Beeswax Lip Balm
This lip balm winds up and down and has vitamin E and peppermint. Loved the smell, but my lips did tingle when it was on and I did find I had to reapply it more during the day. I had to glide it over my lips a few times to keep the product on my lips. It is 100% natural, but there is no sun protection with this product. This lip balm costs $6.95
Carmex Squeeze Tube
I have childhood memories of the lip balms you could squeeze to make worms, so I enjoyed using this lip balm because it reminded me of my childhood. I find this brand of lip balm does tingle on my lips and it can sting if you have really sore lips. My girls didn't like wearing this one when they had a lip rash. It does protect my lips from drying and its easy to glide on. A tube of this lip balm is $5.95.
Chap Stick Lip Conditioner
I could never wear Chap Stick lip balms as a kid as they would dry my lips and I would be forever applying the lip balm to keep them moisturized. Unfortunately this lip balm is no different. I found it was easy to glide on and kept my lips moisturized for a little while and then it would need to be reapplied. This particular lip balm has aloe vera and vitamin e to increase moisture. It has a pleasant smell and taste and has the added protection of SPF 15+. It's another cheaper lip balm coming in at $3.99. I won't buy this brand again.
QV Lip Balm with SPF 30+
This lip balm is another squeeze bottle, but the applicator has a slant which makes it easier to glide on the lips than the Carmex one. It definitely moisturizes and doesn't sting or tingle when on normal or dry, cracked lips. It has sun protection and is a quality buy as it's a larger tube and only costs $5.00.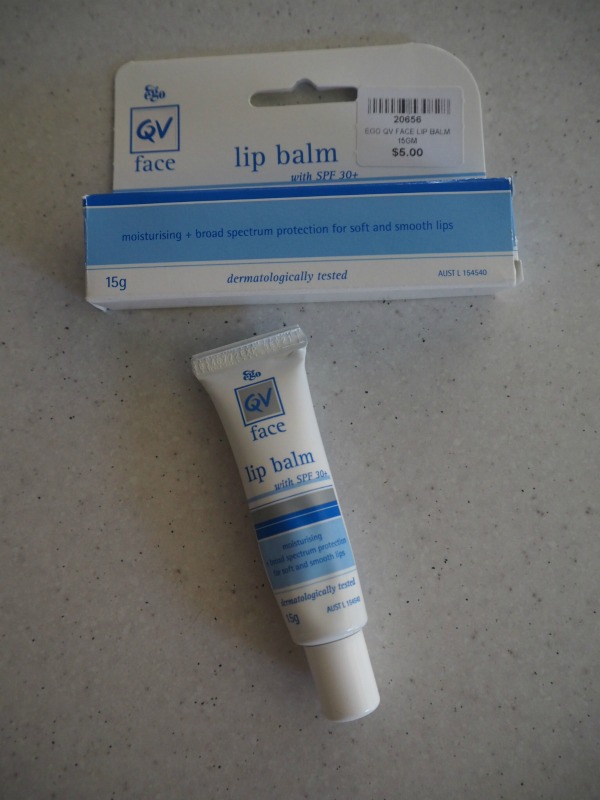 Moo Goo All Natural Lip Balm with SPF 15+
One of my favourite lip balms to put on. It is a little harder to glide on, but it kept my lips moisturized and protected from the sun. Love that it has edible ingredients so there are no nasties in this lip balm. This lip balm comes priced at $5.50.
Dermal Therapy Lip Balm SPF 50+
This lip balm has a creamier texture and comes out in a squeeze tube. It has the slanted applicator so the lip balm can glide on easily. It does tingle when on the lips, and will need to be reapplied during the day, but my lips were soft and moisturized. This is a great lip balm if you don't like to have moist lips or if you don't want to notice you have lip balm on. The product soaks into the lips and doesn't dry them out like other products that need continual reapplying. This is a great lip balm for really cracked or sore lips. This lip balm costs $4.95.
Natio Lip Balm SPF 30
We went through this lip balm fairly quickly. It's got a pleasant taste and smell and glides on really well. I enjoyed using this lip balm but felt we went through it a bit fast. Love that it also has an SPF 30. Costs $4.95
doTERRA Spa Herbal Lip Balm – Comes in Pack of 3 for $12.95
These lip balms glide easily on the lips and keep lips well moisturized. Didn't find I had to reapply this lip balm much. Has a lovely scent and comes in a pack of 3 different flavours/scents. Can only be purchased with a doTERRA account or through a doTERRA wellness advocate. Doesn't have sun protection, but does protect your lips and keeps them from getting dry.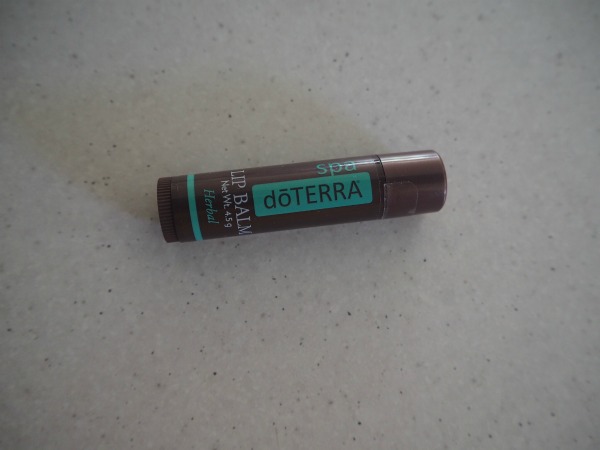 Out of all the lip balms I tested, the Blistex lip balm was the best in terms of value for money, protection and application.
If you suffer from really dry or cracked lips, the Carmex, Dermal Therapy, QV or MooGoo are the best lip balms to use.
I purchased all these lip balms (except the doTERRA) from Malouf Pharmacy. Most of these lip balms are available at your local grocery store or chemist.
If you're looking for other lip balm recommendations, Be a Fun Mum shared their review on a few lip balms Kelly has been road testing.
What is your favourite neutral, lip balm brand? If you're a tradie, what lip balm do you usually use?