I'm not exactly sure if the title of my post is politically correct? But I'm still going to run with it because it explains exactly how I made this Gingerbread Holly Wreath.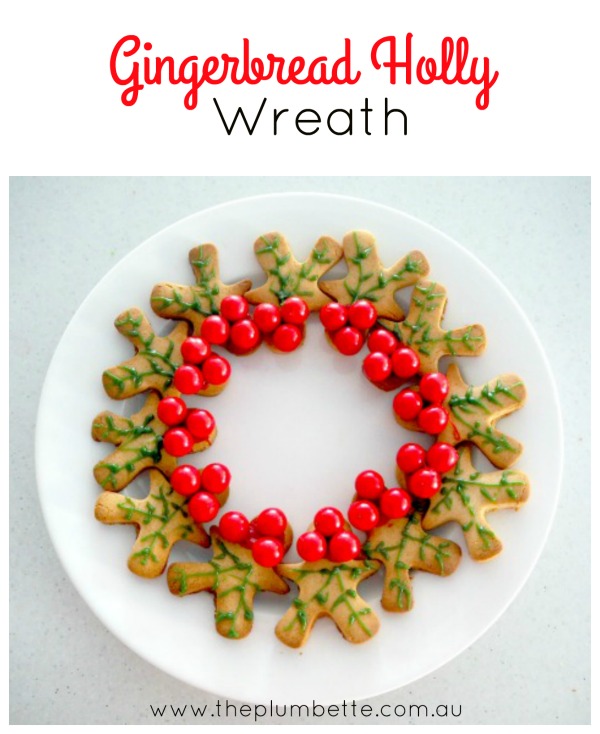 And before you think I've turned into a food blogger… I haven't. I just wanted to share this cool idea with you. Sometimes I have more ideas than time. But yesterday, I gave this a go, and I was really happy with the results. So much so I had to share it with you!
I'm sure you've all seen how you can turn a gingerbread man upside down to create reindeer heads? If you haven't, my friend Lauren from Create Bake Make shows you how on this post. And here are the 'one-eyed boobie monsters' my Maggie thought I had made yesterday.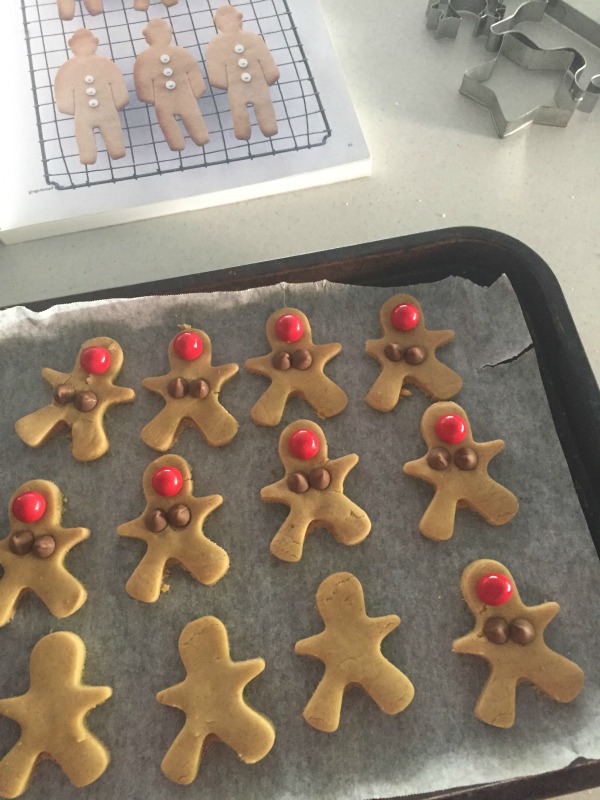 Well here I'm going to show you how to create holly and then place it together to make a Gingerbread Holly Wreath.
I thought up this idea while looking through Pinterest for food wreath ideas. There are many gingerbread wreaths, but none that use the gingerbread man shape to create holly. And when you look at the gingerbread man/woman shape – it certainly can be turned into holly.
I'm always looking for easy and creative biscuit decorating ideas for when I have to take a plate to share, and this Gingerbread Holly Wreath is my most proudest creation yet.
When I make gingerbread, I use a Donna Hay recipe, but I don't add the baking soda. I find it makes the gingerbread taste bitter. With this recipe, I added a few drops of Ginger Essential Oil to give it an extra ginger taste.
The most important ingredients when decorating the gingerbread is using the icing pens and Jaffas. It's then a matter of using my excellent caulking skills (who knew applying silicone could also be to my advantage in the kitchen?!) to draw on the leaves where the gingerbread arms and legs would be.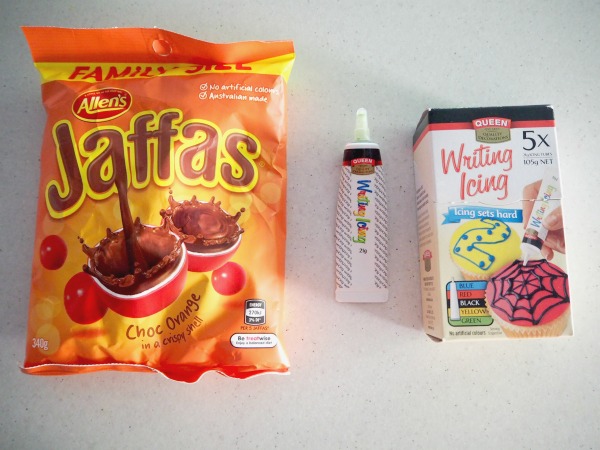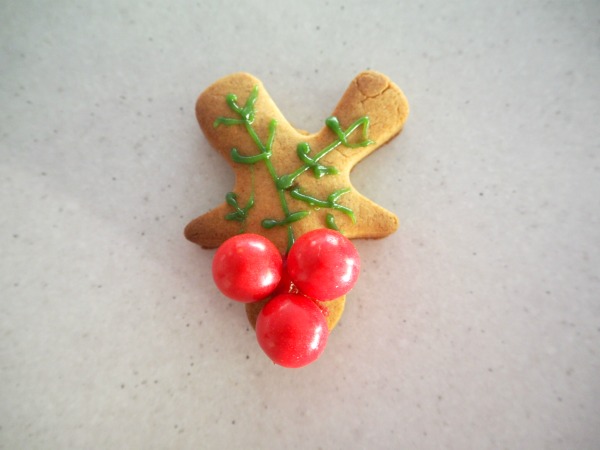 Once all the gingerbread men have been decorated into holly, you can then place each holly around a white plate to create a wreath. To prevent the wreath from sliding off the plate, use some of the icing to stick the gingerbread to the plate.
Not only does this Gingerbread Holly Wreath look gorgeous, it tastes delicious too.
It certainly seems we can't get enough gingerbread in our household. I can't wait to replicate this for next week's events.
Bec Senyard
Make a Gingerbread Holly Wreath Using a Gingerbread Man Cookie Cutter
15 minPrep Time
10 minCook Time
25 minTotal Time
Ingredients
125g butter softened
1/2 cup brown sugar
1/2 cup of golden syrup
2.5 cups of self raising flour
2 teaspoons of ground ginger
2 drops of ginger essential oil (optional)
Jaffas
Red icing pen
Green icing pen
Instructions
Preheat oven to 190 degrees Celsius.
Use electric beaters to cream the butter and sugar together.
Add golden syrup, flour, ginger and essential oil and mix to create a smooth dough.
Roll the dough into 4mm thickness and use a gingerbread man cookie cutter to cut out shapes.
Place these on baking trays lined with baking paper.
Bake for 10 minutes or until golden brown.
Once cooled, add red icing and place three jaffas at the gingerbread head.
Use the green icing pen to add the foliage.
Place in a round circle to create a wreath.
Put in the fridge so the icing can set.
7.8.1.2
22
https://www.theplumbette.com.au/plumbette/make-gingerbread-holly-wreath-using-gingerbread-man-cookie-cutter/
What are your go to Christmas Share a Plate food ideas?
If you enjoyed this recipe, you will love my Gingerbread Ice Cream Sandwiches.