If you've been curious about the mattress in a box phenomenon that has swept over the internet, you haven't been the only one. I became more interested in the product when we needed to replace our mattress. I was skeptical at first, but after a bit of research and a trial, I thought I'd share my experience with the Sleep Republic mattress. It certainly lived up to the experience 'Where Dreams Are Made.'
Now some people who have come through my home, have never heard about how you can now buy mattresses in a box. But those of you that like to hang out on Facebook, it's one of the ads that infiltrate our news feeds – well at least it does with mine. That and ekoWorx.
I had been seeing the ads for some time and we were in the market for a new mattress, but like a lot of things online, purchases can go pear shaped if they are the wrong fit or don't do as expected. A mattress is a big investment because you spend at least 6 hours a night on it. It's crucial for sleep and a supportive mattress is important for good health and wellbeing.
We didn't realise we needed a new mattress until we noticed some of the health symptoms. For me, it was lower back pain. Even my Shakti mat could only do so much to relieve the tension.
Our mattress was over 12 years old. It had been purchased before we got married. It's done good innings.
It's supported a newly wedded husband and wife as they've slept, and vigorous exercise that resulted in 3 babies.
My side of the bed has had to support my pregnant frame which pushed over 100kg for approximately 4 months of each pregnancy. It then cradled a mum with a nursing newborn.
It was any wonder the mattress was needing to be replaced. I would get out of bed every morning from the middle of last year, complaining of lower back pain.  Our mattress was no longer working for us and it needed to be replaced as soon as possible.
However, if there is one expense that we often choose to live with that can affect our health, it would be a mattress. (For others, avoiding a dentist would be a close second). Mattresses are EXPENSIVE. Like most Australians, we headed to the major retail stores to lay on a few mattresses to test out what we liked. Jacob and I both like medium to firm mattresses. But one brand's firm may be a medium to another. We spent a couple of  hours one morning bouncing from one mattress to another and we were able to narrow down our choices on two mattresses that were in the vicinity of $2,500 to $5,000. Whoa.
We walked out of the stores to think about which mattress we'd go ahead and purchase and then I remembered the mattresses in a box. What would they be like? I knew they would be considerably cheaper, but would they be just as supportive and have the same warranty?
I headed to The Plumbette Facebook page and asked if you had purchased a mattress in a box, and would you recommend a particular brand. Some of you swore by your mattress, others of you were still testing it out, and others direct messaged me to say they returned their mattress because it didn't meet expectations or had a strange smell.
I ended up doing research on some of the brands that were suggested, and then I came across Sleep Republic. Now the reason Sleep Republic caught my eye was because their video explained (and showed) how many HD pocket springs were in their mattress. I remember one of our favourite mattresses we tested had a similar configuration, but with metal springs. I had a good feeling about the Sleep Republic mattress and before I knew it, after an initial enquiry, I was sent a mattress to test and review.
And test it, Jacob and I did. And we LOVE it. The Sleep Republic mattress certainly lives up to its slogan, where dreams are made. Who knew the mattress of my dreams would be delivered IN A BOX?! We have had the mattress since the beginning of November 2017 and I no longer have a sore back when I get out of bed.  It's been a dream to sleep on. It really has.
Delivery
I was super impressed with the delivery. I had a call from Sleep Republic before the mattress was sent to ensure there was a safe place for the mattress to be delivered if I was out. It was also important to find a place that was dry in case of rain.
I had the call on a Wednesday and my mattress was delivered on Friday morning, while I was doing the school drop off. It was raining that day, so the delivery driver wheeled the mattress to the back of my property so it was secure and out of the rain. A+ for delivery.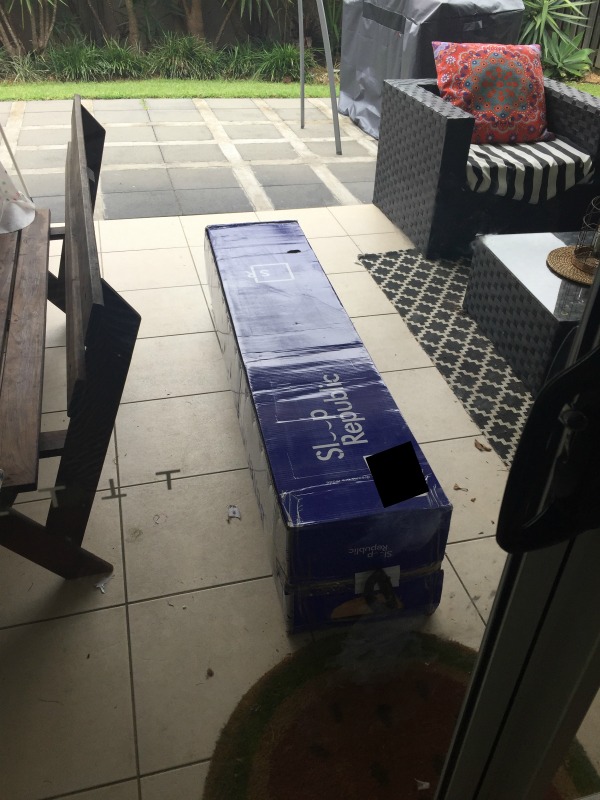 Unpacking the mattress from the box
The box has a handle at the top when it's vertical and wheels, so you can wheel it easily to where you want to unroll it. I found it awkward to get the mattress out of the box because it is quite heavy. Jacob had to help me lift the rolled mattress onto our bedframe.
You get a plastic tool with an inner blade to undo the plastic around the mattress to allow it unfold. It's really important to follow the instructions that come with the mattress. The blue plastic must be cut first. Once this is removed, the inner clear plastic film that has been vacuum-sealed around the mattress needs to be removed.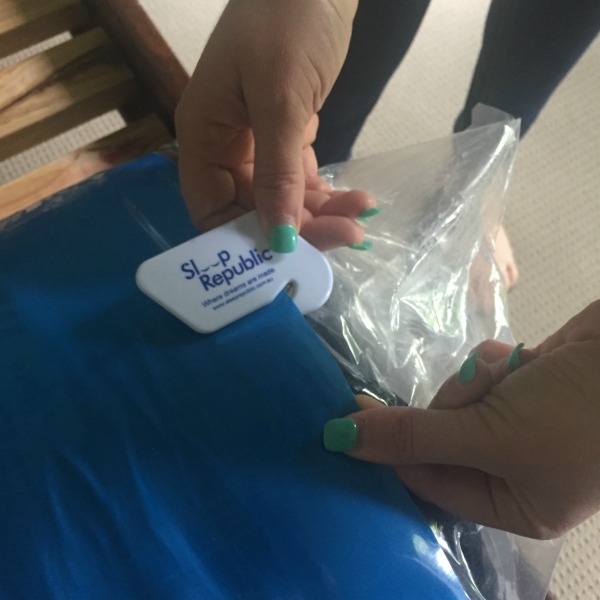 At first I thought I had undone the wrong end and I could hear the mattress expand. I was unsure whether it would flip out in front of me, but it didn't. It unrolled abruptly and instantaneously inflated. Once I got all the plastic off the mattress, I let it sit in our bedroom for a few hours to air out. I got Jacob to take a video of me undoing the mattress. Of course, while the filming of this happened, Phoebe came in to check on the progress. The mattress was on our bedframe in a matter of minutes.
We noticed there was a smell when unwrapping the mattress, but it was from the plastic, not the mattress itself. Nevertheless, we opened the windows and allowed the mattress to sit and 'air' before we made the bed.
The smell was gone once the plastic was placed in the bin and the room had been aired for an hour or so.
First night of sleep
The first night of sleep on our Sleep Republic mattress was brilliant. The mattress itself has a cushioned top layer, which is still firm, but so comfortable.
Both Jacob and I have slept well since sleeping on the mattress. There has been no compromise on our back and we haven't noticed any sagging or indentations. The mattress hasn't been hot to sleep on, which can be a common problem with latex mattresses.
The increased pocket springs in the mattress means there is better support for both partners on a bed. We have a queen mattress, and tossing and turning no longer wakes either of us up. We've put the mattress to various tests for sleep and extracurricular activities. It certainly gets the tick of approval from us.
The specifics
You can check out the mattress composition on the Sleep Republic website here. Each mattress comes with a 12 year warranty.
There is free delivery included (within Australia) when you purchase the mattress and this includes to regional areas.
There is peace of mind every step of the way with the purchase of a Sleep Republic mattress.
Overall, I am impressed with the mattress quality from Sleep Republic. So much so, that I tell everyone about our mattress as soon as they see the box in my office. It's near the entry way of our house, so it's pretty hard to miss.
If you are going to go down the mattress in a box route (which I highly recommend you do because savings and comfort), do buy Sleep Republic. While I may have been gifted a mattress, I did a lot of research on many of the brands beforehand. Also a handy tip to know – if after 100 days, you're not satisfied with your mattress, you will get your money back, but the mattress will be donated to the Salvation Army as it can't be placed back in the box. You can check out more about the mattress on the Sleep Republic website.
Have you bought a mattress in a box before? Heard about the Sleep Republic mattresses? When was the last time you bought a mattress?
Disclosure: I was gifted a queen sized Sleep Republic mattress for the purpose of this review. This post has been written in accordance with my disclosure policy.