Is it me or has Christmas come early this year? I feel like the Christmas parties are now being celebrated in November and the stores have been preparing well in advance in anticipation for the big event. Despite the early warnings, I haven't finished shopping yet, but I have started looking and thanks to an invite to Myer's Giftorium in the Myer Centre, I was able to get some present ideas for those I've yet to buy for.
This year's Giftorium featured different brands to the previous year. If you think you will see the same products instore this year, you won't. You will see more. Myer has increased their overall Giftorium footprint by 12 percent which means there is a lot more to offer.  
Disney is heavily featured in the kids domain with displays from Frozen and Toy Story. There is a large selection of games and craft kits on sale as well.
I would have taken more photos, but I had a one year old and two year old who were eager to check out the toys and ruin the displays!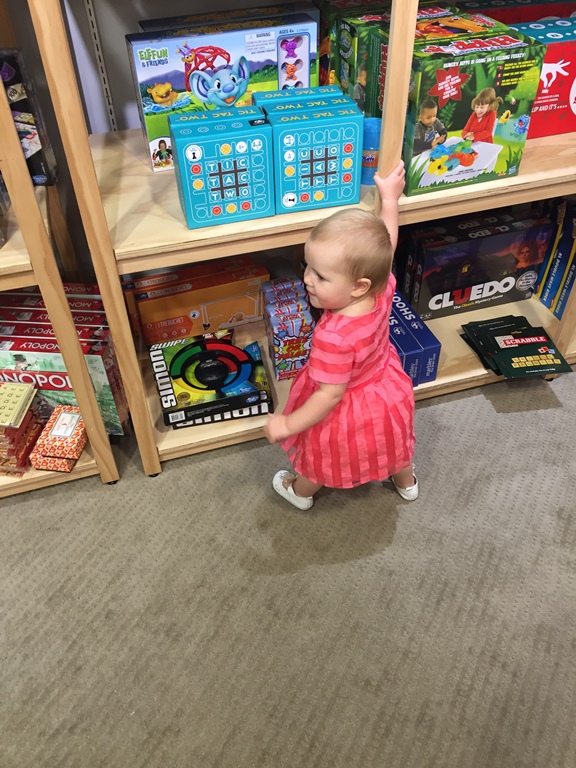 One of my favourite parts of the Giftorium in the Myer Centre is the Santa Express Train and lining up to have an exclusive visit and photo with Santa. It just adds to the whole experience of Christmas shopping I think. Or at least you can bribe your kids with a free train ride if you need to get some shopping done. Miss Phoebe screamed blue murder when placed in the train, hence why the seat behind Maggie is empty. I'm sure she would have calmed down once the train started moving but safety said if she didn't stop crying, she would have to be removed from the train.
After the train ride, we waited in line to see Santa who is in a room in the middle of the Santa Express track. I wanted to see if we would have any meltdowns. But we didn't. Just a note here, you will need to book in to see Santa if you do come to the Myer Centre.
Maggie told Santa she wanted Smarties and pink presents for Christmas and Phoebe was more interested in sleeping Rudolph than giving any sort of attention or requests to Santa. She'll learn quick next year I have no doubt.
One of the popular items at the Giftorium are the personalized Nutella jars. I got one in my goodie bag and I can't wait to open it… although I will most likely be sharing it because my kids can't read yet.
There were special displays for pet presents, which for some people are their only babies and deserve being spoilt. Funnily enough I bought two donuts for Phoebe's room, only to realize at the counter they were actually dog toys that squeak. I'm still going to put them in her Santa Sack so they can be displayed in her room.
Inflatable Flamingo and Donut Pool floats were on display – as well as entertaining products. Anything that has been trending in entertaining and homewares were amongst the gifts on display.
I couldn't leave without buying Maggie some Minnie Mouse shoes, inspired my Miss Smiley who bought the same ones. I also bought Cinderella shoes for Esther, which ironically, just fit her feet.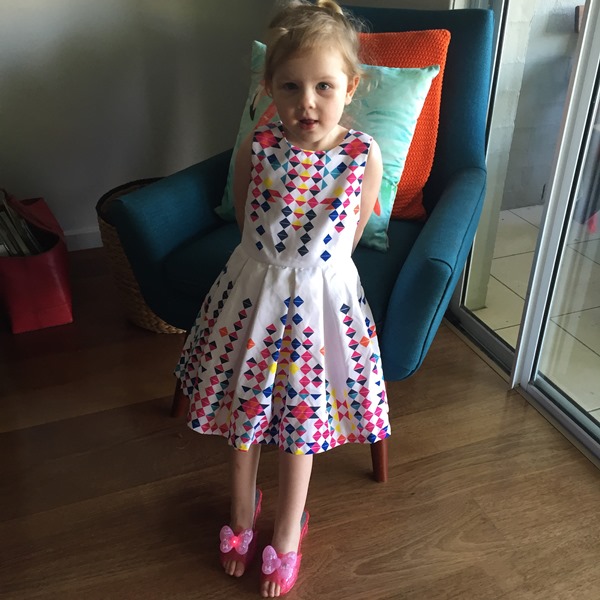 I found that a lot of the products on display were great for Kris Kringle type gifts or stocking fillers. If you're on a budget this season, Myer Giftorium will have a present to suit your wallet. 
Thank you to Myer and Kids Business for the invitation and the goodie bag given during the event.
Have you started your Christmas Shopping yet? Do you feel like Christmas has come earlier this year?
I'm linking up with Essentially Jess for IBOT.