I love surprises. Well not the unexpected bill surprises, or the surprises kids like to pull on me when they've been awfully quiet in the house.
I love unexpected positive surprises like winning a competition, birthday parties, gifts – the unexplained and unexpected grace from people in unusual circumstances.
The thing is, when you become an adult, happy surprises become less frequent.
But I do like to release my inner child every now and then and sometimes I do get excited about the toys the kids will get in their Kinder Surprise or Happy Meal. I like to relive those feelings of surprise.
So imagine my surprise when Royal Essence sent me some candles and bath bombs to try (and giveaway) in a post.
Initially, I wasn't surprised by the email, but was happy to run a giveaway because it meant there would be something for you to win.
But I was surprised when I opened the box of gifts and read a note that said please share your jewellery on Facebook.
I thought the note was a little weird because I hadn't been sent jewellery. I'd been sent bath bombs and candles.
I headed to the website and I got really excited. These bath bombs and candles were like Kinder Surprises for adults. Each candle and bath bomb comes with a hidden piece of jewellery worth $10 to $2000!
The inner child in me went a bit berserk.
I HAD to try a bath bomb for myself. I thought the candle would take too long to burn to get the piece of jewellery. I wanted my surprise, NOW. (It also worked in the essence of this post!)
Once my girls had been put to bed, I claimed the bathroom as my own and added a Raspberry Sorbet Bath Bomb to my running bath.

Oh my word! Running myself a bath with this delicious raspberry sorbet bath bomb from @royalessenceco #gifted I can't wait to share a review and giveaway on the blog. #bathtime #royalessencebathbombs #eastertreat #eastertreatswithoutthesugar #metime by @theplumbette
The smell was delicious. Not overly sweet how I expected.
After the bath bomb swirled around the bath, a plastic container emerged. I retrieved it and opened it to find this.
It was love at first sight. I didn't care about the value of the ring, but I LOVED the design and it fit me perfectly.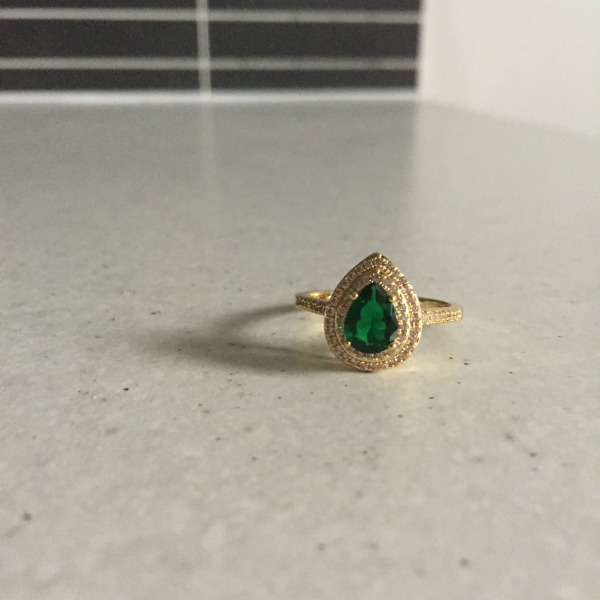 The bath was so relaxing, I stayed in there for an hour and a half. For a busy mum of 3, it was divine.
Since getting my ring, I've had a number of comments from people who have noticed the ring, and it's given me a chance to talk about this fabulous brand. I haven't had a chance to share on the Royal Essence Facebook page, but the brand loves to hear from their happy customers, sharing what ring they've found in their bath bomb or candle.
I LOVE the concept and product because
1. They make an affordable gift
2. The recipient is getting two gifts from one item
3. The products smell delicious! (My skin was beautifully supple, moisturized and scented after the bath)
4. You can indulge, without adding any calories to your diet. Win WIN I say!
I'm so excited by this product, I'm going to be buying some more items for Birthday and Mother's Day presents.
Best of all I have a discount code so YOU can try these products for yourself. All readers of The Plumbette can receive 10% off by adding this code PV9S5 at the checkout.
GIVEAWAY
The next best part of this post is I have a giveaway which includes 1 prize of 1 Watermelon Lemonade Candle and 1 Bubblegum Bath Bomb. These are the best sellers from the Royal Essence site.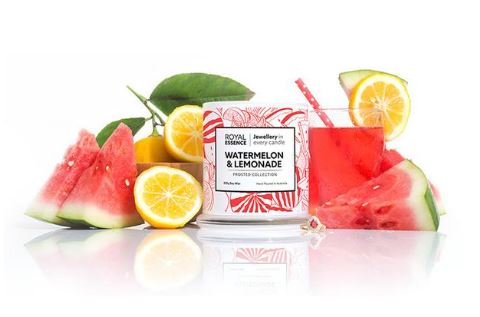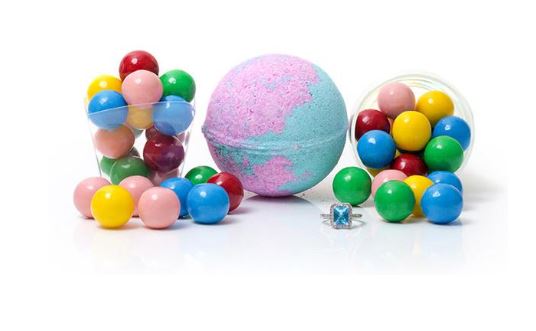 This was meant to be an Easter giveaway, but due to Cyclone Debbie and the early arrival of school holidays in QLD (which meant less time for me to get this post written up), I've decided to extend the giveaway so that the entries aren't drawn until AFTER Easter. They will be drawn in time BEFORE Mother's Day though.
In order to enter the giveaway, I'd LOVE for you to follow The Plumbette on Instagram and Facebook. (not compulsory, but would love to stay in your life more than once so I can share about giveaways and amazing products like this one).
AND tell me in the comments below or on Facebook the best surprise you've ever had? Most interesting answer will win.
Why not follow Royal Essence on Facebook to keep up-to-date with new products and happy posts from surprised fans.
In the meantime, if you want to spoil someone with a sweet gift that isn't chocolate this Easter, Royal Essence Candles and Bath Bombs would be the perfect gift. Take advantage of the discount code and get a head start on Easter and Mother's Day gifts. This is seriously the best gift for mums who have everything but like to be surprised.
Disclosure: I was gifted 1 Cinnamon Doughnuts Candle and 1 Raspberry Sorbet Bath bomb for the purpose of this review and giveaway. All opinions are my own. You can read about my disclosure policy here.
Terms and Conditions
This is a game of skill. Each valid entry to be judged on creativity and originality, not by chance.
There is 1 prize = 1 Watermelon and Lemonade Candle (RRP 46.99) and 1 Bubblegum Bath Bomb (RRP24.99)
Entries open from 6am Brisbane time Wednesday 5th April 2017 to Friday 21st April 2017 6pm Brisbane Time.
Prizes are not transferable or changeable.
Prize sent out by third parties will not be replaced in the event they are stolen, lost or damaged in transit or virtually.
Entry is leaving an answer to the question.
A valid email address must be included in your entry. This email will be added to my newsletter, but will never be spammed or sent to third parties.
Entry into any giveaway or competition is deemed acceptance of these Terms and Conditions
Entrants must be Australian residents and aged 18 or over.
The winner will be notified by email and has 3 days to reply and claim the prize. The winner may be announced on Facebook. This giveaway is not endorsed by Facebook.