This Crunchy Nut Salad with Chicken McBites is a new take on the popular crunchy noodle salad.
One of my favourite salad recipes to make is crunchy noodle salad. Whenever the family gets together, this is the signature dish I'm asked to bring. I received the recipe from a work colleague over 10 years ago and I've kept the A4 sheet she wrote it on, in my recipes folder.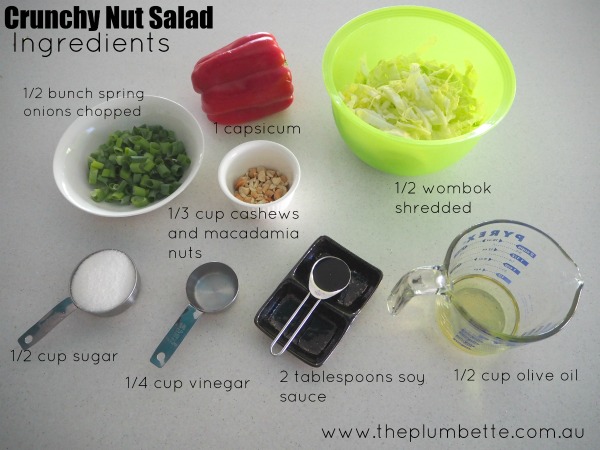 It makes for a festive salad and is often a crowd pleaser at whatever function I take it to.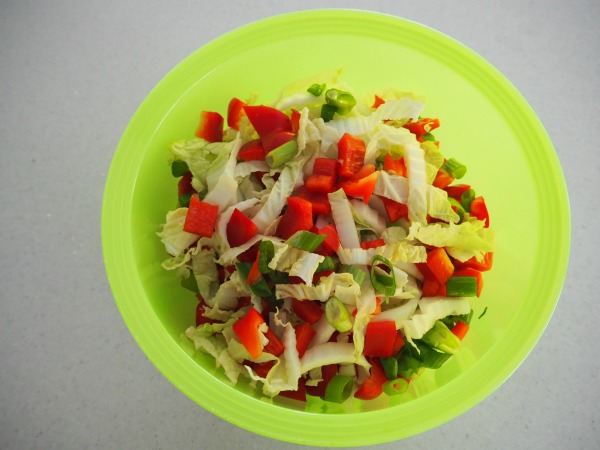 When I was thinking how to make this salad lunchbox friendly, my dad made a suggestion about what trade's really want for smoko. He also reminded me of something we used to do for lunches which I will share in a future post.
This salad is ideal for lunches, so long as you don't add the dressing or the nuts until before you eat it. Portion the salad out for lunches during the week and use small Tupperware containers for the dressing. If you're making this for school, change the nuts to crispy noodles to make it school friendly.
For the tradie or worker, to add an extra hit of protein, I've added McDonald's Chicken McBites. Sometimes, after working hard all morning, I do feel like something hot and fried. Adding the Chicken McBites to this crunchy nut salad turns it into a great sweet and savoury combo. I felt extremely satisfied after eating this. Nothing worse than eating a salad and feeling hungry afterwards. That's why it's important to add protein.
If you really want the salad to be extra crunchy, add some noodles as well. Just don't add them until before you eat the salad as the dressing will make them soggy. It's important to also do this if you take this salad to share with guests. Always add the noodles and dressing before serving. I learned this from previous experience!
Bec Senyard
Tradie's Lunchbox – Crunchy Nut Salad With Chicken McBites
5 minPrep Time
2 minCook Time
7 minTotal Time
Ingredients
1/2 chinese cabbage (Wombok)shredded
1 red capsicum chopped
1/2 bunch of spring onions chopped
1/3 cup of roasted nuts - cashews and macadamias
1/2 cup sugar
1/2 cup olive oil
1/4 cup white vinegar
2 tablespoons of soy sauce
Instructions
Mix all the dressing ingredients - sugar, olive oil, white vinegar and soy sauce together. Put it in the microwave on high for two minutes - or until sugar has dissolved. Put in the fridge to cool down.
Mix cabbage, capsicum and spring onions together.
Add chopped nuts and cooled dressing just before being served.
Add Chicken McBites for extra protein.
Notes
Use Changs Noodles instead of nuts for a nut-friendly alternative.
7.8.1.2
4
https://www.theplumbette.com.au/plumbette/tradies-lunchbox-crunchy-nut-salad-chicken-mcbites/