We keep having toilet blockages at our house and it's not because of excessive number twos.
Phoebe is entering the terrible twos, pulling off whole rolls of paper and dumping them in the toilet. This wouldn't be a problem if she didn't know how to flush the toilet. She grabs a stool and presses the button and obviously watches in delight as the toilet fills up and blocks. And then her work is done and I'm left to discover it and fix it.
Usually I can scoop the paper into a bag, but often there are remnants that are unreached by hand and the good old plunger saves the day. Jacob gladly watches me work.
We did have a toilet latch by Dreambaby®, but Phoebe soon took a hold of it and I think it's been flushed down the toilet. (Sorry Urban Utilities!)
Anyway, with all the toilet paper dramas, I came across some unusual toilet paper storage ideas on Houzz. If you're looking for something that will make your bathroom stand out from the rest, maybe take some inspiration from these ideas.
The Divider
I'd be scared having this in my bathroom with kids. Do all the rolls fall into place like tetris when one is taken? Knowing my girls, they'd take them out of each divided section they can reach.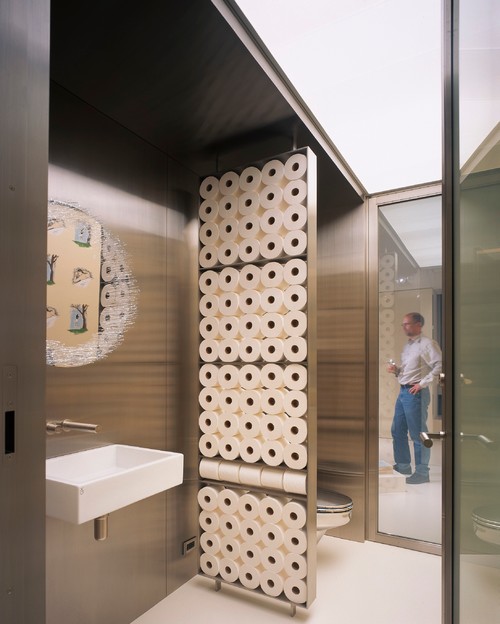 The Rope
Use a rope to strand a toilet roll or two. A great idea when a back-up is needed. Also makes it difficult for little hands to unhook and unthread.
The Pull Down
I've never seen anything like this before, but it kind of appeals to me because Phoebe wouldn't be able to reach it, but you'd want to have good arm height to reach for the paper when sitting down.
Lonely Dinosaur
This is a bit innovative. Using a toy dinosaur to hold the paper. I'm not sure how hygienic this is when everyone has to grab the dinosaur to unravel the roll….
Wall Hooks
A good way to keep the paper out of reach of young children. Easy to yank off the wall and onto the hook when needed.
Magazine Holder
Never thought to repurpose a magazine holder to store toilet paper. But I like it. Not so good for my household at the moment. Could also pose as a target risk for little (and possibly big) boys.
What toilet paper storage solutions have you come up with?