One of my goals this year is to read more books. I love reading, but I haven't had a lot of time to indulge in it since having my babies. Often the time between reads would require me to re-read what I'd read to remember the story, or I'd fall asleep, sometimes with the book on my chest. Often the books would pile up on my bedside, gathering dust because time is a battlefield.
I haven't made a goal to read a number of books each month, but instead, I want to read 1 book from cover to cover and then start on my next read.
I thought I'd share some of the books I've read and what I think about them. I don't have time to read bad books. I love a good storyline or a biography that compels me to keep reading. If I start reading a book and it doesn't get better past the first few pages, I stop.  I've only had one of those this year.
Each month I will share what I've been reading because I'm sure you're like me and have little time to waste reading a bad book… yeah?
Three Books to Put on Your Reading List – January
I read this book in one sitting. The day I received it and put the girls down for their quiet time/nap, I got stuck in and I loved it. I had heard Brooke speak at Problogger Conference and her posts about living a simpler life appealed to me (Check out her blog and podcast Slow Your Home). Brooke was probably the first person to influence me to a minimalist and intentional lifestyle before it became a trend.
Brooke shares some basic rituals she has done to keep her life simple and to stop the overload of brain clutter which I find myself constantly in a state in. She shares easy tasks to help live a simpler life and living with intention. I need to re-read the book and work through each ritual. There is a lot of wisdom in this book and it's easy to apply if I truly want to enjoy each moment of my life. This is a must read for anyone who wants to slow down and enjoy the simple things better.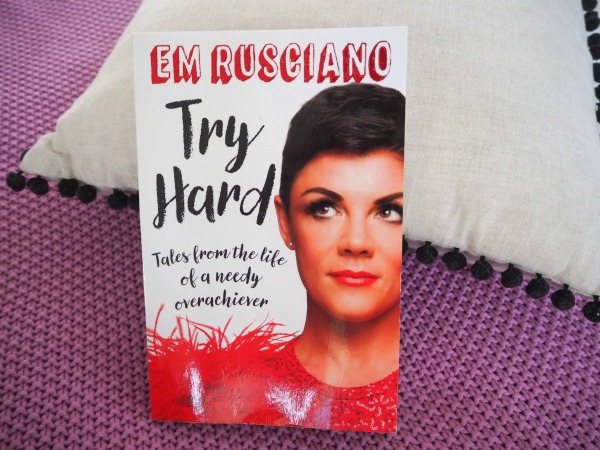 This book appealed to me because of the title – Try Hard, tales from the life of a needy overachiever. What I enjoyed about this book is Em's openness about her failures and her successes. I think we can look at people in the limelight and think it must have been easy for them to get their success, but what we don't see is the pain of failure or crappy experiences that got them to that place. Em certainly doesn't hold back from sharing parts of her private life, but her realness is refreshing and some of her stories are hysterical. I read this book within a couple of days. It's definitely worth a read.
Jacob bought this book for me last year as a surprise gift. Thing was, the end of last year was so busy I didn't have the time to read it. I'm a big fan of Liane Moriarty. Big Little Lies and The Husband's Secret were possibly the only 2 books I managed to read all the way to the end last year (look there could have been more, but these left a good impression on me). I think What Alice Forgot by Liane Moriarty is my favourite book from the ones I've read by her. The story is about Alice who gets injured at a gym with a head injury and her memory reverts back to when she was 10 years younger, pregnant with her first born. She instantly loses 10 years of her life. Alice has to work out why her marriage has fallen apart, who her children are and who she has become in the space of those 10 years. I LOVED the ending and while the book is a piece of fiction, it really stirred up thoughts about how we change in life due to life circumstances or being weighed down by the busyness of life. The importance of keeping our values when things aren't working were poignant reminders in this book. I also appreciated Alice's grandma sharing her blogposts and seeing the comments under each post. It humoured me as a blogger myself. This book is a must read.
 What books have you been reading lately? Got any recommendations for me?
Disclaimer: I was gifted Destination Simple. There are affiliate links on this post. If you choose to buy one, I will receive a small commission at no extra cost to you.