There are many benefits to having a tile insert point drain in the bathroom. Let's explore why this modern fitting is becoming a popular installation. 
Sponsored Post
The floor waste in a bathroom can sometimes be an element of oversight with a sterile appearance. But they don't have to be when using a tile insert point drain. In fact the use of a tile insert point drain can elevate a bathroom both visually and aesthetically.
Most modern bathrooms will now use a channel drain in the shower and a tile insert point drain for the floor waste. They are definitely an upgrade from the standard chrome grates used in bathrooms back in the day.
If you're after a design feature upgrade, incorporate a tile insert drain.
Here are 5 reasons to use a tile insert point drain in your new bathroom.
1. It's visually appealing
Floor wastes used to be finished with a 100mm diameter circular chrome grate.
With the availability of different tapware and hardware finishes, it can stick out if you've chosen stainless steel brass tapware. But a tile insert drain offers a seamless look as it integrates with the chosen floor tile. It will have a stainless steel border but this is less noticeable than its predecessor.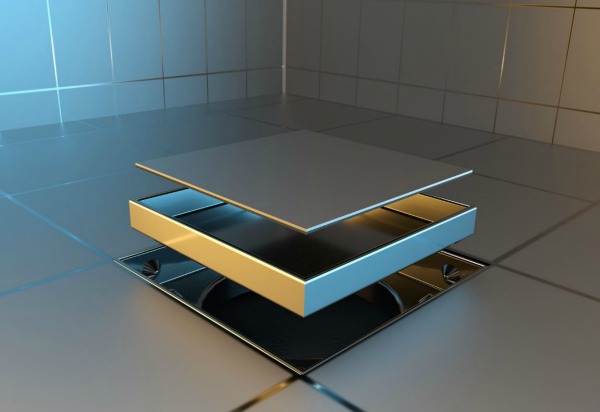 Visually, a tile insert drain can offer a sleek finish and almost looks like there is no floor drain at all.
Another positive aspect is it can offer a smoother surface to walk across when using the bathroom. Long live the pointy heels which have snapped after getting caught in a chrome floor grate.
2. They are a cost effective installation
The assumption a modern drain can be a more expensive option is not necessarily true. Premium quality doesn't mean premium price.
3. They can be installed in various applications
Drains in the home are common in the bathroom and ensuite. Tile insert drains can be used wherever there is a drain needed in the home. Those locations can include
Shower
Kitchen
Laundry
Balcony
4. Can prevent floor waste odours
The floor waste is prone to odours, which can escape through the standard grated drain. When using a tile insert drain, it can reduce the escape of air from the bottom of the trap so less drain smell in your bathroom.
5. Easy to clean
As the name suggests, the tile insert can be removed to allow for easy cleaning of dust and hair which often congregates around the drain.
Tile insert drains have become a popular installation in modern bathrooms. It makes sense to choose a premium brand to ensure the longevity of your bathroom.
3monkeez stainless steel tile inserts are 12 points ahead of the competition as their inserts offer 12 points of contact for secure, stable and accurate positioning.
The slimline design and removable tray allow for easy installation and maintenance.
The quality of 3monkeez stainless steel tile insert drains make them a more viable product to use in high traffic areas like commercial and civil projects.
Solutions for Other Drain Points in the Home
3monkeez also provides solutions for sink wastes and grated drains for floors.
Odours and scraps are common problems in the kitchen sink. The scraptrap catches solids from entering the sewer system. This helps keep the sewer pipes clear and avoids a costly call out to repair if a blockage occurs.
The In2Grate for floors can also prevent a buildup of solid matter and debris falling through the drain. This not only protects the drain from potential blockages, it can ward off smells.
These fittings are only just some of the 3monkeez product range, which are available at all reputable plumbing distributors.
If you wish to research more or purchase Australia's premium stainless steel tile insert for your own bathroom, head to the website.
Disclaimer: This product must be installed by a licensed plumber. I do not accept any legal responsibility for any loss incurred as a result of reliance upon it – please make your own decisions and enquiries.
Disclosure: This post has been written in accordance with my disclosure policy.