Copper baths became a sought after item when copper became the it trend in home interiors. A copper bath definitely makes a statement in a bathroom, but is it the right choice for you?
Here are 7 things you should know about copper baths.
1. Copper baths are expensive. If you're looking to install one of these beauties in your bathroom, expect to pay big bucks for one. The average price of a copper bath is around $4,500 – $6,000 +.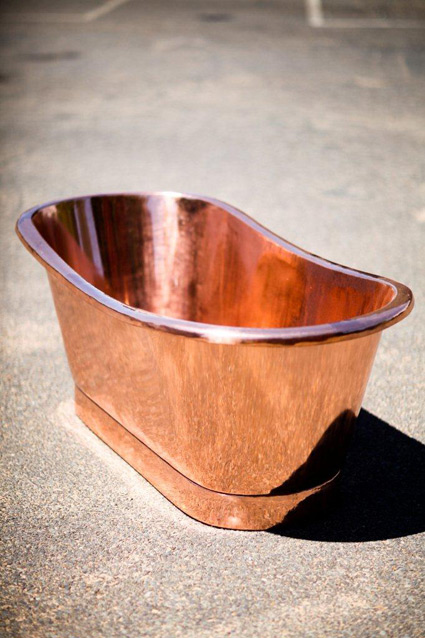 2. Copper baths are usually a free standing type bath. The good thing about this is that the bath doesn't require being built in, but a negative is that this doesn't offer shelf space, but that is just part of having a free-standing bath.
3. Copper offers anti-bacterial properties so it requires little in the way of being disinfected and cleaned. Use a light soap to clean, or a microfiber cloth and wipe away dots of moisture to prevent marks on the copper.
4. Copper scratches heal over time. Enamel baths can scratch easily and once they are scratched, the only way to disguise it is to try and buff it or re-enamel the bath. Scratches made on a copper bath will disappear over time as copper has a living finish.
5. Copper baths age well. Unlike some bathroom trends – eg coloured tapware, copper baths will always stand the test of time and look good, even if they do darken over time.
6. Some copper baths are made from recycled copper which will have other materials mixed with the copper that may not last as long as a pure copper bath. Ask your retailer what type of copper has been used to make your bath. Check the guage too, to ensure you're getting a quality product.
7. Copper baths are deeper rather than longer. Some baths can be custom made to suit, but often, most models have tall sides, but their length is shorter. It's something to bear in mind if you are a tall person and like to extend your legs in the bath.
I think copper baths make a stunning statement in the bathroom. Do you?
If you liked this post, you might like to check out my post about copper sinks and basins.
Last week on Home Improvement Thursday, The Builder's Wife and I launched our #HITmystyle competition. We'd love to see your pictures on Instagram of a room that you have renovated or updated. Follow The Builders Wife and The Plumbette on Instagram and use the hashtag so we can see your entries. You have the whole month of February to get your entries in.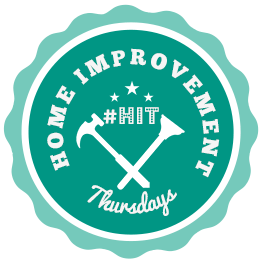 If you're a DIY, home organization, building, renovation, home makeover, home decorating, home maintenance or trade related blogger we'd LOVE you to link up with us below. Here are the HIT rules for how to link up and what you need to do once you have linked up.
Linkable posts, must centre around the topics of DIY, Renovations, Home Organisation, Home Improvement, Home Makeovers, Home Styling, or Home Maintenance. You can share 1 post each week. Please make sure they are new to the "Home Improvement Thursday" party. Linking is simple, find the little blue button at the end of the post that says, Add Your Link, and then pop in your URL, and follow the prompts. Your link only needs to be added once and it will automatically show up on both of our blogs… it's that easy! Grab our #HIT button and pop it on your sidebar. Don't forget to share it with others. Follow the blogs of your fellow #HIT family, and leave a comment. Please visit and comment on at least three blogs that are near you on the list.
Leave a comment on the post below so we can return the favour and comment on your post.
Don't forget to follow The Builder's Wife and The Plumbette.