If you're looking for a spectacular bathroom with a rainforest view, I've found it. This will be one of the most memorable getaways you can do with your partner.  
I'm the first to admit feeling cautious using a bathroom with floor to ceiling windows.
But when the view is surrounded by rainforest and there is no possibility of another soul (other than your husband) seeing you in the nude, it's a pretty spectacular experience.
Last weekend, for my Birthday and right after the chaos of a Brisbane lockdown, Jacob and I escaped across the border into Northern NSW.
The trip had been postponed for 15 months. It was meant to be our 15 year wedding anniversary celebration last year.
But like everyone's plans last year, they had to change. It was memorable to have a romantic picnic in our living room due to lockdown.
I had tried to re-book again for our wedding anniversary earlier this year, but it was booked out months in advance.
And you can understand why when you see this property and its views!
A bathroom with a spectacular rainforest view
Of all the bathrooms I've installed and used in my 37 years of life, this one at Crystal Creek will stand as the most memorable one of all.
In fact the whole cabin and location is fabulous.
If you're after a getaway which is remote, has little to no mobile reception or internet access, this is the place to escape to.
We stayed in the Luxury Mountain View Lodge, where the whole length of the bungalow is ceiling to floor windows.
A skylight above the bed offers views of the starlit sky at night and can be closed off to prevent early light in the morning.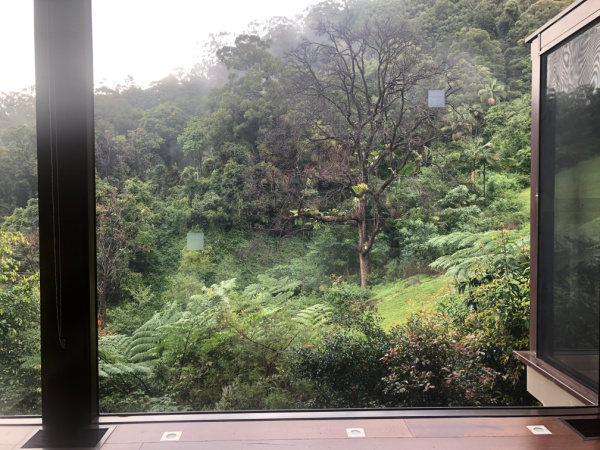 Each Mountain View Lodge at Crystal Creek has been architecturally designed with an open plan area leading to a deck and your very own plunge pool. It was too wet and cold for us to use but I could imagine it would be well used in the warmer months after a hike.
The bathroom itself is spectacular with a walk in double shower, including a rain shower head which had amazing pressure. Plus a luxury double solid marble bath perfect for 2.
Sinking into a hot bath with surrounding rainforest views and a wine in hand was absolute bliss. Watching the sunset in the afternoon over the rainforest canopy was a fabulous way to end my Birthday.
About Crystal Creek Rainforest Retreat
The drive into Crystal Creek Rainforest Retreat (CCRR) was memorable in itself as you do have to drive over a few causeways to get into the property.
But the moment you drive into the long CCRR driveway with surrounding rainforest, you know you've found yourself somewhere special.
Nestled in the Tweed Valley, just south of the New South Wales/Queensland border, the retreat is surrounded on three sides by the world heritage-listed Numinbah Nature Reserve and Springbrook National Park.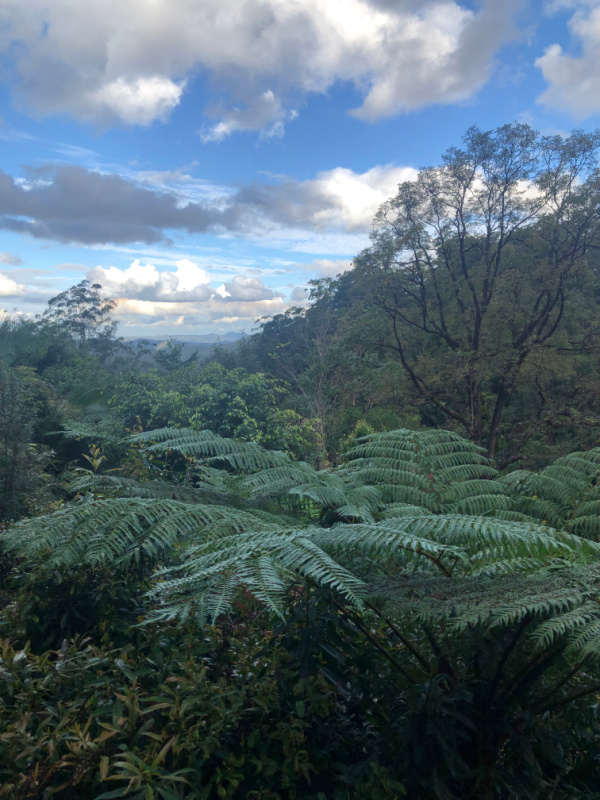 Originally a Banana Plantation, the land was abandoned and then purchased in 1988. It took 4 years to plan, restore and build the retreat which opened in 1992.
There are various accommodation types, each with their own unique view. The retreat offers respite from the noise of modern life to complete calm in a rainforest sanctuary with waterfall sounds in the distance.
Things to do & where to eat
We stayed at Crystal Creek for 2 nights and we did not leave the property.
The lodgings alone are perfect to sit back and enjoy, sipping copious amounts of coffee or tea while reading a book. Sometimes I simply stared off into the distance watching the rain and clouds drift over the rainforest.
Rainforest walks
To get active, the rainforest begs to be explored.
There are 4 main walking tracks to explore during your stay. We managed to do three of these walks. Believe the descriptions when they say they are moderate or strenuous. The Rainforest Walk and Lookout Hike were elevated hikes. A walking stick is a must.

Glow Worms
At night, there are torches available for a night hike to see glow worms in their natural habitat. It's important to turn the torches off as the glow worms are light sensitive. The glow worms were amazing to see and another highlight of our trip.
Hammocks and Rockpools
Down at the creek, there are hammocks to lay on, which sway while you look up at the sky, through the rainforest canopy.
Swaying to the relaxing sounds of the waterfall was such a grounding experience. I didn't want to leave.
The rockpools offer another swimming opportunity. It was refreshing to splash our face after a morning hike to the lookout.
Breakfast and Dinner
There are dining packages available, which we ordered before our stay. The food was delicious and sourced from local produce and suppliers.
I can't wait to go back again.
Crystal Creek Rainforest Retreat is the perfect escape for a reset away from work and reconnecting with your partner.
Ever stayed at a bathroom with a rainforest view like this one? What's the most memorable bathroom you've ever used?