Most tapware within Australia is generally manufactured and imported from overseas. Like many Australian made products, tapware that is made on our shores, can often cost more to manufacture due to overhead costs. However, the product can be of a superior quality and finish to many of the imported brands we know and love.
Any tapware that is sold within Australia needs to abide by strict watermarking and WELS standards. If the tapware can't meet these, they should not be sold or installed.
After incorrectly sharing the place of manufacture for my new Mizu Soothe Mixer, I did a bit of research to find tapware companies that not only design their tapware in Australia, but manufacture it here as well. There aren't many companies that manufacture their taps in Australia, but I thought I'd share the few with you that I found that did.
Can I admit, I'm not always the best at choosing Australian made products – not just with tapware, but in daily life as well. After the uproar about the $1 milk war and what it was doing to our farmers (and rightly it should be in the media), I swapped to purchasing Paul's and Norco milk. I think education is key when it comes to choosing Australian made products, and sharing the impact our purchase can have on a family business and on our economy.
And yet, I also have a budget too. So I understand the fight of wanting to support Australian made, and having to choose a product within your price range.
I won't judge anyone on what brand they choose to purchase. The tapware from the following brands may not be what you're looking for in your space and that is totally ok.
If you are looking for something bespoke or tailor made to your bathroom or kitchen, then these brands will be able to assist you as they can manufacture it for you. Just contact them directly.
However, if you aren't limited by budget, are open to design (and colours!) and you are passionate about supporting Australian made, here are the tapware brands you need to know.
Disclosure: These brands state their tapware is designed, engineered and manufactured in Australia. To purchase, check the stockists of each brand. Most can be purchased through Reece or Tradelink. Some may only be ordered through specialist bathroom supply stores.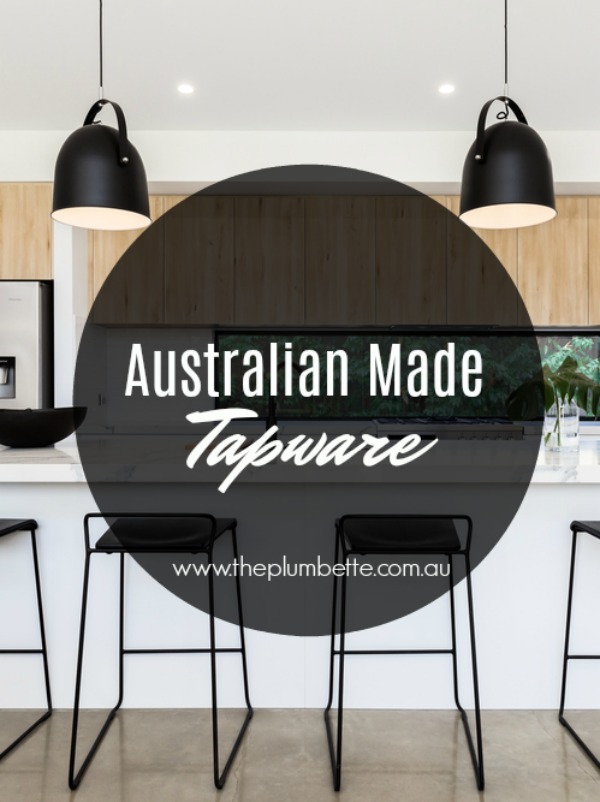 Australian Made Tapware Brands
Faucent Strommen manufactures a range of contemporary tapware out of Kerang in Victoria's Murray Valley. They are proud of their products and are always looking ahead in design with their tapware. Their Pegassi range of tapware has a high 6 star Wels rating. They offer a personalised approach with their warranty on their products.
Sussex Taps are manufactured out of Melbourne and they offer superior quality and finish with their tapware. You can check out how they manufacture their tapware here. But what makes this company unique is that the business has been passed down through family generations. If you need something bespoke created, the team at Sussex Taps can bring your design to reality.
Ram Taps  have been manufacturing tapware for over 70 years and are one of the largest tapware and waste outlet manufacturers in Australia.  They specialise in the design and manufacture of bathroom fittings that meet strict Australian Standards. They currently export their tapware overseas to Fiji, Vanuatu, Noumea, & New Zealand, Papua New Guinea, Vietnam, Qatar, Abu Dhabi, & Dubai.
Brodware were established in Australia in 1964. Their tapware is backed by a 20 year warranty (check the conditions when purchasing though.) All Brodware tapware is designed, engineered and manufactured in Australia, so you can be assured for a quality product.
Astra Walker is an independent family-owned manufacturer and all their tapware and bathroom accessories are engineered in Australia. Astra Walker is the brand to purchase your block-coloured tapware from. They offer a range of contemporary and classic tapware styles and have a 15 year warranty on their products (check conditions when purchasing though.)
Consolidated Brass Tapware is a family owned Australian company that manufactures their tapware in South Australia. Their tapware exceeds Australian standards and they can also customize a tapware design to suit your space. Their tapware range is perfect for Federation, Heritage and Victorian style homes.
Have you heard or had any of these Australian Made Tapware brands installed in your property?