As another year looms to an end, so do a run of trends in interiors. There are many predictions on what will be big trends in bathrooms next year so I've compiled a few of the common predictions that we will most likely see in bathroom designs in the coming year. You may even see them on The Block for 2017 but just remember you read them here first. 😉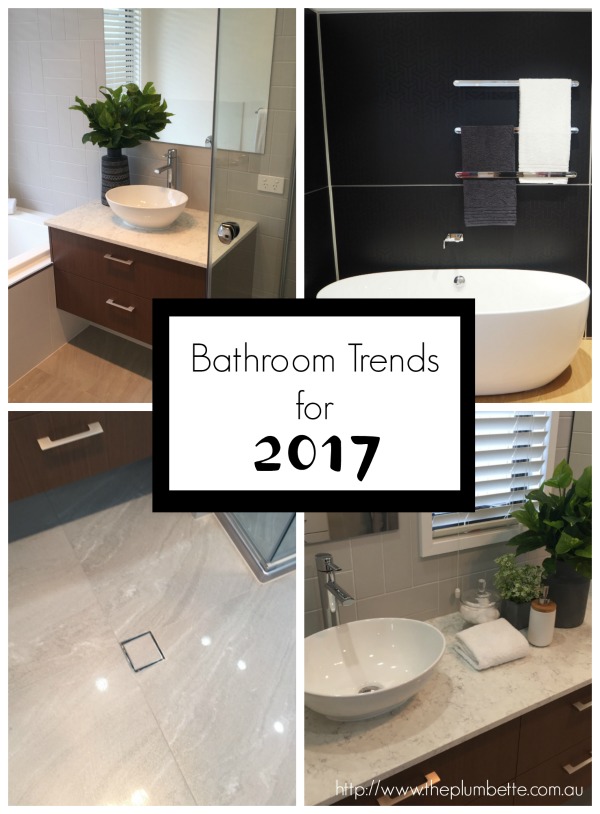 Bathroom Trends for 2017
Feature Baths are the Feature
The feature bath has been a dominating trend in main bathrooms. But now, it's going to be the main feature with different shapes, sizes and colours to make it stand out even more. Depending on the space in the bathroom, a block coloured feature bath is the way to go. Think black, grey or a bold colour in navy or red.
Minimalist Space
Bathrooms are going to be less cluttered with more concealed storage solutions. Benches will be less styled and more clear to allow for a 'mindful space'.
Wood and Natural Materials Reign
Timber and natural materials like stone will still be popular choices in the bathroom. Both were introduced as key trends for 2016 and they will continue to be popular for their modern aesthetic and luxurious appearance. To keep in with budgets, indistinguishable imitative products will be used.
Black and Brushed Metal Tapware
Black and brushed metal tapware will be the popular choices for water outlets in the bathroom. Brushed metal is a better choice than black as it will age beautifully over time, whereas black will lose its sheen from water marks. Trust a plumber on this one as stylists don't go back a few years later do maintenance on them. 😉
Concealed Floor Wastes and Drains
Keeping in with the minimalist look, floor waists and drains will be concealed through tiling. Chrome grated drains are out.
Rimless Toilet Suites and Induct Cisterns
The rimless toilet suite from Caroma was introduced earlier this year and it will be a considered choice as it aligns with the minimal look in bathrooms as will induct cisterns.
Lighting Zones
Different lighting will be used to separate zones within the bathroom.
Neutral Colours
Black, white and grey will still be popular choices as they are modern and timeless. But there will be different tones introduced like charcoal, greige and granite.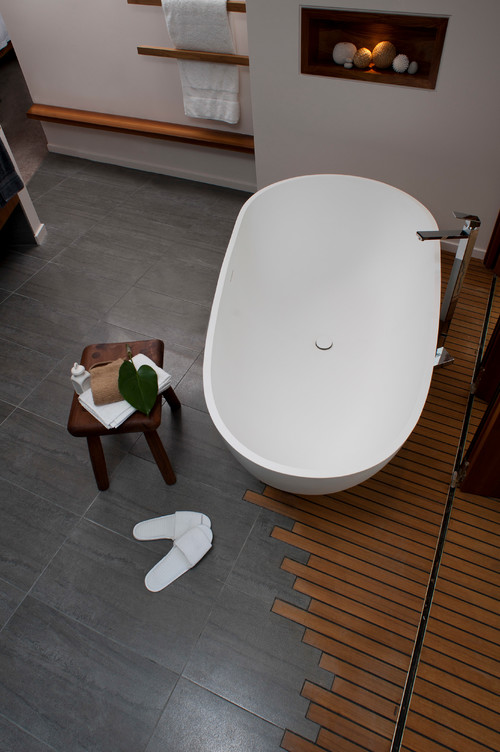 Are you planning a bathroom renovation next year? Which trends stand out most to you?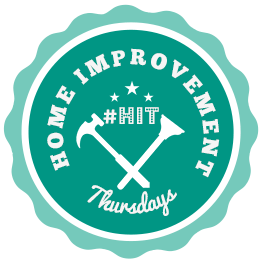 Home Improvement Thursday Rules For Linking Up
If you're a DIY, home organization, building, renovation, home makeover, home decorating, home maintenance or trade related blogger we'd LOVE you to link up with us below. Here are the HIT rules for how to link up and what you need to do once you have linked up.
Linkable posts, must centre around the topics of DIY, Renovations, Home Organisation, Home Improvement, Home Makeovers, Home Styling, or Home Maintenance.
You can share 1 post each week. Please make sure they are new to the "Home Improvement Thursday" party.
Linking is simple, find the little blue button at the end of the post that says, Add Your Link, and then pop in your URL, and follow the prompts.
Your link only needs to be added once and it will automatically show up on both of our blogs… it's that easy! Grab our #HIT button and pop it on your sidebar.
Don't forget to share it with others. Follow the blogs of your fellow #HIT family, and leave a comment.
Please visit and comment on at least three blogs that are near you on the list.
Leave a comment on the post below so we can return the favour and comment on your post.
Don't forget to follow The Builder's Wife and The Plumbette.