Applying silicone on any job can be a nightmare, especially if it needs to be applied in a hard-to-reach area. Truth be told, I hate silicone. Can't stand the smell and if you're not used to applying it, you can get it everywhere and you can really mess up a job if you don't apply it evenly. Who knows why women decide to get implants with the stuff? I can't stand it on my hands, let alone have it floating in my bosom!
Anyway, I was really excited to be contacted from the designer and creator of Bent-Over Silicone Nozzles to test their product and write a review. The Bent-Over Silicone Nozzles were designed by a plumber Alex John from Victoria to provide a solution for plumbers (and DIY Jack and Jill of all trades) when applying silicone in hard-to-reach places.
The features of these nozzles are:
They can attach to any standard tube of silicone
The tubes can freely move and explore different directions with the use of the two ball joint feature
The length of the nozzles can be extended by adding more ball joints
The nozzles are durable and can be cut into different lengths
The nozzles can be reused again, by taking each joint apart and unlodging the dried up silicone
The nozzles are Australian designed and manufactured which means you are getting a quality product and supporting an Australian business.
Dad and I used the nozzles in various job scenarios including providing a water seal behind shower tap flanges to sealing a joint in a stack where the access was limited.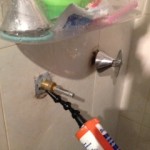 The only criticism I have of the nozzles is that once  they are taken apart, they do need a hammer to be 'clicked' into place and if you're on a job and your hammer is on the truck, it would be convenient if the joints could be reconnected by hand. In future, to avoid this problem, I will have several different lengths of the flexible joints ready for when they are needed on a job.
The nozzles are well made and there has been no compromise on quality due to having the nozzles manufactured in Australia. The nozzles can be purchased online at http://www.bentoversiliconenozzles.com/  for $6.60 for a 2 pack of the flexible, extendable, reusable silicone nozzles.
Every plumber should have these nozzles on their truck! I highly recommend them for sealing behind semi-recessed basins where often the cabinet maker has cut the basin in too close to the mirror or wall so there is little space to angle the silicone tube to apply a decent bead of silicone for sealing. The same application can be done for toilet pans. In fact, you can use the nozzles for every silicone application whether it's a tight spot or you just need to seal an easily accessed area.
Plumbers around Australia are singing praises for this great product, and so is The Plumbette.
If you would like to get your hands on a pack of these silicone nozzles, Bent-Over Silicone Nozzles have generously supplied me with 3 prizes – each prize has 2 packs of the nozzles and 1 $20 Bunnings voucher. Jacol Plumbing Pty Ltd has generously donated 3 x $20 Bunnings vouchers that can be used to purchase silicone so you can try these nozzles out! The terms and conditions have slightly changed below so please read carefully on how to enter.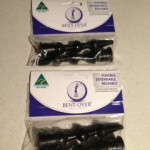 To enter all you need to do is
Disclaimer: I was provided with 2 packs of Bentover Silicone Nozzles for this review and 3 sets of prizes for the give-away, but all opinions are honest and my own. Jacol Plumbing Pty Ltd has provided the $20 Bunnings vouchers for each prize pack.
Terms and Conditions
These terms shall apply to all giveaways and competitions run on this site, www.theplumbette.com.au
This is a game of skill. Each valid entry to be judged on creativity and originality, not by chance.
There are three prizes of 2 packs of Bentover Silicone Nozzles total prize worth $69.80.
Entries open from Tuesday 22nd January 2013 10pm Brisbane Time to Thursday 31st January 2013 10pm Brisbane Time.
Prize is not transferable or changeable
Prizes sent out by Jacol Plumbing Pty Ltd will not be replaced in the event they are stolen, lost or damaged in transit.
Additional entries if you share on Facebook or Twitter, but you must email a second or third valid entry answering the question in 50 words or less. Also please leave how you shared in the email.
A valid email address must be included in your entry
Entry into any giveaway or competition is deemed acceptance of these Terms and Conditions
Entrants must be Australian residents and aged 18 or over
The winner will be notified by email and has 5 days to reply and claim the prize. The winner will also be announced on Facebook. This giveaway is not endorsed by Facebook.
The decision on the winners are final and no dialogue will be entered into otherwise.
These terms and conditions are subject to change at anytime without notice