This post offers tips to clean your downpipes to prevent flooding in and around your home.
As the summer season hits, rain and storms are always the norm for Queensland.  It's important to check gutters and drains for blockages from leaves or roof debris.
Cleaning your downpipes safely
Safety MUST be the first step when planning to clean out your gutters. Ensure you have a person below to watch as you clean your gutters.
Wear gloves to protect your hands from cuts or a bite from any unfriendly reptiles.
To get on your roof safely, use an approved ladder to reach a low-set roof gutter. For a high set, the use of an approved scaffold and harness will need to be used.
How to check if your downpipes are blocked
A storm or heavy rain event will indicate if your downpipes are blocked. It's quite obvious when water overflows from the gutters and pools at the footings of your home.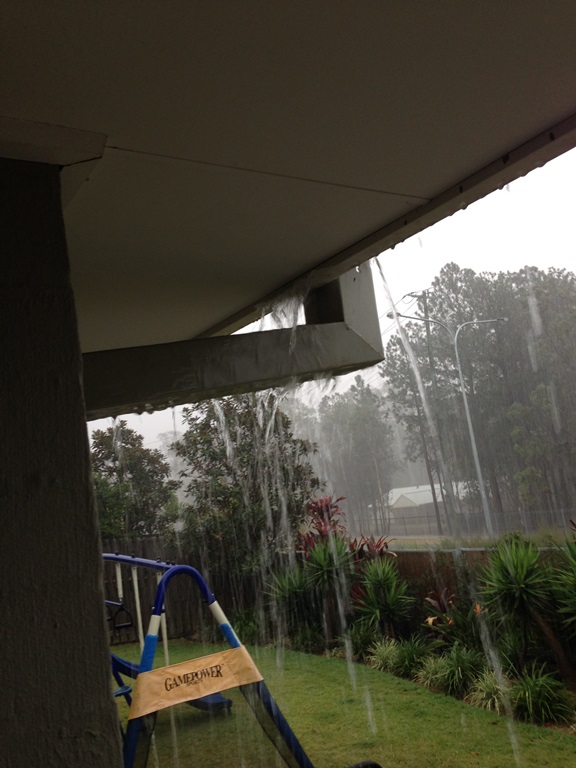 It's best to check your downpipes aren't blocked before the rain comes.
To check downpipes are not blocked, use a hose to spray down each downpipe.
If the water pools back up, there is a blockage.
How to clean your downpipes
Just as you would check for a blockage using a hose, the same hose can be used to dislodge debris from the blocked downpipe. Ensure you have maximum water pressure to disperse the blockage.
You can also use the end of a broom rod to dislodge any debris which which won't disperse.
If the hose can't budge the blockage, it's time to arrange for a plumber to unblock with a sani-snake or jet rodding machine.
Inspect your gutters too
It's important to look up after you've cleared your downpipes. Cleaning the gutters to prevent a blockage occurring again should be part of your bi annual home maintenance plan.
If you find rainwater is overflowing out of your gutters there could be a number of issues causing the problem including:
Gutters may not have the correct fall
You may not have enough downpipes to carry the rain away
There may rust spots that can cause holes in your gutters allowing the water to escape through these, rather than run along the gutter into the downpipe.
Storm water flood damage is preventable. It's in your control to ensure your gutters and downpipes are clear. You will also need to check you have adequate downpipes and storm water drains to carry the water away with the correct fall.
If you are unsure if your house has adequate storm water drainage, give your local plumber a call. If any gutters or downpipes are rusted out, it's time to get a plumber out to fix the storm water drainage to your home.
This post was originally published in January 2012 and has been updated. Currently stormwater drainage, gutters and downpipes are not part of licensed work but this may change in the future.