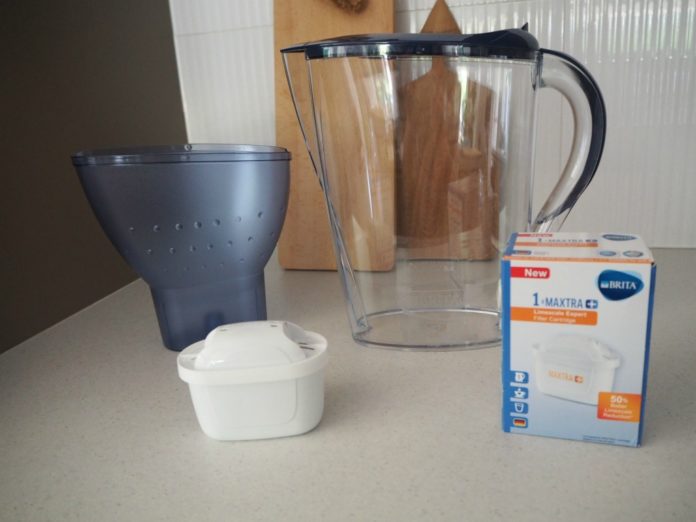 Sponsored Post
If there is one element of my health that I consistently maintain, it is drinking filtered tap water. And I don't mean it's been filtered through a coffee machine! I'm talking plain water. I actually love drinking water and it's always my drink of choice when at home.
I'm fussy when it comes to drinking water. I don't like drinking tap water at all. I've never liked the taste and I don't like the smell. Even though I know the water is safe to drink and has gone through a treatment process, the presence of heavy metals, chlorine and limescale, which changes the taste and smell of tap water, puts me off. Having lived on filtered water for most of my adult life, I can taste the difference between tap water and filtered water instantaneously. The tap water often has a metallic taste that isn't always nice to swallow.
I understand why many people don't drink enough water because the smell and taste from these impurities can be off-putting.
But not everyone can afford a filtered water tap. Or even a fridge that dispenses filtered water either. Often the kitchen configuration won't allow a water point for the fridge to dispense water, and if it does it can be a big investment to do so.
Bottled water is also not a sustainable solution and it adds expense to the grocery bill.
So what can you use to remove the heavy metals and impurities in your tap water without changing your plumbing?
The BRITA Marella Jug and BRITA MAXTRA+ Limescale Filter makes it possible for EVERYONE to drink the best filtered water possible, with no need to change the water configuration at your sink.
How does BRITA Marella Jug and MAXTRA + Limescale Filter Work?
BRITA water filters are engineered in Germany and they have been designed to filter water, worldwide, no matter the conditions. BRITA's unique jug filtration technology for both the MAXTRA+ and MAXTRA+ Limescale filters powerfully transforms tap water, reducing contaminants such as heavy metals (lead and copper), chemicals (chlorine) and other unwanted minerals and sediments.
The new Limescale filter is the first of its kind in Australia, removing 50% more limescale than the standard MAXTRA+ filters. The cartridge filters tap water in the jug and stores it, ready to be drawn from at any time.
Why Should EVERYONE Have BRITA Water Filter?
Filtered water is good for our health. I find it strange that we will spend money on the best wine or beverage to go with our evening meal, but not invest in getting the best water into our bodies which is a daily requirement for hydration. BRITA makes filtered water an affordable option for everyone.
BRITA filters and jugs don't require any power to run, so if you lose power, you can still access filtered water by filling the jug.
It's also ideal to take away for holidays as we always go through A LOT of bottled water. BRITA will not only help us save money, but will reduce our ecological footprint.
Setting Up Your BRITA Water Filter and Jug
Setting up your BRITA water filter in the Marella Jug is easy.
When you get your jug, remove it from the packaging and give the jug and insert a thorough wash with water and detergent.
Before you insert the filter cartridge, get a bowl of water and immerse the cartridge into the bowl of water to remove air bubbles. Keep it down for at least 1 minute to remove all the air bubbles.
Remove the cartridge from the bowl of water and insert it into the jug. Make sure it's pushed in all the way down.
Filter and discard the first two litres of water through your jug. (discard the water on pot plants or in a diffuser)
Your jug is then ready to be used.
The Taste Test
Once the water in my Marella Jug had been chilled, it was time to give it a taste test.
The verdict is… it tastes clean and fresh. I couldn't taste or smell the tap water, even though that was what was used to fill my jug.
If you want to nourish your family with the best water quality available, invest in a BRITA Marella Jug and MAXTRA + Limescale Filters. The water filters will last up to 150L or 4 weeks. You can head to the BRITA site so you're prepared for summer and all year round.
GIVEAWAY
One lucky reader of The Plumbette has a chance to win a BRITA prize pack to the value of $133.
The Prize includes:
• 1x Marella jug (blue) – RRP$34
• a 2 pack MAXTRA+ filter – RRP$28
• a 2 pack MAXTRA+ Limescale filter – RRP$31
• 1x active bottle Blue – RRP$18
• 1x vital bottle Purple $22
In order to be in the running for the prize, please leave a comment (30 words or less) on this post or on Facebook telling me why you need the BRITA water filters in your life? The most interesting answer will win the prize pack.
Entries open Monday 24th September 6am Brisbane time and close Friday 12th October 6pm Brisbane time.
Entries are for residents in Australia only.
Disclosure: I was gifted a BRITA Marella Jug and BRITA MAXTRA+ Limescale Filter for the purpose of this post. This post has been written in accordance with my Disclosure Policy.