This post has been written in collaboration with Fienza
When you spend time and money on a bathroom renovation, you want to make sure you get value for money on the taps and fixtures installed. The last thing you want is to have a matte black tap mixer that fades or stone basins that form cracks six months after installation.
A bathroom is a high traffic area and the environment changes daily from dry or humid due to moisture. Our hands can also leave marks from the use of soap and make-up which can affect the look of your taps.
If you're going to invest in something new, you want the finish to last a long time.
I've shared my concern on black tapware, but I've learned a little more about the importance of the coating which can have a huge effect on the way the colour lasts on a black mixer.
Matte black tapware is everywhere at the moment. But the difference in finishes are what can set apart a cheap matte black tap mixer from a quality and more expensive mixer.
Fienza tapware are experts on the quality finish of matte black tapware.
There are two types of coatings when it comes to this shade of tapware.
There are the electroplated coatings and the cheaper powder coated versions.
Powder coated tapware does not last and will fade over time from use.
Electroplated tapware will outlast a powder coated variety and will often hold a longer warranty period.
It's really important to ask the type of coatings on your matte black tapware when you make your selection. While there may be more outlay for an electroplated coating, you will be thanking yourself for buying a quality product that won't fade or lose it's finish.
Fienza Matte Black Tapware are of the electroplated coating variety, which means you are getting a quality black mixer that won't fade over time.
I came across Fienza after looking through a Reece Display Room. They produce a quality tap mixer, and their matte black finish carries a 5 year warranty guarantee.
Some of my favourite black matte mixers from Fienza are the Koko Matte Black Basin Mixer which can come with the option of two trims as it comes with a kit so you can have all matte black or a mixer with chrome trims instead.
The Fienza Koko Matte Black Sink Mixer is also visually stunning with its angular gooseneck spout.
You can see the transformation a matte black mixer can have on a white vanity here.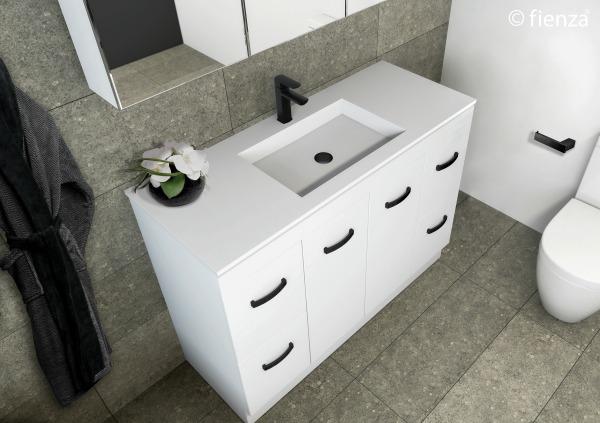 The next time you are looking to replace your mixer taps or when you're on the hunt for new mixers, make sure the matte black mixers have an electroplated coating, not a powder coated one.
To purchase Fienza taps and bathroom fixtures (check out the amazing matte grey products!), enter your postcode on their website to find your closest retailer.
Giveaway
Because July is my Birthday month and I've been meaning to celebrate my five year blogging anniversary, we're going to kick off with some fab giveaways. Fienza are generously offering a Vanity Transformation Pack plus a kitchen mixer to the value of $735 to one lucky reader.
Included in this pack is
1 Koko Matte Black Basin Mixer
1 Koko Matte Black Sink Mixer
1 Set of 6 Matte Black Vanity Handles
1 Black Pop-Up Waste
To be in the running for the giveaway, it would be great if you could follow Fienza Bathware and The Plumbette on Facebook (not compulsory).
And then answer the following question,
Describe your dream bathroom in under 50 words.
The most creative design will win the prize pack.
Terms and Conditions
This is a game of skill. Each valid entry to be judged on creativity and originality, not by chance.
There is 1 prize as detailed above with a RRP $735.
Entries open from 5am Brisbane time Tuesday 11 July 2017 to Friday 28tht July 2017 6pm Brisbane Time.
Prizes are not transferable or changeable.
Prize sent out by third parties will not be replaced in the event they are stolen, lost or damaged in transit or virtually.
Entry is leaving an answer to the question.
A valid email address must be included in your entry. This email will be added to my newsletter, but will never be spammed or sent to third parties.
Entry into any giveaway or competition is deemed acceptance of these Terms and Conditions
Entrants must be Australian residents and aged 18 or over.
The winner will be notified by email and has 3 days to reply and claim the prize. The winner may be announced on Facebook. This giveaway is not endorsed by Facebook.
Disclosure: The post has been written in accordance with my disclosure policy.