I had just got out of church on Sunday morning and I got a message from a friend, asking me how to take out the pop-up section of their plug and waste. My friend wanted to clean under it, but she wasn't able to unscrew it.
I told her that it should unscrew and to try using some multi-grips with a chux cloth to try and budge it out – but to be careful as this could break the basin.
My friend decided to give up and wait for her husband to come home and undo it. As a last resort I told her to pour some vinegar down the drain, leave it and then come back and see if it would budge.
Would you believe, the vinegar worked! It loosened whatever crap was keeping the plug form unscrewing.
The whole ordeal had me second-guessing my knowledge. I thought it was strange that the pop-up plug wouldn't screw out. I even asked my mum in the car whether her pop-up plugs unscrewed out in case I was completely wrong.
I knew that I was right, but part of me doubted myself and I thought, 'I've been out of the game too long'.
Having kids can do that to you. You're thrown into the world of babyland – where you know your Bugaboos from your Baby Joggers and your Baby Bjorn from your Ergo Baby. Add in sleep deprivation and a bit of insanity from being asked the same question 5 times because your toddler refuses to hear a 'no', and honestly, I understand how mums feel totally incapable of returning to their old job.
But the knowledge and skills are there. They've just been over-ridden by motherhood.
The lesson I learned out of Sunday's ordeal is to trust myself because I know more than I think.
And even if I don't know the answer, it doesn't mean I'm incapable, it just means I've got room to grow and learn more.
Have you felt incapable since becoming a parent? Do you sometimes worry whether taking time out of the workforce affects your skills?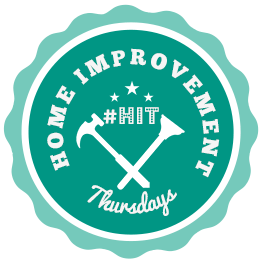 Home Improvement Thursday Rules For Linking Up
If you're a DIY, home organization, building, renovation, home makeover, home decorating, home maintenance or trade related blogger we'd LOVE you to link up with us below. Here are the HIT rules for how to link up and what you need to do once you have linked up.
Linkable posts, must centre around the topics of DIY, Renovations, Home Organisation, Home Improvement, Home Makeovers, Home Styling, or Home Maintenance.
You can share 1 post each week. Please make sure they are new to the "Home Improvement Thursday" party.
Linking is simple, find the little blue button at the end of the post that says, Add Your Link, and then pop in your URL, and follow the prompts.
Your link only needs to be added once and it will automatically show up on both of our blogs… it's that easy! Grab our #HIT button and pop it on your sidebar.
Don't forget to share it with others. Follow the blogs of your fellow #HIT family, and leave a comment.
Please visit and comment on at least three blogs that are near you on the list.
Leave a comment on the post below so we can return the favour and comment on your post.
Don't forget to follow The Builder's Wife and The Plumbette.