Choosing the right fixtures and taps for a bathroom is serious work. The fixtures and taps need to fit the style, size and budget allowed for the bathroom installation. If you need to save money, choosing cheaper taps and fixtures is the easiest way to go.
If money is no problem and you're looking to break away from current bathroom trends or the simple white fixture and chrome tapware look, you'll get some inspiration from this post.
Coloured fixtures and tapware are slowly finding their place in the bathroom. I'll be honest and say I'm not a huge fan as I love a simple and fresh colour scheme. I prefer to add colour with accessories and linen. But if you want to be a bit daring in your design and are looking to add some wow to your bathroom, why not consider these bold coloured fixtures and taps, which are available in Australia?
I first saw this orange toilet on Interiors Addict and I don't mind it, but it's not something I would consider in a bathroom for myself. The Taormina Wall Mount Pan by Bocchi is bright and very different. It's a sleek design and costs around $1399. I think it could look great in a monochromatic bathroom or plain white bathroom.
Bocchi like to push the boundaries in their fixture design.  They also make unique vessel basins in a range of colours including this Gloss Sapphire. It's an easy  clean basin and the geometry makes it a graceful vessel to install. I quite like how the basins have been paired with chrome wall spout tapware in the picture below.
If coloured fixtures aren't your cup of tea, why not a install a block colour mixer? I have mentioned on the blog before that these types of taps fade and age miserably. They look great when installed, but the soap and watermarks can change the colour of the powder coating or enamel – depending on how the tap is coated. But if you're keen for the wow factor, this red mixer from Astra Walker would definitely turn heads in your bathroom.
For a subtle hint of colour, Caroma has introduced a new range of coloured panels for their Invisi Series II Dual Flush buttons. The plates come in a range of colours including Feisty, Cheeky Red, Spirited Yellow, Bold Blue and Fresh Green. I love the colours and think they'd add a bit of fun to any bathroom. The panels also come in a range of metallic shades too.
To see how coloured fixtures or tapware can look in a bathroom, here are some ideas from Houzz.
Would you have coloured fixtures or taps in your bathroom? Do you think it's a trend that we'll see more of? Have you removed coloured fixtures?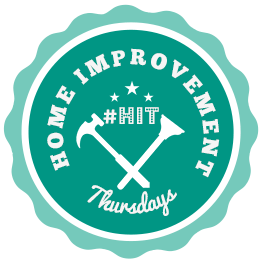 Last week on Home Improvement Thursday, Ashlea from
Glamour Coastal Living
shared the most
gorgeous coastal house
called
Bay Beach House
. I loved the way this home has been renovated and styled by it's owners. It actually may be the type of house I want to live in when my kids grow up.
Brigette from Honey and Bean shared the dramatic difference a white wall can make to a bedroom. The room looks fresher and bigger.
Alix from The Builderette shared some clever ways to renovate a rental property. If you're renting and wanting to put your own style in your home, you should check out Alix's tips.
Home Improvement Thursday Rules For Linking Up
If you're a DIY, home organization, building, renovation, home makeover, home decorating, home maintenance or trade related blogger we'd LOVE you to link up with us below. Here are the HIT rules for how to link up and what you need to do once you have linked up.
Linkable posts, must centre around the topics of DIY, Renovations, Home Organisation, Home Improvement, Home Makeovers, Home Styling, or Home Maintenance.
You can share 1 post each week. Please make sure they are new to the "Home Improvement Thursday" party.
Linking is simple, find the little blue button at the end of the post that says, Add Your Link, and then pop in your URL, and follow the prompts.
Your link only needs to be added once and it will automatically show up on both of our blogs… it's that easy! Grab our #HIT button and pop it on your sidebar.
Don't forget to share it with others. Follow the blogs of your fellow #HIT family, and leave a comment.
Please visit and comment on at least three blogs that are near you on the list.
Leave a comment on the post below so we can return the favour and comment on your post.
Don't forget to follow The Builder's Wife and The Plumbette.