If you've admired the look of an outdoor shower, I thought I'd share what plumbing considerations you need to know before installing an outdoor shower to your alfresco area.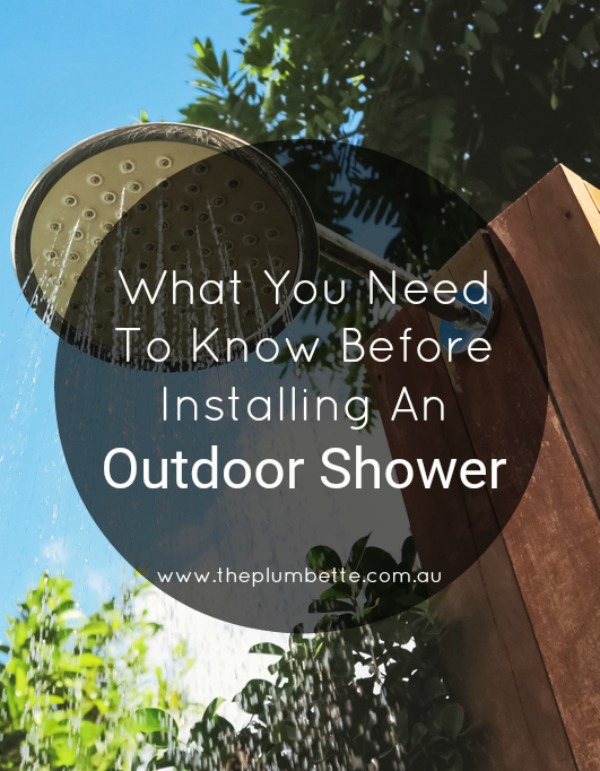 Outdoor showers have long been seen as a luxurious feature of a garden or a relaxing fixture for an outdoor area. It's popularity has become accepted for practical reasons. It's a great way to rinse off chlorine from the pool or sand when coming off the beach. It can also serve as a good way to cool down after gardening work. Mowing, trimming and hedging can bring unwanted clippings into the home. Having a quick rinse under an outdoor shower can prevent garden matter making it's way into your home.
Tropical locations are the ideal setting for an outdoor shower, as the temperature is warm outside and plant life can offer privacy. But it's not uncommon to see outdoor showers installed in areas like Melbourne and Sydney where the temperatures can plummet. Often a heatwave can make an outdoor shower a refreshing relief.
There are plumbing considerations before you decide to add an outdoor shower to your garden. It's presumed that the water can drain away with clever landscaping and paving, but in Australia, each council will have their own plumbing stipulations on how an outdoor shower should be installed.
Plumbing Considerations for Installing an Outdoor Shower
In QLD (and do check with your local council or shire on what the plumbing requirements are), if your outdoor shower has tempered water (ie hot and cold water), then it must have a roof and there needs to be a grated drain that connects to the sewer for drainage. The shower needs to be installed in such a way to ensure no surface or ground water can discharge into a stormwater grate.
If you choose to have only cold water to your outdoor shower (which most tend to do), it won't require a roof and the water can drain to stormwater.
Ensuring your shower has sufficient drainage is really important. A shower produces a lot of water and the run off needs to have somewhere to go.
The type of tapware and shower rose needs to be considered as well. You want something that is durable and can withstand outdoor elements. Chrome, brushed metallic or stainless steel can look great and it won't look so bad as it weathers. Plumbing supply stores will have outdoor shower roses and taps that are specifically designed for outdoor use.
The perfect position for an outdoor shower is usually against the back wall of your home, shielded with gardens for semi-privacy. If you choose to install a cold shower option, you won't require as much privacy as most will be semi-clothed (one would hope) while they use the shower.
The location of water services and the compliant waste for drainage will also need to be considered.
Here are some examples of outdoor showers that have been installed Australia. Some may have the present of a hot tap, but only have cold water connected.
It's certainly a feature of the garden or back outdoor space, that is becoming more highly sought. Ensuring the installation is legal, plumbing wise, is really important.
Do you have an outdoor shower? Have you ever thought of getting an outdoor shower installed at your property?