A question I get asked a lot by friends and family when it comes to plumbing is where the best place is to view taps and fixtures.
While it's great perusing plumbing products online and seeing photos of them installed in renovated spaces, nothing can beat viewing the taps and fixtures in person.
My advice has always been to go to a Reece Plumbing Showroom closest to where you live as most of the popular brands are installed in the showroom.
One particular showroom that I have been desperately wanting to visit, without the kids, is the new Reece Showroom at Coopers Plains. The new store is 18 months old and so much better than the supply store dad and I would visit years ago in Salisbury.
With Jacob home this week, I got to have a look at the showroom and get an update on the latest brands. Many I still recognized, but others have popped up since I stopped work when pregnant with Phoebe.
The store is managed by Des Beckett who I've had a working relationship with since I was an apprentice, and helped dad with our family business. Des would often get a call or two from me on quotes, availability of products and finding obscure fixtures specified by consultants.
Barbara Moorhead is the Showroom Consultant and was only too happy to tell me the latest developments in tapware and fixtures. And boy, has a lot changed since I stopped being on the tools.
For one, tap finishes have expanded. Chrome, white and gold were often the available tap colours you could choose from, but these days there is so much more choice. Rose Gold, Copper, Brushed Copper, Black, Chrome, Brushed Chrome, Brass… are just some of what is available. You can even buy mixers that have handle panels that can be changed to a different colour. It's the perfect tap for those that like to change their interiors often.
I get excited seeing new products and perusing the possibilities when I see taps and fixtures displayed.
One of my favourite features in the show room was the interactive shower bay where with the press of a button, you can see (and feel) the pressure of the shower head in action.
Barbara told me that each Reece showroom will be different from the other, but will have the vast majority of products installed so consumers can make an informed decision. But each showroom will have a special feature that makes it stand out from the other.
Having been to other plumbing showrooms on the south side of Brisbane, I can honestly say the Coopers Plains Reece Showroom is the place to go if you want to be inspired. It's new, it has a lot of products on display and the staff are friendly and helpful. If you're an interior designer or builder on this side of Brisbane, rather than hike clients into the city, take them to the showroom at Coopers Plains to choose their taps and fixtures.
Thank you to Barbara and Des for the chat. I was very impressed with your new space.
Do you head to showrooms to check out products? Where do you go to view new bathroom products?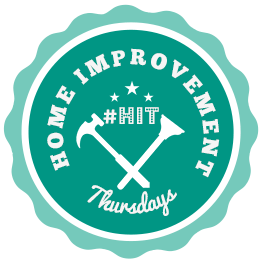 Last week on
Home Improvement Thursday
, we had some new link-ups. Kit from
Life Through The Haze
shared the changes made to her home to accommodate her growing family.
Brigette from Honey and Bean shared how she has bought second hand furniture when she's needed to add items to her home. This post shows just how much you can save by being savvy.
Home Improvement Thursday Rules For Linking Up
If you're a DIY, home organization, building, renovation, home makeover, home decorating, home maintenance or trade related blogger we'd LOVE you to link up with us below. Here are the HIT rules for how to link up and what you need to do once you have linked up.
Linkable posts, must centre around the topics of DIY, Renovations, Home Organisation, Home Improvement, Home Makeovers, Home Styling, or Home Maintenance.
You can share 1 post each week. Please make sure they are new to the "Home Improvement Thursday" party.
Linking is simple, find the little blue button at the end of the post that says, Add Your Link, and then pop in your URL, and follow the prompts.
Your link only needs to be added once and it will automatically show up on both of our blogs… it's that easy! Grab our #HIT button and pop it on your sidebar.
Don't forget to share it with others. Follow the blogs of your fellow #HIT family, and leave a comment.
Please visit and comment on at least three blogs that are near you on the list.
Leave a comment on the post below so we can return the favour and comment on your post.
Don't forget to follow The Builder's Wife and The Plumbette.