Today, I am presenting and attending the QLD Plumbing and Gas Conference. I've asked Plumber to the Rescue to guest post for me today, sharing ways your plumber can get your outdoor area ready for spring.
Floriade in Canberra, the Carnival of Flowers in Brisbane and down to local homes in Sydney, where your plumber Inner West wide can help out with sprinklers, new irrigation systems, and BBQ gas plumbing. Get gardening and see the benefits! Garden suburbs across Australia are blooming into the beautiful colours of spring.
In spring, it's more than tempting to turn off the heating and get outside. With warmer weather comes time for a garden update. As any gardener knows, it's not just about the plants – although you're likely to see some gorgeous blossoms heading into September.
There's no better time than the present to get prepared: get your BBQ ready, your outdoor plumbing in top form, and stay water wise, and you're in for a fantastic spring garden feeling.
The BBQ Area
First off is hooking up your barbecue. Gas cylinders are inefficient and pricey; setting up a permanent connection from the appliance to the mains is relatively inexpensive and means hassle free entertaining.
It's also going to save you in the long term, and is a safer option. Gas cylinders can degrade and need inspection approaching their expiry date. You'll spend more calling out the plumber to investigate the gas leaks over the years than you will making the switch. And, you can rest easy without a ticking time bomb tethered to your BBQ.
Sound easier than storing gas bottles? It is. In Sydney, call a plumber Sydney trusts. Same goes for gas services across major cities. It may come as a surprise, though, that parts of Darwin and the Northern Territory are a glaring exception! Major pipelines being built as we speak, expect that to change. There's no better time to get connected!
Outdoor Faucets
Everyone who's been stuck with a leaky outdoor faucet knows what a pain they can be. While it's great having access to water for hoses and sprinklers, a leaky faucet wastes more water than it's worth.
You're in a double bind with leaky outdoor taps. With mosquito season towards the end of spring, you don't want water pooling, unless you enjoy being nibbled by bugs.
It's easy enough to remove the tap and replace the washer. Turn off water to your tap and unscrew the packing nut, turning it counter-clockwise. Take out the handle and stem. Remove the washer, replace it with a new washer, and return the assembly to the original state. Viola!
Be Water Wise
It goes without saying that warmer weather means more sunlight which means more evaporation. Ever have that feeling towards summer where it seems like watering a lawn is like rolling a boulder uphill? You're not alone. Laying down plentiful mulch in plant beds reduces your reliance on watering, by trapping moisture in the soil.
If you absolutely must turn on the sprinklers, save it for the coolest parts of the day, with the least sunlight. It's common sense, but it will keep your bills down and help preserve precious water. It'll also maximise the amount of water that's actually getting into the soil and keeping that grass alive. Win-win.
A Spring In Your Step
There you have it. These 3 small steps towards a great spring garden will make sure your outdoor areas are ready to go for the busy entertaining season that is summer.
With just a small bit of work you can make sure you've got something to show off to your friends and family that you can be proud of!
When in doubt, or if you get stuck, always call your local plumber. It's better than fumbling about for hours with a leaking tap or gas connection.
Are you ready for Spring? How is your outdoor area looking?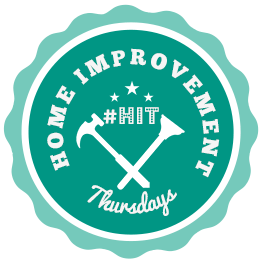 Last week on
Home Improvement Thursday
, Michelle from Jarrah Jungle gave an update on her
water wise plants & pebble garden in the courtyard
. It looks fabulous and I love the use of the black stones to contrast with the plants chosen.
Home Improvement Thursday Rules For Linking Up
If you're a DIY, home organization, building, renovation, home makeover, home decorating, home maintenance or trade related blogger we'd LOVE you to link up with us below. Here are the HIT rules for how to link up and what you need to do once you have linked up.
Linkable posts, must centre around the topics of DIY, Renovations, Home Organisation, Home Improvement, Home Makeovers, Home Styling, or Home Maintenance.
You can share 1 post each week. Please make sure they are new to the "Home Improvement Thursday" party.
Linking is simple, find the little blue button at the end of the post that says, Add Your Link, and then pop in your URL, and follow the prompts.
Your link only needs to be added once and it will automatically show up on both of our blogs… it's that easy! Grab our #HIT button and pop it on your sidebar.
Don't forget to share it with others. Follow the blogs of your fellow #HIT family, and leave a comment.
Please visit and comment on at least three blogs that are near you on the list.
Leave a comment on the post below so we can return the favour and comment on your post.
Don't forget to follow The Builder's Wife and The Plumbette.