Nobody wants arrive home from work or a holiday and be greeted with this sight. If a Whisper Flood Stop Isolating Valve had been installed on all the flexible hose connections in this aparment, this flood may not have happened.
Stainless Steel Flexible Hoses – The Pros and Cons
Everyone will have at least one stainless steel flexible hose connector in their house. They are commonly used to hook up toilet cisterns and taps. I counted 8 flexible hose connectors in my house and I'm sure you may find a similar amount if you have 1 kitchen, 2 bathrooms and 2 toilets in your home.
Flexible hoses are a great product. They make a plumber's life easier when fitting off, however the hoses themselves usually only have a 10 year warranty and if they have been installed incorrectly, they can burst, leaving a flood of destruction in your house.
I wrote about the risk of using flexible hoses in houses last year after a news report by Channel 7 news revealed the increased frequency of ruptured flexible hoses. Some plumbers admitted to replacing faulty hoses each week.
Introducing the Whisper Flood Stop Isolating Valve by Con-Serv
To combat the problem, Con-Serv created a ½" F & M brass Watermark approved Whisper Flood Stop Isolating Valve. Plumbers would understand what I wrote, but many home owners would not. It's essentially a valve that stops the flow of water the moment the flexible hose bursts or ruptures.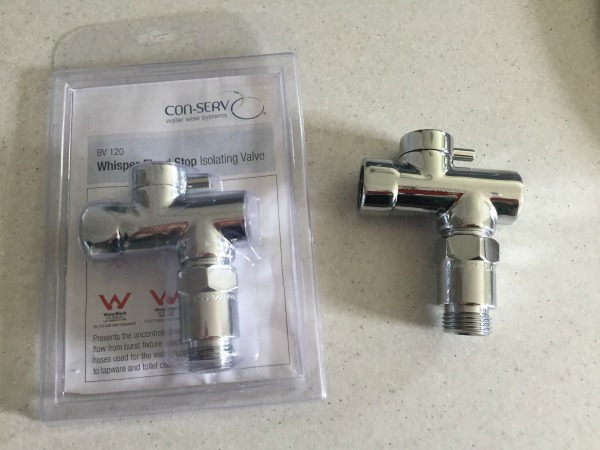 Ian Carmody, Technical Product Advisor for Con-Serv explained to Plumbing Connection magazine, "The valve limits water leakage to less than half a cup of water, which, when you consider that water through an unregulated half inch pipe flows between 20-25L per minute, is incredibly minimal.
"If your client goes away on a Friday afternoon and comes back on a Sunday and a hose burst occurred just after they left, that's 48 hours of water fl owing at 20L per minute. If you do the maths, that's 56,000 of water."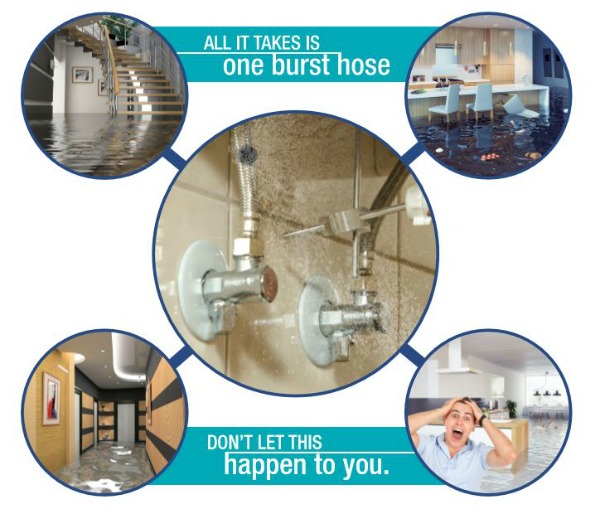 Ian told me about their new flood stop isolating valves at the QLD Plumbing Conference last year and personally delivered some valves to me to try. He also showed me this video on how the Whisper Flood Stop Isolating Valve works.
Installing the Whisper Flood Stop Isolating Valve
I invited my dad over to come and check out the new valves and we went to work installing them on my toilet cistern and underneath my basin.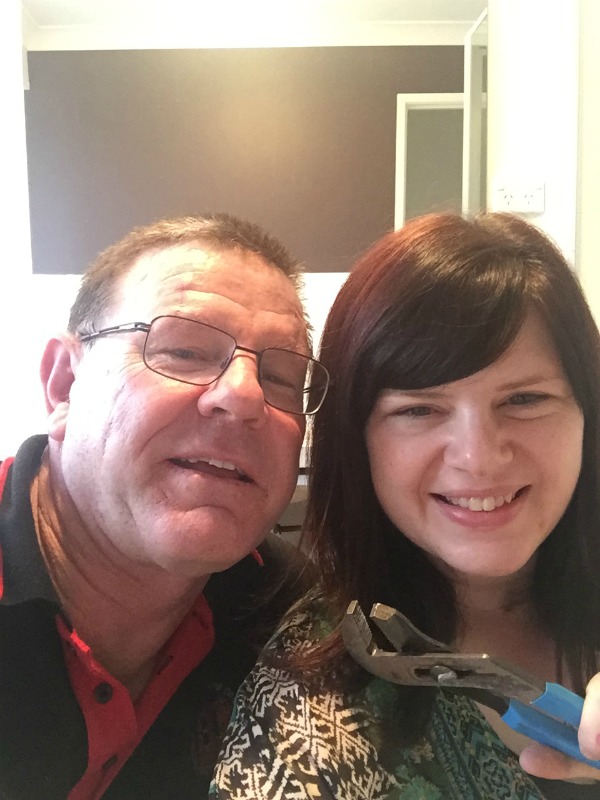 When installing them on the water outlet for the toilet cistern, the fill rate of the cistern set off the valve. After speaking with Ian, he advised a flow restrictor would need to be installed to the cistern to reduce the fill rate which would stop it setting off the valve. Unfortunately this information is not detailed in the brochure that accompanies the product, but I let Ian know about this. It's also good for plumbers to know this if they do install the valve on a toilet cistern they must reduce the fill rate on the cistern by changing the inlet valve setting or adding a flow restrictor (product code AF05306C).
When the toilet activated the flood stop valve, we used a flat head screw driver to reset it. It was quite easy to do.
The rest of the valves were installed on my basin taps. My cold water tap activated the valve, so I called Ian to find out what was going on. He advised the flow rate through my taps must have been more than the WELS 3 Star rating which is 9lt per minute. I had recently replaced the old aerator, so decided to change it again, and this seemed to fix the problem.
Technical Details
The Flood Stop will stop the flow of water once the flow rate exceeds 11L/min. (plus or minus 10%). It's not suitable for outlets with an outlet flow rate higher than WELS 3 Star (9L). The valves retail for $31.90 and should be installed by a licensed plumber.
This valve replaces the Arco stop valves plumbers use to isolate the water supply to fixtures. While the cost to purchase the Whisper Flood Stop Valve is more than other isolating valves on the market, with the rate that flexible hoses have ruptured in the last few years, these flood stop valves can prevent the inconvenience of fixing a flooded house. They also add peace of mind so you don't have to worry about coming home to find a flood caused by a flexible hose.
The Whispering Flood Stop Valve is available at all major plumbing suppliers including Reece and Tradelink. I definitely recommend plumbers explain the benefits of having these valves installed at a client's home as a safeguard. These should be mandatory in all commercial fitouts, apartments and multi-storey buildings where flooding can cause damage to multiple levels in the one building.
How many flexible hoses do you have in your home? Ever had a major flood in your house?
Disclosure: I was sent 9 valves for the purpose of this review. All opinions are my own. All warranty enquiries should be made with Con-Serv.