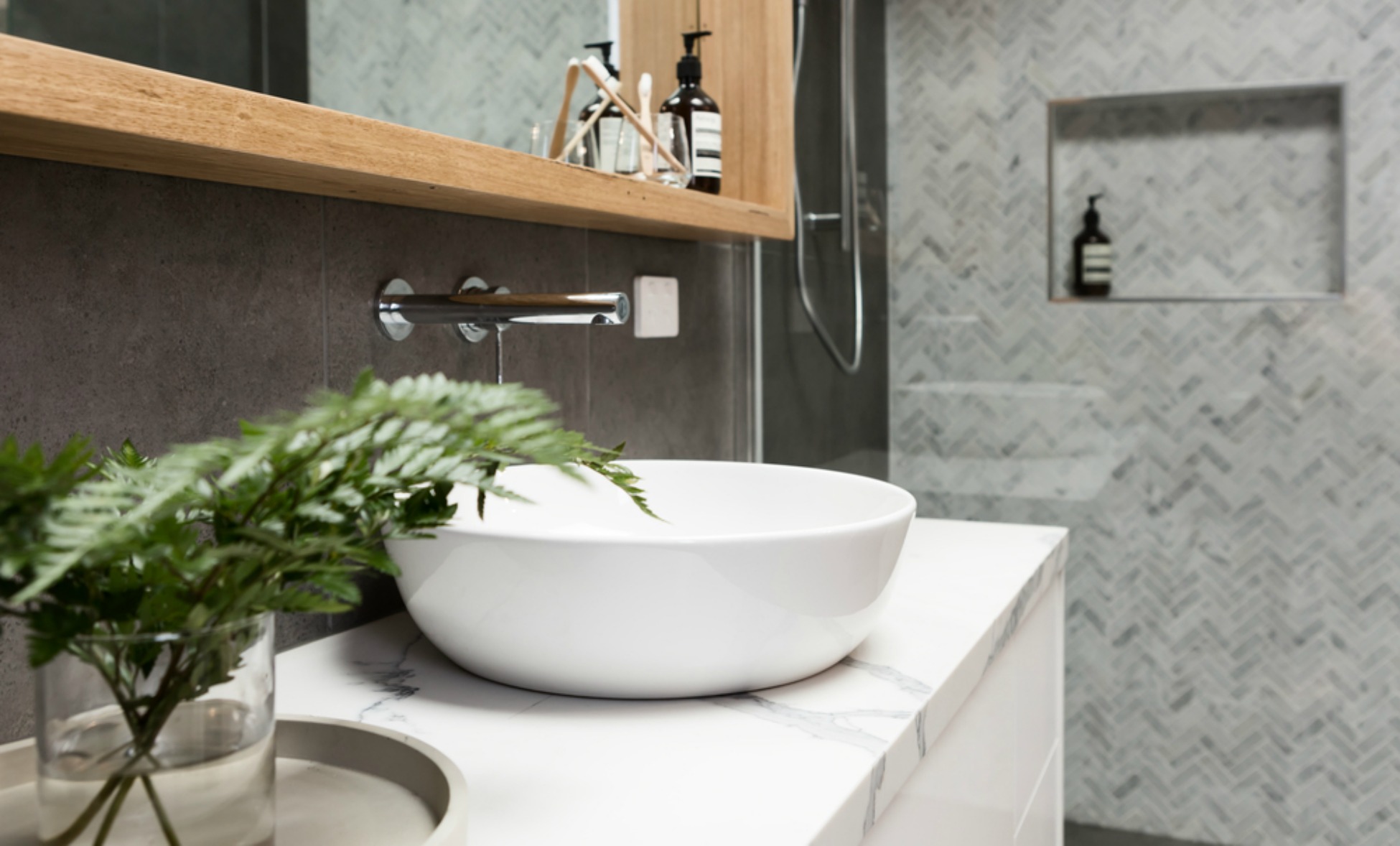 Wet room bathrooms are a big trend in bathroom design. Whether fully open or using a single plane of glass to enclose the shower and bath, this design is popular for a few reasons.
The wet room bathroom has design roots from Japan. I remember when I was in high school, studying Japanese, I learned this design feature and thought it was a bit weird. It's interesting I still remember this information all these years later and it's now becoming a popular bathroom style in Australia.
There are many reasons why wet rooms are fast becoming a popular bathroom style. Here are the pros and cons of wet room bathrooms, if you're thinking of this style of bathroom for your home.
What is a Wet Room Bathroom?
A wet room bathroom is where the shower is not enclosed with a shower screen and there is no shower tray. The water from the shower drains away via the open, tiled floor area of the room, and the water drains down the main drain in the bathroom.
The floor will have a gradient to ensure all water runs to the drain. It's recommended the drain for a wet room is more than 50mm, to allow for adequate water drainage.
Like all bathroom renovations, licensed plumbers and builders should be hired to do the job correctly. A wet room bathroom will require the walls and floors to be waterproofed and completely tiled. Underfloor heating will also need to be considered, to allow for the water on the floor to evaporate effectively.
What are the Pros of a Wet Room Bathroom?
There are a number of reasons many home owners and renovators are opting for a wet room style bathroom. The main reason is it does away with the glass shower screens, which are known to be difficult to keep clean.
The openness of the bathroom can make it look bigger than what it seems. This can add value to your property because spacious bathrooms are now a winning factor when prospects consider to purchasing a property.
This style of bathroom also works well in smaller bathrooms, where there is limited space.
The installation of the bathroom with the extra tanking (water-proofing) is considered to last longer as it has extra protection than a normal bathroom with a tanked shower only.
What are the Cons of a Wet Room Bathroom?
The biggest con, is everything gets wet. The bathroom can be a humid environment. It's important to consider how guests will use this bathroom if it's the main bathroom of your home.
For example, if you have guests over and someone has to use the bathroom, they will have to walk into a wet bathroom to wash their hands. To avoid this situation, section your bathroom with a single screen or install a powder room and keep the main bathroom for personal use only.
Wet rooms can be an expensive bathroom to fit out because the walls need to be tiled from the wall to ceiling. They will also need to be waterproofed too. Check your local authority on the height of the waterproofing.
The room needs to be adequately ventilated, and you will be limited on the style of vanity cupboards you install. I'd avoid timber and consider a wall hang basin, with concealed wall storage.
Everything gets wet in a wet room bathroom – not just from the spray of the shower, but the mist of humidity. Enclosed showers are able to keep a lot of the moisture in. Towels and toilet rolls can get wet. Again, think about in wall storage solutions to avoid this inconvenience.
Also think about window placement. A skylight may be a better alternative to allow for natural light into the bathroom. If there is a window, ensure it has a waterproof covering to protect for mould and decay.
A clever DIY hack is having a shower curtain installed that can be used the protect the window from getting wet. This may not fit in with the aesthetic of your bathroom, but is it a way to get around the problem. Alternatively, place the bath against the window to allow distance from the shower spray.
Another con to consider is if you choose to resell your property, buyers may dis your property because it doesn't have a bath. It's important to think about whether your house is a forever home or a lillypad. If it's a lillypad, it should have a bath for resale value.
Have the best of both worlds
Many wet room bathrooms, incorporate 1 shower screen to section the shower area. A rainhead shower is used as it sprays downwards, and not out.
The benefits of sectioning your bathroom so the shower and bath are together, is it reduces the space that needs to be waterproofed. It also means you can have the vanity of your choice, as it's protected from the water and humidity caused from showering.
If I chose to have this style of bathroom, I'd section my bathroom this way so I could have the best of both worlds.
The wet room bathroom has come about due to the minimalism movement and the push away from creating spaces that require less cleaning and allow for more relaxation.
It is a fabulous choice in bathroom design if you're looking for something that is contemporary.
What do you think about the design of wet room bathrooms? Is it a style of bathroom you could live with? Is it a style of bathroom your desire?