This post has been written in collaboration with Westpac
It was the 11th January 2011 and I had 6-month-old Esther resting on my hip as I stood to watch the news.
Brisbane was bracing for a flood similar to 1974 and my eyes and ears were glued to the television as the broadcast showed the devastation of the water rushing through Gympie, Toowoomba and Ipswich.
Brisbane was the next target as the wall of water rushed down through to the Brisbane River.
I was anxious for all the houses that resided next to the river and water ways connected to the river. I worried for the properties ten minutes away from my house that always flooded when Brisbane had a heavy downpour. I knew the devastation was going to be catastrophic.
I remember reading statuses of friends living in inner city areas, wondering whether they should start moving furniture to the second level of their house, scared they were being too paranoid. I insisted it was better to be safe than sorry and that the river was the least of their problems. It was the storm water drains they had to worry about. The water reached their street, but thankfully not their home.
The devastation after the floods is something I will remember for a long time. I had often listened to my parents and grandparents share stories about the 1974 floods.
People were often quick to forget.
But not my parents. My dad always insisted if we bought a house, to ensure it was not in a flood affected area. It was good advice and saved us from the emotional, physical and financial cost that many faced after the floods hit Brisbane.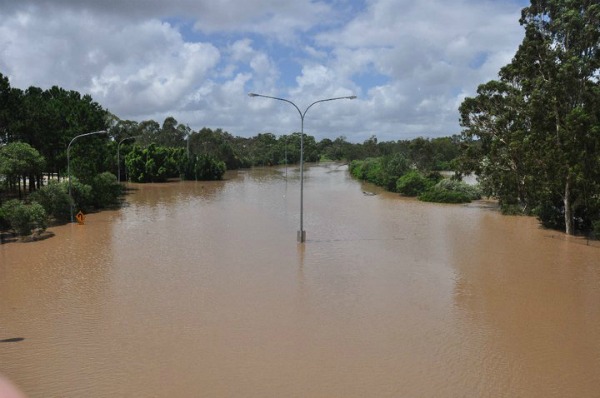 A week after the floods had receded and the clean-up began, I headed straight back to work with dad and we helped people where we could.
On one particular Saturday, my dad walked to each home on a street at Indooroopilly that had been inundated with water. He got hot water units started again for each family where he could. The hot water units had been knocked over by the water and all they needed was to be hooked back up with a few valves replaced.
Unfortunately not everyone was covered for flood insurance, and it was a big wake-up call for families to look at the fine print of their insurance policy to see if flood cover was part of their policy.
Some families and businesses are still feeling the effect from their loss 6 years ago.
So what can you do to protect yourself and your home during flood season? Summer is notorious for rain and storms that cause floods and damage.
Here are some things you can do to ensure you are well protected from floods.
1. Check if your property resides in a flood zone. Each local council should have a flood map available to see if your property sits in a flood affected area. Before you purchase a property, check this map. It's my first piece of advice for anyone who asks me where they should move or buy when finding a home in Brisbane.
2. Even if your house doesn't reside in a flood affected area, still consider an insurance policy with flood protection. You never know if storm water drains will overflow. Flood maps can also change due to infrastructure changes that can redirect water. This was another lesson learned from the Brisbane floods as some areas that didn't flood in 1974, flooded in the 2011 floods. As a result Brisbane's flood maps were updated.
3. Create a Flood Emergency plan. In the event of a flood, you may have hours or a day (if you're lucky) to prepare. Where will you go if you have to evacuate your home? What valuables do you need to take with you? Think of ways you can protect your furniture and belongings by placing them up higher. It could be moving them to the second floor or roof cavity of your home (if you have one) or organising a trailer to take some items to another safe place. These logistics will buy you time and protect your contents, even if your house is inundated with water.
4. Never do your own plumbing. Floods can happen inside the home from a simple plumbing leak. Always check that your plumber – or tradesperson is qualified and has insurance. Carpenters and builders can be notorious for drilling through water pipes. In some unfortunate circumstances, a flex hose could break loose or the hot water unit might leak inside your home, causing a flood. If you've done renovations or a maintenance fix to your home and you weren't licensed to do the work, you will void your home insurance. That's why it's important to always use a licensed plumber for all plumbing works on your property.
5. Check your gutters and down pipes. Floods can happen outside your home if the drainage is blocked by tree and leaf matter. The easiest way to check this is to check your gutters and downpipes the next time there is a downpour. Alternatively you can put a hose down and see if the water backs up.
6. During a flood, make sure you get yourself and your family to higher ground. If your car is flooded, run! Take flood warnings seriously and give yourself enough time to evacuate.
7. Don't go back to your property until authorities give the all clear. Driving through floods is dangerous and is the most common way people die during floods.
8. Never drive through a road blocked with water. In fact don't drive if a flood warning has been given, unless it is to evacuate to get to a safe place. Find a route where no water is rushing or sitting on the road.
9. Teach your children and teens NOT to play near storm water drains when there is a downpour. The suction of water can suck your kids through the pipes and they can drown. I've written about this before, but every year on the news we still hear of kids and teens using boogie boards to surf down towards storm water drains. Please don't do it. It's an awful way to drown.
My most important tip is to check you have flood insurance. That was the biggest lesson I learned from the 2011 Brisbane floods (and any consecutive floods occurring in some Queensland towns).
Westpac have more useful tips and info about what to do and how to protect yourself, your home and your family in the event of a flood, which you can read about here.
Can you remember the Brisbane floods in 2011? Have you ever had experience being in or near a flood?
Disclosure: This post has been written from my own perspective. All advice about plumbing and home protection are my own. I am not a financial or insurance adviser. To find out more about what insurance products may be suitable for you, or if you have any policy queries please contact Westpac.